A well-balanced diet is one of the main keys to the guinea pig's healthy and long life. Of course, you need the right kind of dish to serve the meal in. Choosing a guinea pig food bowl can be quite a challenge. There are so many different options out there!
Here is our list of guinea pig food bowls that you may purchase:
OMEM Bowl Ceramic
Kaytee Paw-Print PetWare Bowl
Living World Lock and Crock Dish
STAYbowl Tip-Proof Ergonomic Pet Bowl for Guinea Pig and Other Small Pets
Grass and Food Double Use Feeder
We encourage you to continue reading. There are so many important things about food bowls and guinea pigs that you, as a great owner, have to know!
Why Do You Even Need to Use a Bowl?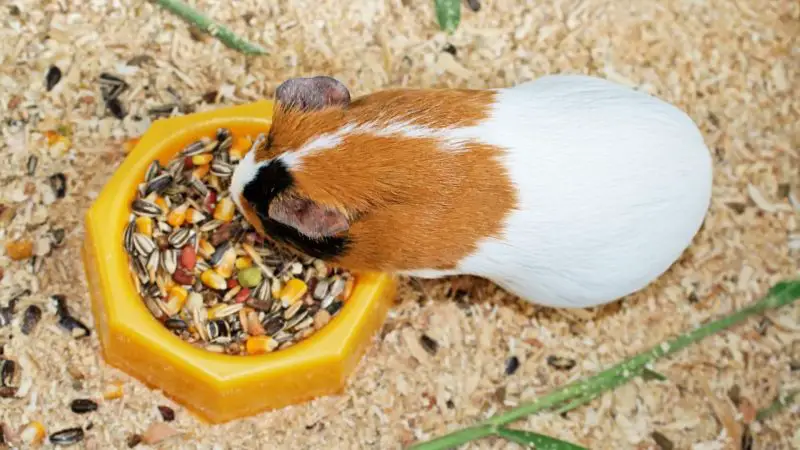 You might be thinking that your cavy doesn't even need a bowl. After all, if you simply place the food inside the cage, your guinea pig will surely eat it, right?
The truth is that you certainly can scatter your fluffy ball's food all over the cage. In fact, if you manage to do that from time to time, it would be a great exercise for your guinea pig. Food hunting is great mental stimulation for the cavy. But leaving the food loose at all times is not a great idea for at least two reasons.
You would have to clean the cage so much more often, as it certainly will be in a messy state.
If the food is dispersed all over the cage, it might attract some unwanted guests. Like mice and rats, for example.
So, using a bowl to feed your guinea pig is a must if you want them to live in a healthy environment.
The Most Important Characteristics of a Guinea Pig Food Bowl
But before you buy a bowl for your cavy, there are a few things that you need to know. Just so you don't end up buying something that does not suit the guinea pig at all.
Size of the Bowl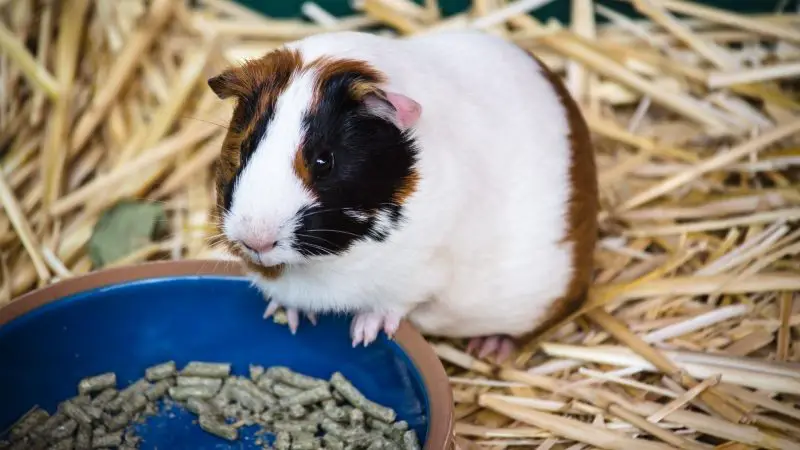 The food bowls for small animals that live in cages have to be wide and shallow. The shallower the bowl, the easier it will be for your beloved guinea pig to reach its food. Cavies like to step right inside the bowl. That's why it is incredibly important to make sure that the bowl is steady. That means that you need a wide option.
Ideally, the food bowl has to be big enough, so that the fluffy ball can step into it. Depending on the size of your guinea pig, you might even end up purchasing a small bowl designed for a cat or a dog. But remember that the food bowl shouldn't take up a lot of space, as guinea pigs need plenty of it to be able to run around and play.
Material of the Bowl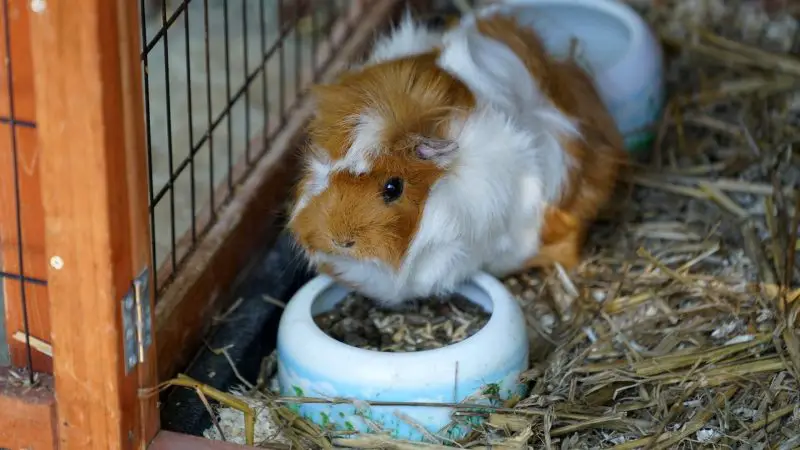 Food bowls can be plastic, ceramic, glass, metal, and etc. However, you better stay away from plastic options. Guinea pigs love to chew on things. The chances are high that the guinea pig will soon destroy a plastic bowl. Moreover, this material can simply be dangerous for the guinea pigs' digestive tract and teeth.
Positioning of the Bowl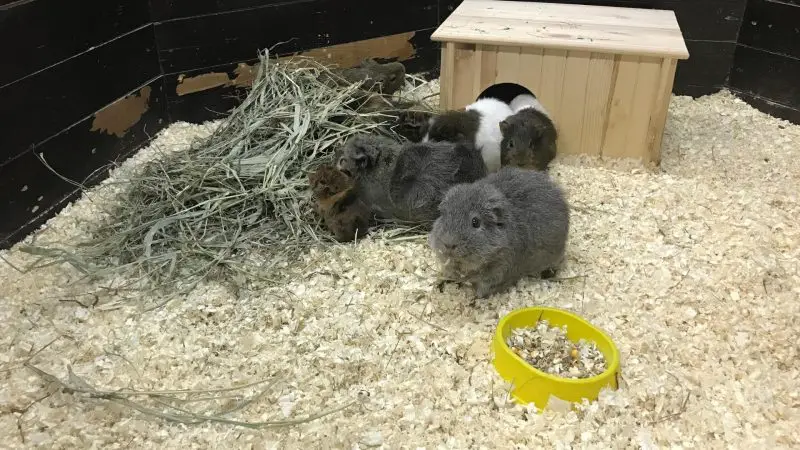 Another important thing that you have to take into consideration is the positioning of the food bowl. You shouldn't place the food next to the guinea pig's toilet or sleeping area. It would be nice if you find enough room to put the bowl next to the water bottle so that the fluffy ball can eat and drink in one area.
However, the food bowl should not be too close to the water. The dry ingredients might get wet and soggy. If you tend to let your beloved cavy run around the house, then make sure to put the food bowl in its play area. Guinea pigs like to have a nibble on something, especially when they're being active.
How Often Should You Refill and Clean a Guinea Pig Food Bowl?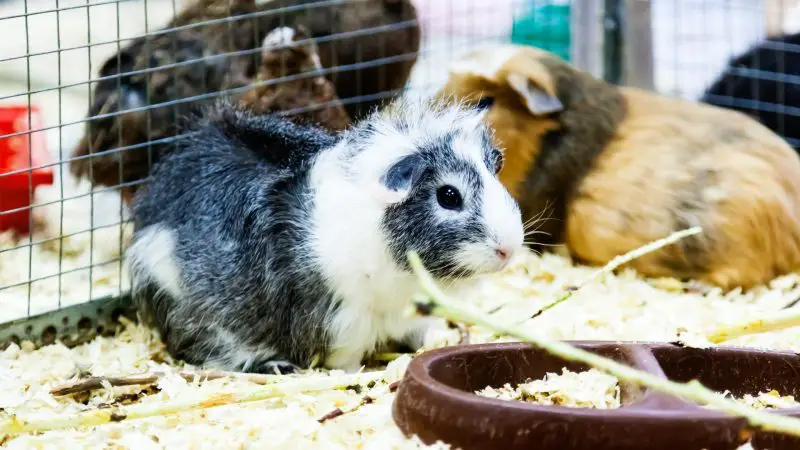 It is up to you to set your guinea pig's eating schedule. Usually, owners like to feed their cavies in the morning and in the evening. Even if there is something left in the bowl after your guinea pig has had a meal, throw the leftovers away. Though the food might look nice and fresh, it certainly had already lost its nutritional value and simply won't be able to do your cavy any good.
The food bowl should be cleaned every time you decide to add a new portion of pellets or fruits/vegetables. You better not mix the wet and dry food together as the consistency simply won't be right and, once again, the food might lose its nutritional value.
Reviews: 5 Best Guinea Pig Food Bowls
This food bowl is made out of high-quality ceramic material. It truly is a best seller and the absolute majority of owners love it.
Thanks to the material used, the bowl can be easily cleaned. Moreover, the actual dish is quite heavy and your guinea pig certainly won't be able to tip it over. Cavies do not chew on this ceramic material, so the bowl will last you for a while and won't be dangerous for your guinea pigs' health.
This food bowl isn't too tall, so your beloved cavy will be able to enjoy its meal without any inconveniences. You might think that this ceramic food bowl is a bit pricey, but the truth is that it's totally worth the money.
Sale
Kaytee Paw-Print Petware Bowl Guinea Pig
Made with durable chew proof ceramic
Heavy duty design prevents tipping
Available in assorted colors
Includes unique guinea pig design
For guinea pigs or other small animals
This is a classic guinea pig food bowl that is available in a very cute design (comes in blacks and grays).
It is a bowl made out of ceramic. That means that you won't have any problems cleaning the thing. Moreover, ceramic dishes do not collect as much bacteria as plastic ones. Great news, this bowl can be placed in the dishwasher.
Kaytee food bowl is heavy, so your guinea pig won't end up tipping it over. This option is a bit deeper than the previous one, so make sure to check out the dimensions.
The material is chew-proof and durable. And the price is pretty much unbeatable, so you would certainly be making a great choice.
Living World Lock and Crock Dish, 20-Ounce
Easy to attach, space saving food and water dish
Durable; Does not twist, turn, or spill over
Made of extra-thick, chew-resistant plastic
Dishwasher safe
Holds 20 ounces of food or water
This is a great option if you happen to be the owner of a small cage and you desperately need to save as much space as you can. The food bowl can be easily attached to the cage (fits both, vertical and horizontal wires).
Though the bowl is made out of plastic, the material is very thick, chew-resistant, and easy to clean. The device won't be spinning or twisting, once you attach it. Unfortunately, the model comes in one color.
STAYbowl Tip-Proof Ergonomic Pet Bowl for Guinea Pig and Other Small Pets, 1/4-Cup Small Size, Lilac (Purple)
Patent pending STAYbowl saves time and money; no more wasted guinea pig food
Holds ¼ cup of guinea pig food; 6.75 inch diameter base x 3.25 inch diameter bowl x 1.75 inch height
Ensures pet health and wellness; reduces overfeeding and food competition
Small ¼ cup size is just right for 1 or 2 guinea pigs; also great for hedgehogs rats dwarf rabbits and other small pets
Unbreakable; dishwasher safe; BPA free and designed with a smooth bottom that prevents food deposits and bacterial growth
A totally different design that thousands of guinea pig owners all around the world have fallen in love with. You can choose the size (1/4 or ¾ of a cup) and color (purple, pink, green, blue).
STAYbowl is an ergonomic and patent-pending bowl that is impossible to tip over. Unlike ceramic bowls, for example, this option is unbreakable. By the way, the size of the bowl is perfect to prevent overfeeding. The bowl is BPA-free and totally safe for the animal's health.
RUBYHOME Rabbit Feeders Hay Food Bin Feeder, Grass and Food Double Use Rabbit Feeder,Hay Feeders Supply for Rabbit Guinea Pig Chinchilla
[Dual-use] The pet feeding bowls's upper layer is a grass rack, and the lower layer is a food bowl,saving space. Ideal for rabbits, chinchillas, guinea pigs or other small animals.Size: Medium: 5.2L*6.1H*5.3W (inch)/Large: 7.1L*8.9H*7.1W (inch)
[Pefect for Feeder] This Pet Feeding Bowls adopts cross screw fixed design, can be easily fixed in the wire cage box in any place, and can adjust the height, it is very convenient for small animals to eat food.
[Especially deepen the design] The depth of the bowl is deeper enough to avoid the food outside the cage.
[Humanized design] The edges of this feeding dishes are made of stainless steel material, which can effectively prevent small animals from biting it.
[Easy cleaning] The middle compartment can be removed for easy cleaning.
This feeder has two different layers. The upper one is perfect for grass and hay, while the lower one is an ordinary guinea pig food bowl. The feeder can be easily attached to the cage.
Though the model is made out of plastic, the edges are made out of stainless steel to ensure that your beloved cavy does not chew on the feeder. The guinea pigs surely can step into the bowl to have their meal.
Summary
In our list, we have tried to include models of different shapes, colors, and materials. You might end up buying a couple of options before you find the one that works perfectly well for you and your cute fluffy ball. Be patient and remember that the health and happiness of your beloved pet are the only things that matter in the end.
List of Sources