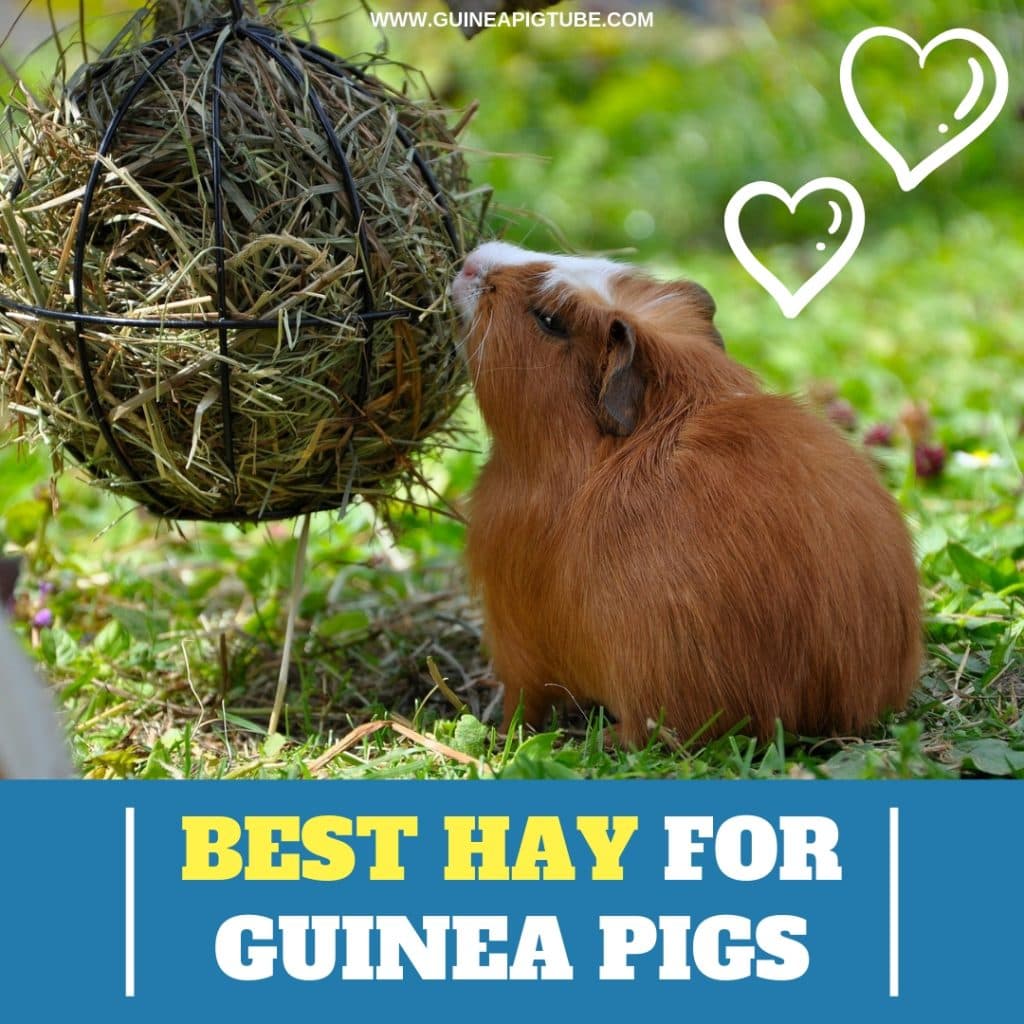 Guinea pigs are the perfect animals for so many reasons. And one of them is that they are relatively easy to take care of. All guinea pigs need is a constant supply of fresh water and hay and 1/8 cup of pellets per day. You can also be adding vegetables and fruits to your beloved pet's diet. But, all in all, the menu is as simple as it can be.
Today we are going to be talking about an extremely important thing in every guinea pig's life. And that is hay. Cavies should be surrounded by hay at all times. They eat it, play with it, make beds out of it. If there is something that you have to pay extra attention to, as a great guinea pig owner, it is hay.
Here is our list of the best hay for guinea pigs:
Small Pet Select 2nd Cutting "Perfect Blend" Timothy Hay Pet Food
Oxbow Animal Health Orchard Grass Hay for Pets
Kaytee Timothy Hay
Small Pet Select 1st Cutting "High Fiber" Timothy Hay Pet Food
Standlee Premium Western Forage Timothy Hay
Vitakraft Timothy Hay Sweet Grass
Oxbow Animal Health Oat Hay
Grandpa's Best Orchard Grass Bale
By the end of this article, you will know what types of hay can be found on the market and what are the differences between them. Ultimately, you will find out what brand is going to work better for your fluffy ball of happiness.
Why Is Hay Important for Guinea Pigs?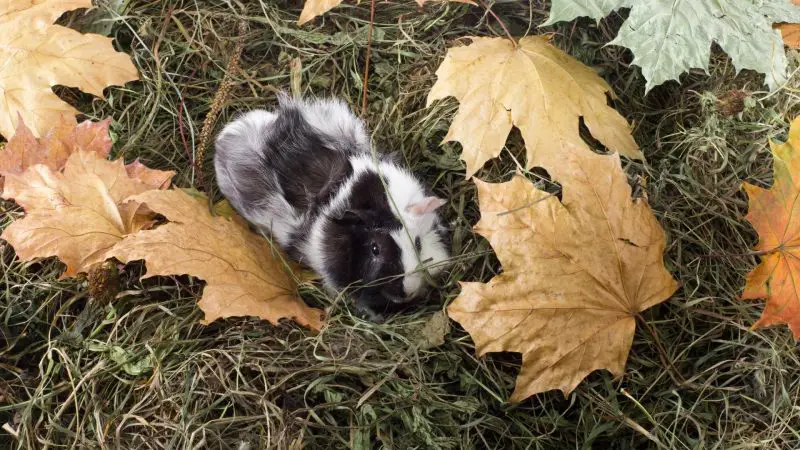 When cavies were running around in the wild, they always had grass, sticks, and other things to chew on. That's just what guinea pigs do. Now, when cavies have been domesticated, it is all up to you what your beloved pet would be getting on a daily basis.
Hay contains a lot of fiber. Fiber is extremely important for digestion. It will help keep the digestive tract of your animal moving which will help in avoiding a lot of health problems.
Hay does not only provide the guinea pigs with important fiber. With the help of hay that cavies like to nibble on, their teeth will wear down. If you are planning to adopt a guinea pig, you should already know by now that the teeth of these rodents continue to grow throughout their whole life.
In case they have nothing to chew, the teeth will start to overgrow. Such a situation can cause a lot of inconveniences, as well as appear to be fatal in the end. Simply assuming that the small portions of food that you give to your guinea pig should be enough to help it wear its teeth down is wrong. The cage of your fluffy ball should be full of fresh hay at all times. But that's not the only major advantage of hay.
When using hay, keep this in mind:
Even though the hay that you're going to be giving to your guinea pig should be high in fiber, it shouldn't have a lot of calories, calcium, and protein. Only pregnant, nursing guinea pigs or the cavies that are recovering from illness might need more of those things. However, you should always consult your vet.
On a daily basis, calories can make your guinea pig become too fat. And as cavies can't regulate the levels of calcium and protein in their bodies, their excess might cause bladder stones to appear. That's also an unpleasant condition that can lead to a lot of dangerous complications.
Related: Can Guinea Pigs Eat Hay?
Types of Guinea Pig Hay
Bear in mind that there are two main groups of hay out there:
Legume Hay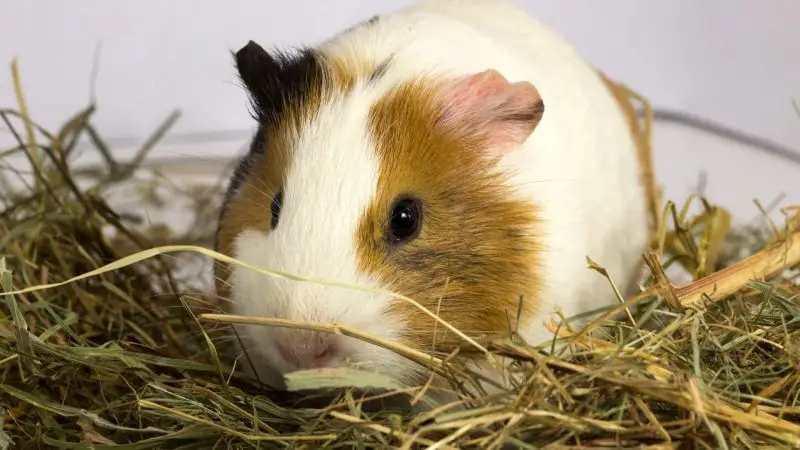 Legume hay is high in calcium, protein, calories and doesn't have a lot of fibers. If your dear animal is recovering from an illness it might need those extra calories. As well as calcium and protein. Pregnant and lactating sows need these things to ensure that their babies have enough biological material to build a healthy body. Moreover, young cavies may also need more protein.
However, sometimes owners decide to give legume hay to their guinea pig to simply provide a bit of variety. Give legume hay to healthy, grown-up guinea pigs in moderation. Though grass hay certainly is a better option for them.
Alfalfa and clover hay are the two most popular types of legume hay.
Grass Hay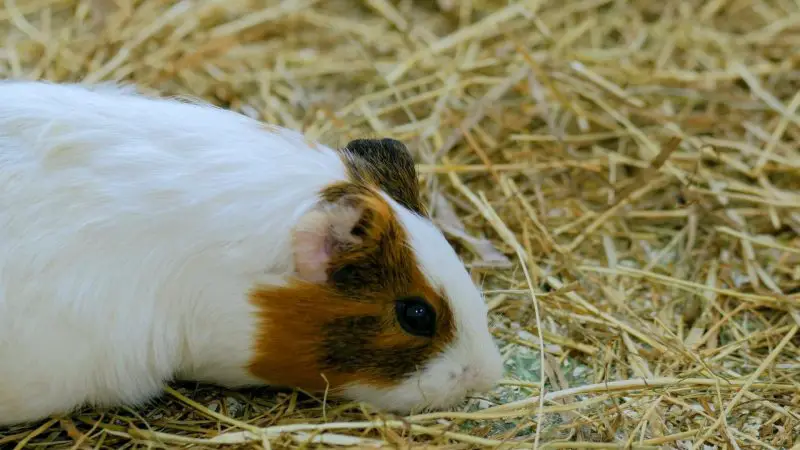 The hay of choice for adult guinea pigs is usually grass hay. This type has a lot of fiber and nutrients that are essential for your pet's teeth and overall health.
Just like with legume hay there are different types of grass hay. For example, oat hay, orchard grass, Bermuda grass, Timothy hay.
Timothy Hay
The majority of owners prefer Timothy hay as it's the most widely available option. But bear in mind that not only the type of hay affects the quality. It is also important to know when the hay was harvested. Let's take Timothy hay as an example.
In the stores, you can find the first, second, and third cutting of the Timothy Hay. The reason why the farmers do that is pretty obvious. The majority of them want to try and get as much money as they possibly can from their crops. That's why they try and grow as much hay as they can during the season.
First cutting – It is extremely rich in fiber.
Second cutting – Guinea pigs tend to prefer the second cutting as the stems are a bit softer, thus more pleasant to chew on.
Third cutting – Considered to be the most delicious one for our cavies, but, unfortunately, it doesn't have enough fiber in it. So you can choose to add the third cutting as a treat, rather than a constant supply.
Where Can We Store Out Hay?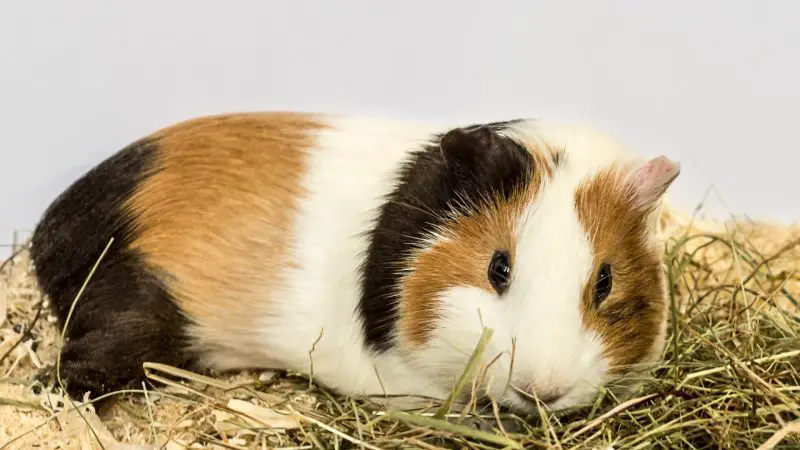 Proper storage is extremely important as it will help you preserve the hay fresh and full of all the necessary nutrients. The room where you keep the hay should be well ventilated, cool, dark, and dry. Better put a cover of some sort on the hay, so that there is no dust, but make sure that the air can still circulate. If stored properly, hay can be preserved for around a year.
Review: 8 Best Hay for Guinea Pigs
There are quite a few brands on the market that you can choose from. We've decided to help you save some time and come up with our own list of best hay for guinea pigs.
Small Pet Select 2nd Cutting "Perfect Blend" Timothy Hay Pet Food, 2-Pound
Leafy With Soft Stem And Adequate Flower Heads
Easy And Enjoyable For Pets To Eat While Providing Sufficient Fiber
The Highest Quality - Premium Timothy Hay For Rabbits, Guinea Pigs, And Chinchillas
By & For Small Animal Owners - We'Re Passionate About Our Pets, So We Hand-Select & Package In Small Batches As Only Pet-Lovers Would Do
Timothy hay is the most obvious choice for guinea pigs. Small Pet gives you the chance to choose 2nd cutting Timothy Hay. That means that the stems will be relatively soft but still contain a lot of fiber. Moreover, the hay will have a small number of flower heads that guinea pigs love.
The hay has been hand-selected and packaged in small batches. The great thing is that the actual box can be opened and closed to help you keep the hay nice and fresh. Available in 12 lbs, 20 lbs, and 60 lbs.
Oxbow Animal Health Orchard Grass Hay - All Natural Grass Hay for Chinchillas, Rabbits, Guinea Pigs, Hamsters & Gerbils - 40 oz.
PROUDLY GROWN IN THE USA: Harvested fresh from Oxbow's family of farms by our expert hay growers
PREMIUM QUALITY: Hand-sorted and hand-packed with care. All Oxbow hay growers are trained in the production of premium hay
100% ALL-NATURAL HAY: All-natural ? no additives or binders
MEETS SPECIFIC NUTRITIONAL REQUIREMENTS: High in fiber for a healthy digestive system and dental health. Fiber is essential to the health of your rabbit, guinea pig, chinchilla, or other small pet.
VETERINARIAN RECOMMENDED: Used and recommended by leading veterinarians worldwide
If you want to go for something other than Timothy hay, then take orchard grass into consideration.
The product is nutritious and smells really nice. The hay is high in fiber and low in protein. Most guinea pigs appreciate the taste of this leafy option.
By the way, you can experiment a little and combine this sweet-smelling orchard grass hay with other less pricey options.
Sale
This brand hand-selects the hay to ensure the proper leaf to stem ratio and long strands. The fact that Timothy hay is low in calcium and protein helps support the urinary system of the pet.
Kaytee Timothy Hay has been named America's number 1 hay brand. Available in 20 lbs.
Small Pet Select 1st Cutting High Fiber Timothy Hay Pet Food, 10 LB
Higher Fiber And More Flower Heads Than Any Other Cutting; Has A Bit More Stem Than 2nd Cutting, But Still Very Soft And Leafy
Farm Fresh - The Best Hay Delivered Fresh To Your Doorstep
All Hays Are Not Created Equal And Quality Really Matters - We Focus On Getting The Best Hay For Rabbits, Guinea Pigs, And Chinchillas
100% Satisfaction Guarantee - We Are A Small Business That Truly Cares About The Animals And We Pride Ourselves In Doing A Great Job
Grown With Love In The USA
The hay is hand-selected and packaged in small batches. We already know that the 1st cutting has the largest amount of fiber in it. But this particular product is still quite soft and leafy. Moreover, the guinea pigs love the flower heads. The 1st cutting is especially recommended to the poor cavies that have had issues with their digestive tract. Available in 5 lbs, 20 lbs, 50 lbs.
Sale
Standlee Premium Western Forage Timothy, 10lb Box
FEEDING DIRECTIONS: Standlee recommends selecting a commercial fiber-based, vitamin and mineral fortified food, like PremiYum fortified food, and pair it with high-quality, hand-selected long-stem forage. Timothy Grass is NOT intended to be the only component of the diet. Place forages in a hopper or bin to prevent spoilage. Remove any uneaten forage if it becomes wet, damp, or soiled.
STORAGE AND SHELF LIFE: Proper storage includes keeping the product dry and unexposed to the elements. Simply reclosing our specially designed box helps keep our forages dry and free from contamination. Instructions on how to reclose the box are printed on the top flap.
HEALTHY DIGESTIVE SYSTEM: Feeding a small amount of fresh forage stimulates chewing, which aids in proper teeth wear and promotes a healthy digestive system.
This is an all-natural product that has absolutely no additives. The ingredients literally say "100% sun-cured premium Timothy grass". And that's what you will be getting.
A great choice for those who love the old-style packaging. It's a box that you can easily reclose after each use. Available in 25 lbs.
Vitakraft Small Animal Timothy Hay for Guinea Pigs, Rabbits, and Chinchillas - 3.5 lbs
ALL-NATURAL HAY: 100% sun-cured, farm grown timothy hay, with no artificial colors, no preservatives, and NO pesticides.
CAREFULLY HARVESTED: Harvested by hand at peak maturity for the best nutrient content and stem quality. Packaged and tightly compressed and banded to protect from UV light, keeping hay greener and more flavorful.
EASY PORTIONS: Mini hay bales portioned into individual slices for easier feeding and less mess.
HIGH-FIBER: Higher in fiber and lower in protein and calcium than alfalfa hay, making this the perfect basis of your adult rabbit, guinea pig, or chinchilla's daily diet.
GOOD FOR TEETH: Long strand fibers help wear down always-growing teeth and support long-term dental health.
The product has been compressed into mini bales. These bales, in their turn, can be easily broken into 'slices' if you need to. That is great for the owners that don't want to be cleaning a lot.
The package can be resealed to ensure that the hay stays fresh. Generally, guinea pigs love the sweet taste of this product that has no unnecessary additives.
Sale
It's tasty, nutritious grass hay that'll satisfy your guinea pig's appetite. Leading veterinary experts and pet parents all around the world recommend Oxbow products. Oat Hay is gathered before the oat matures into a seed, yielding tasty husks that are high in fiber and taste. Its scent will pique your pet's interest and encourage him to consume more hay.
This hay has textures that are crunchy, as well as a savory flavor that your guinea pigs like. It's high in fiber, which is good for your guinea pig's digestive and oral health. There are no artificial colors, flavors, or preservatives, which is good for the health of the guinea pig. This product is hand-sorted and wrapped with care.
This product is ideal for your energetic guinea pig that enjoys rolling about on soft, organic orchard grass hay. You don't have to be concerned as a pet owner because it's also suitable for adult guinea pigs.
The orchard grass has a gentle feel. This grass has a low protein and high fiber content. Thus, it aids digestion and results in a tasty and healthy dinner. This grass is devoid of additives and preservatives and meets all of your pet's needs, from dental care to playtime.
The brand, Grandpa's Best, is known for its organic quality hay, which ensures that each bag contains consistent, fresh hay. The package is particularly designed to make feeding guinea pigs a pleasurable experience for owners. The hay is kept fresh and dust-free in the bags and mini-hay bales, which is ideal for owners and guinea pigs with sensitive noses and mouths.
Summary
Whether you would want to leave the hay loose for your guinea pig to nibble on, or place the stems and leaves into a bin or hopper – it is all up to you. The most important rule, when it comes to hay and guinea pigs, is that cavies should have unlimited access to hay all day long.
Thankfully, now you have a few great options to choose from.
List of Sources
How to Care For Your Pet Guinea Pig