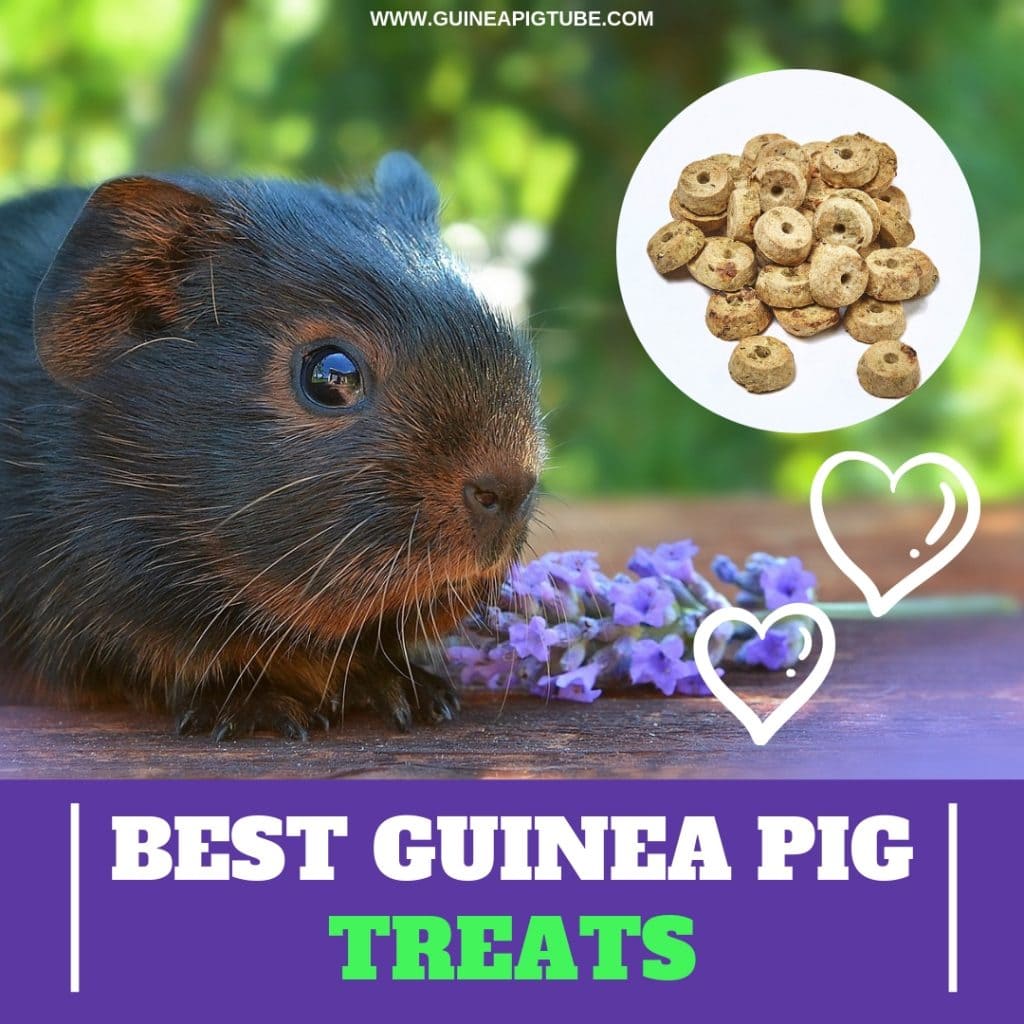 How can you possibly resist giving a treat to your furry cutie? You certainly do want to become the best owner and a true friend to your guinea pig and that might mean occasionally giving it a treat or two.
However, the truth is that guinea pigs can do perfectly well without the tiny delicacies. When it comes to food, the little guys are low-maintenance and need only a constant supply of water and hay and a small amount of dry food on a daily basis.
But let's be real here. If your guinea pig is behaving well and bringing you a lot of joy, of course, you would want to treat the fluffy ball.
What exact treats can you give it?
Can you make the treats yourself?
How often can you praise your cavy in such a way? And, ultimately, what are the best guinea pig treats that you can buy?
Today we are going to be answering all of these questions. But if you simply need a list of the best treats available on the market, then here you have it:
---
1. Kaytee Timothy Biscuits Baked Treat
2. Kaytee Fiesta Yogurt Cup Strawberry Banana Flavored Treat for Small Animals
3. Oxbow Simple Rewards Veggie Treats for Rabbits, Guinea Pigs, Hamsters, and Other Small Pets
---
Everything You Need to Know About Guinea Pig Treats
The first thing you have to understand is that cavies don't really crave treats like we, humans, do. As long as the guinea pig's daily diet is well-balanced, it doesn't really need anything else.
However, it is not forbidden to occasionally treat your beloved pet to something yummy. A lot of owners like to do that because the guinea pigs start making cute noises and running around in excitement. But bear in mind that cavies have very strong personal tastes. That means that if one particular guinea pig liked the treat, another cavy shouldn't necessarily be fond of it as well. Take your time to find out what your fluffy ball of happiness prefers. But always remember that there are some things that you should never give to your guinea pig. We are going to mention them a bit later.
Once you have found the perfect treat for your beloved pet, how often can you actually give the yummy treat to your guinea pig?
No matter how healthy the treat is (it might be a vegetable or a fruit) you shouldn't be giving it to your guinea pig every single day. Some treats might contain too many calories, sugar and other ingredients that cavies may suffer from. So, one or two times a week will do just fine. Moderation is extremely important. All-in-all, treats should not cover more than 10% of your guinea pig's weekly menu.
---
What Kind of Treats Are Good for the Guinea Pigs?
So, what exactly can you try and treat your guinea pig with? Well, the food has to be natural. Just like the rest of your pet's diet. Cavies don't really care about how their food looks, as long as they like the taste. Stay away from any artificial colorings and other unnatural components.
---
When it comes to vegetables, they can totally become part of your guinea pig's daily diet. In fact, some owners feed guinea pigs up to one cup of fresh vegetables every day.
Bell peppers are the absolute favorite of cavies. Moreover, peppers contain a lot of vitamin C that is crucial for the guinea pig's health. It looks like the red bell pepper is the fluffy friend's favorite. Though you can certainly try out all the colors.
Leafy green vegetables are also great (mustard greens, kale…).
But remember that your guinea pig is unique and it might enjoy other veggies as well. For example, cucumbers and carrots are good for cavies. So don't be afraid to experiment, as long as you don't give your guinea pig anything from the 'naughty' list.
---
Different types of fruit can become real treats, as these things can't be given to the cavy every single day. Fruits tend to have a lot of acid and sugar in them. That might lead to sores around the mouth and obesity and we surely don't want that, right?
But the great news is that you can feed your little friend with nearly any type of fruit. Apples seem to be on top of the list. But pears, strawberries, papaya, and oranges are also enjoyed by guinea pigs all over the world.
---
If you manage to find an apple or a pear tree twig, the chances are high that your guinea pig would love it. Twigs and small branches are especially great for the teeth of your beloved pet, as the cavy has to be constantly nibbling on things to ensure that its teeth are wearing down.
---
What Kind of Treats Are Bad for the Guinea Pig?
Never give anything to a guinea pig simply because you like the taste of it and you think that the animal will be fond of it as well. Basically, any kind of human food (except for fruits and vegetables) can be harmful to your beloved guinea pig.
Cavies shouldn't have pastries, potatoes, and meat (guinea pigs are herbivores and that means that they would simply not be able to digest meat). It might be tempting to try and give chocolate to your cavy but it's just too high in sugar and can contain dairy products. Speaking of which, guinea pigs simply can't digest any kind of diary. The chances are high that the poor things would be left with an upset stomach.
It might seem logical to give your cavy seeds and nuts as treats. The truth is that these products can be given to a guinea pig and the little guy might even like them. But nuts and seeds can be dangerous for another reason. A lot of those have shells that can cut the digestive tract of the cavy. Moreover, seeds and nuts can get stuck between teeth.
Cereal and crackers are also a bad choice. Though guinea pigs can eat these things, crackers and cereal absorb a lot of liquid. And that's exactly what's going to happen in the cavy's digestive system, causing a lot of unpleasant feelings.
---
Review: 3 Best Guinea Pig Treats
Of course, you can find a lot of different recipes out there to make some treats for your guinea pig on your own. But, let's face it, it's so much easier and faster to simply place an order online and wait for the yummy stuff to arrive at your door. We have picked a few great options for your guinea pig.
---
1. Kaytee Timothy Biscuits Baked Treat
Sale
Kaytee Timothy Biscuits Baked Treat, Apple, 4 oz
Supports dental health through natural chewing activity
Made with sun cured timothy hay and apples
Great enrichment and foraging for small animals
Ideal for playtime and bonding with your pet rabbit, hamster, chinchilla, and other small pets that crave the taste of real sun cured timothy hay, apples, and molasses
The high fiber content of natural timothy grass hay also supports your pet's overall health
This treat is the absolute favorite of the majority of guinea pig owners. The biscuits are baked with real apples. They also have Timothy hay in them that is great for the guinea pig's teeth and digestion. Moreover, these treats have a crunchy texture that cavies adore. And it helps the little ones wear down their teeth, so that's a great bonus. These treats also come in a carrot flavor, if your guinea pig prefers this vegetable to apples.
The package has around 40-42 treats, so one single bag will serve you for months.
Check out the current price for Kaytee Timothy Biscuits Baked Treat on Amazon.
---
2. Kaytee Fiesta Yogurt Cup Strawberry Banana Flavored Treat for Small Animals
Sale
This might be the perfect treat if you are yet to figure out what your guinea pig prefers. The outer part of the 'cup' is made out of oats, corn, dried papaya, rice, sweet potatoes, and all the other crunchy stuff. While the middle is a thick layer of strawberry and banana 'yogurt'. Guinea pigs enjoy the different textures and often use the treat not only as food but also as a toy. And the good news is that the cup will last for a while. However, bear in mind that your beloved guinea pig might like either the outer part or the center.
You will be getting two cups in the package and it can be kept on the shelf for 15 months. Always remember that the cup has added sugar and fruits. In this case, moderation certainly is key.
Check out the current price for Kaytee Fiesta Yogurt Cup Strawberry Banana Flavored Treat for Small Animals on Amazon.
---
3. Oxbow Simple Rewards Veggie Treats for Guinea Pigs
Every pack carries around 50 treats. Moreover, you can easily reseal the bag to ensure that the product is fresh. This one is the most natural option out of the three. Yes, these treats might not look appealing to our eye, but guinea pigs tend to love them.
The treats are a source of potassium and vitamin B6. The product has no added sugar and consists only of freeze-dried fruits and herbs. The treats can easily be broken into smaller bits if you need to. If you're on the search for the healthiest treat on the market today, then we would certainly like to draw your attention to this option.
By the way, if your guinea pig will like the texture and size of these, you might want to try out all the other tastes that Oxbow Simple Rewards has to offer. Those include apple and banana, carrot and dill, peppermint, cranberry. Yum!
Check out the current price for Oxbow Simple Rewards Veggie Treats for Guinea Pigs on Amazon.
---
Now you have a few best guinea pig treats to choose from.  There is no better feeling than seeing your beloved furry ball get excited in anticipation of a yummy product. Treats will not only bring a lot of joy to your cavy but also help you bond with the guinea pig. What else could you possibly ask for?