When it comes to food, guinea pigs are low-maintenance and need only a constant supply of water and hay, as well as a small amount of dry food on a daily basis. You certainly do want to become the best owner and a true friend to your guinea pig and that might mean occasionally giving them a treat.
Here is a list of the best treats available on the market:
Kaytee Timothy Biscuits Baked Treat
Kaytee Fiesta Yogurt Cup Strawberry Banana Flavored Treat for Small Animals
Oxbow Simple Rewards Veggie Treats for Rabbits, Guinea Pigs, Hamsters, and Other Small Pets
Vitakraft Guinea Pig Orange Drops
Standlee Premium Western Forage Timothy Grass
Bojafa Natural Apple Sticks for Small Animals
Everything You Need to Know About Guinea Pig Treats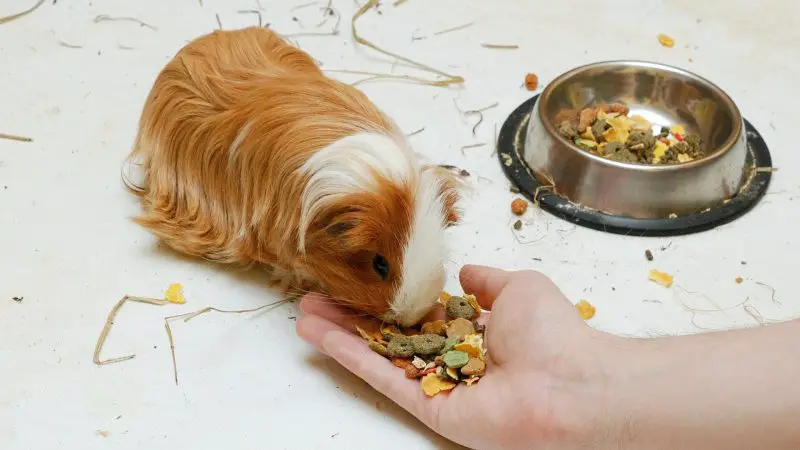 The first thing you have to understand is that cavies don't really crave treats like we, humans, do. As long as the guinea pig's daily diet is well-balanced, it doesn't really need anything else.
However, it is not forbidden to occasionally treat your beloved pet to something yummy. A lot of owners like to do that because the guinea pigs start making cute noises and running around in excitement. But bear in mind that cavies have very strong personal tastes. That means that if one particular guinea pig liked the treat, another cavy shouldn't necessarily be fond of it as well.
Take your time to find out what your fluffy ball of happiness prefers. But always remember that there are some things that you should never give to your guinea pig. We are going to mention them a bit later.
How Often Can You Give the Treat to Your Guinea Pig?
No matter how healthy the treat is (it might be a vegetable or a fruit), you shouldn't be giving it to your guinea pig every single day. Some treats might contain too many calories, sugar, and other ingredients that cavies may suffer from.
So, one or two times a week will do just fine. Moderation is extremely important. Treats should not cover more than 10% of your guinea pig's weekly menu.
What Kind of Treats Are Good for the Guinea Pigs?
The food has to be natural just like the rest of your pet's diet. Cavies don't really care about how their food looks, as long as they like the taste. Stay away from any artificial colorings and other unnatural components.
Vegetables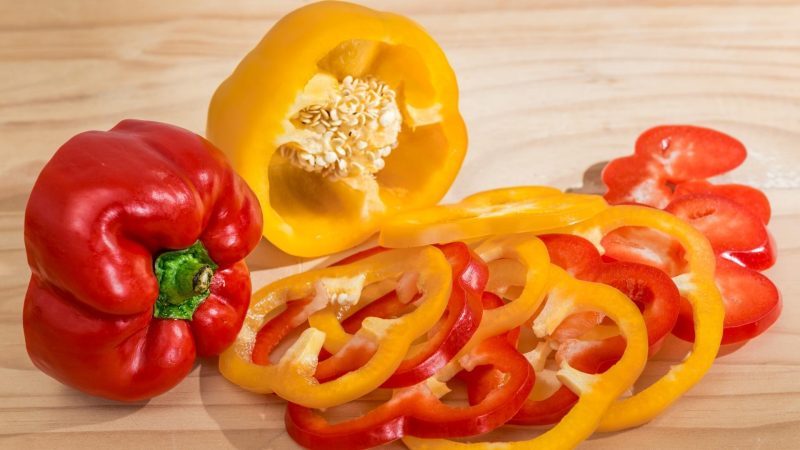 When it comes to vegetables, they can totally become part of your guinea pig's daily diet. In fact, some owners feed guinea pigs up to one cup of fresh vegetables every day.
Bell peppers are the absolute favorite of cavies. Moreover, peppers contain a lot of vitamin C that is crucial for the guinea pig's health. It looks like the red bell pepper is the fluffy friend's favorite. Though you can certainly try out all the colors. Leafy green vegetables are also great.
But remember that your guinea pig is unique and it might enjoy other veggies as well. For example, cucumbers and carrots are good for cavies. So don't be afraid to experiment, as long as you don't give your guinea pig anything that is toxic and unhealthy.
Fruits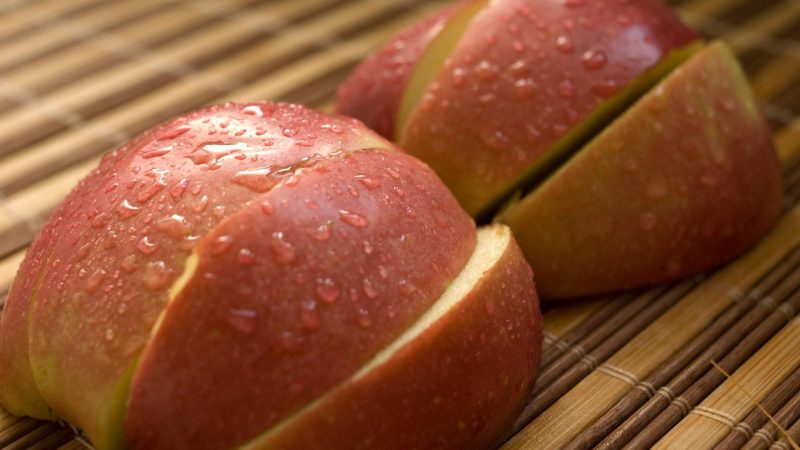 Different types of fruit can become real treats, as these things can't be given to the cavy every single day. Fruits tend to have a lot of acid and sugar in them. This might lead to sores around the mouth and obesity so better give them in moderation.
But the great news is that you can feed your little friend with nearly any type of fruit. Apples seem to be on top of the list. But pears, strawberries, papaya, and oranges are also enjoyed by guinea pigs all over the world.
Related: Can Guinea Pigs Eat Apples? (Possible Risks & Serving Size)
Twigs
If you manage to find an apple or a pear tree twig, the chances are high that your guinea pig would love it. Twigs and small branches are especially great for the teeth of your beloved pet, as the cavy has to be constantly nibbling on things to ensure that its teeth are wearing down.
What Kind of Treats Are Bad for the Guinea Pig?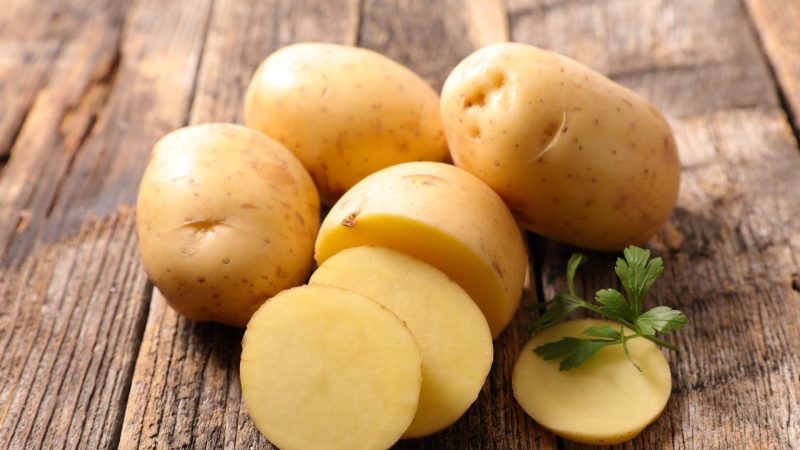 Never give anything to a guinea pig simply because you like the taste of it and you think that the animal will be fond of it as well. Basically, any kind of human food (except for fruits and vegetables) can be harmful to your beloved guinea pig.
Cavies shouldn't have pastries, potatoes, and meat. Guinea pigs are herbivores and that means that they would simply not be able to digest meat. It might be tempting to try and give chocolate to your cavy but it's just too high in sugar and can contain dairy products. Speaking of which, guinea pigs simply can't digest any kind of diary. The chances are high that the poor things would be left with an upset stomach.
It might seem logical to give your cavy seeds and nuts as treats. The truth is that these products can be given to a guinea pig and the little guy might even like them. But nuts and seeds can be dangerous for another reason. A lot of those have shells that can cut the digestive tract of the cavy. Moreover, seeds and nuts can get stuck between teeth.
Cereal and crackers are also a bad choice. Though guinea pigs can eat these things, crackers and cereal absorb a lot of liquid. And that's exactly what's going to happen in the cavy's digestive system, causing a lot of unpleasant feelings.
Related: Can Guinea Pigs Eat Sweet Potato? (Benefits, Risks, Serving Size & More)
What Are the Best Treats for Training Guinea Pigs?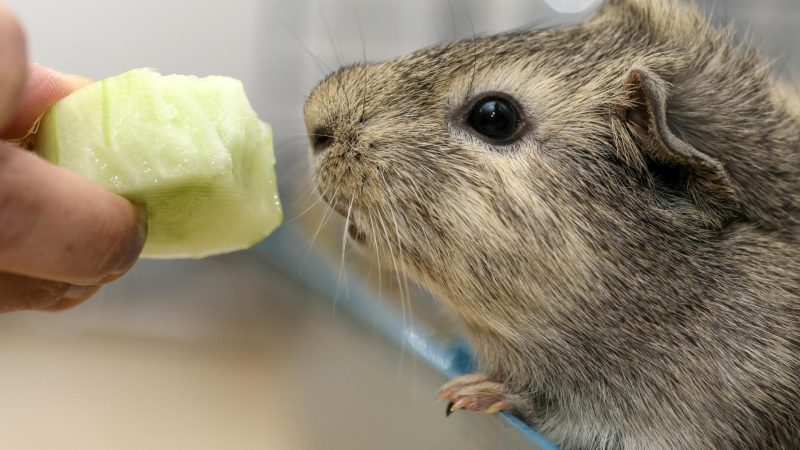 Guinea pigs are smart animals that can be taught to do simple tasks. They aren't as adaptable as cats and dogs, so don't anticipate your guinea pig to do any tricks, but they can frequently be trained to respond when called and use a litter box.
Thus, it is helpful to give them treats during training. There are a number of excellent, all-natural foods that would be ideal, the majority of which have been discussed. Typically, when it comes to training, you should test out a few treat possibilities, then record which ones your pets like.
Remember that everything you pick must be safe for your guineas to consume in large numbers. No sugary commercial treats, and fruits with naturally high sugar content. 
Ideal Treats for Everyday Training
The treats on this list are good for frequent, consistent training and are safe to eat on a daily basis:
Bell peppers – red, orange, yellow, or green 
Fresh, outdoor, pesticide-free grass 
Ideal Treats for Inconsistent Training Sessions
The treats on this list are great for training purposes when combined with other vegetables:
Treats Not to Be Used in Training Sessions
The following is a list of rewards to avoid during guinea pig training at all costs:
People food or table scraps
Prepackaged commercial treats
Factors to Consider When Buying Treats
When selecting a treat for your guinea pig, keep the following factors in mind:
Age of the Guinea Pig
The type of treat you can receive for your pet is mostly determined by its age. Treats high in protein and calcium are not suitable for older pigs but are ideal for younger and breastfeeding guinea pigs.
On the other hand, excessive amounts of fiber are bad for young guinea pigs but acceptable for adults. Thus, before purchasing any treats, consult with your veterinarian to determine the appropriate type for your pet. 
Ingredients
Because fats, carbs, proteins, and calcium-rich treats are unhealthy for your pig's stomach, they should be avoided. Instead, pick treats that contain components present in a guinea pig's natural diet, such as hay or grass. Because guinea pigs cannot synthesize vitamin C, treats containing it are beneficial.
Chemical-Free
When looking for treats, make sure to look at the manufacturer's label. To begin, check if the treat contains any chemicals or additives, which should be avoided.
Reviews: 6 Best Guinea Pig Treats
You can find a lot of different recipes out there to make some treats for your guinea pig on your own. But, it's so much easier and faster to simply place an order online and wait for the yummy stuff to arrive at your door. We have picked a few great options for your guinea pig.
Sale
Kaytee Timothy Biscuits Baked Treat for Pet Guinea Pigs, Rabbits & Other Small Animals, Apple, 4 oz
Supports dental health through natural chewing activity
Made with sun cured timothy hay and apples
Great enrichment and foraging for small animals
Ideal for playtime and bonding with your pet rabbit, hamster, chinchilla, and other small pets that crave the taste of real sun cured timothy hay, apples, and molasses
The high fiber content of natural timothy grass hay also supports your pet's overall health
This treat is the absolute favorite of the majority of guinea pig owners. The biscuits are baked with real apples. They also have Timothy hay in them that is great for the guinea pig's teeth and digestion. Moreover, these treats have a crunchy texture that cavies adore. And it helps the little ones wear down their teeth, so that's a great bonus. These treats also come in a carrot flavor, if your guinea pig prefers this vegetable to apples.
The package has around 40-42 treats, so one single bag will serve you for months.
This might be the perfect treat if you are yet to figure out what your guinea pig prefers. The outer part of the 'cup' is made out of oats, corn, dried papaya, rice, sweet potatoes, and all the other crunchy stuff. While the middle is a thick layer of strawberry and banana 'yogurt'. Guinea pigs enjoy the different textures and often use the treat not only as food but also as a toy. And the good news is that the cup will last for a while. However, bear in mind that your beloved guinea pig might like either the outer part or the center.
You will be getting two cups in the package and they can be kept on the shelf for 15 months. Always remember that the cup has added sugar and fruits. In this case, moderation certainly is key.
Every pack carries around 50 treats. Moreover, you can easily reseal the bag to ensure that the product is fresh. This one is the most natural option out of the three. These treats might not look appealing to our eyes, but guinea pigs tend to love them.
The treats are a source of potassium and vitamin B6. The product has no added sugar and consists only of freeze-dried fruits and herbs. The treats can easily be broken into smaller bits if you need to. If you're on the search for the healthiest treat on the market today, then we would certainly like to draw your attention to this option.
By the way, if your guinea pig will like the texture and size of these, you might want to try out all the other tastes that Oxbow Simple Rewards has to offer. Those include apple and banana, carrot and dill, peppermint, cranberry. Yum!
Sale
Vitakraft Drops Guinea Pig Treat - Orange - Yogurt Treats for Guinea Pigs Orange 5.3 Ounce (Pack of 1)
GUINEA PIG DROPS: Zesty orange and rich yogurt combine to make tasty treats for guinea pigs. Perfect for spoiling your furry friend
HEALTHY SNACKING: With whey and essential nutrient lecithin, these high-protein guinea pig snacks include the Vitamin C guinea pigs need to stay healthy
NATURAL INGREDIENTS: Made with real orange, natural whey, and no artificial colors or flavors
EVERYDAY TREATING: Ideal for bonding, playtime, or as an extra special reward
ALWAYS FRESH: Small-batch production ensures that the yogurt chips are fresh and tasty, and the resealable bag keeps them that way
If you're seeking a nice and nutritious treat, this product is probably a good one for you. This is supplemented with the additional Vitamin C that guinea pigs need to sustain a happy, healthy lifestyle. It is also made with real dried orange and natural whey protein. Vitamin C can help the guinea pig stay healthy by increasing their immunity.
Because of the yogurt component, these treats will also benefit your animal's gastrointestinal health. This product also includes whey protein and lecithin, which are essential for your pet's wellness. Whey is a high-protein food that promotes muscular development. On the other hand, lecithin keeps the skin and coat of your guinea pig healthy and smooth.
Recommendations: As a treat, give your guinea pig 1-3 drops each day.
Sale
Standlee Premium Western Forage Timothy, 10lb Box
FEEDING DIRECTIONS: Standlee recommends selecting a commercial fiber-based, vitamin and mineral fortified food, like PremiYum fortified food, and pair it with high-quality, hand-selected long-stem forage. Timothy Grass is NOT intended to be the only component of the diet. Place forages in a hopper or bin to prevent spoilage. Remove any uneaten forage if it becomes wet, damp, or soiled.
STORAGE AND SHELF LIFE: Proper storage includes keeping the product dry and unexposed to the elements. Simply reclosing our specially designed box helps keep our forages dry and free from contamination. Instructions on how to reclose the box are printed on the top flap.
HEALTHY DIGESTIVE SYSTEM: Feeding a small amount of fresh forage stimulates chewing, which aids in proper teeth wear and promotes a healthy digestive system.
If you're searching for a high-vitamin-C meal for your pet, the Standlee premium timothy grass is an excellent option. This diet, which is high in fiber and low in protein and calcium, improves digestion and reduces gastrointestinal problems.
Timothy grass is completely natural, including no chemicals, sugars, or additives. It helps dental and intestinal health by encouraging chewing.
Timothy grass should make up around 10% of a guinea pig's diet as an adult. Because guinea pigs don't require a lot of calories, this successfully keeps them satisfied for lengthy periods of time. If any uneaten forage becomes wet, moist, or filthy, remove it.
Bojafa 250g Apple Sticks Small Animals Molar Wood Treats Toys for Rabbits Chinchillas Guinea Pig Hamster Gerbil Parrot Bunny and Small Animals Chew Stick Toys Treats (250g, About 50 Pcs)
100% Natural Apple Branches Pet Food, Organically Grown, NO Pesticides.
Package Weight about 8.8 oz, 50--70 pcs. Each Chew Stick Up to 5 Inches Long
Suitable for Guinea Pigs, Chinchilla, Squirrel, Rabbits, Parrot, hamster, degus, gerbil and other rodent species.
Great for playing and nibbling,Reusable, durable, practical, good elasticity, widely recommended for healthy teeth.
No damp mildew, harmless to the health of small pets, can be stored for a long time.
Grinding their teeth on surfaces is one of the guinea pigs' favorite activities. They don't do it for fun; they do it to keep their incisors in balance. This is why it is critical to supply pets with natural sticks.
These Bojafa Apple Sticks are delicious treats made from organically cultivated apple branches. They don't include any additional chemicals, ensuring that your pet's health isn't endangered. The producer also properly prepares and dries the sticks to prevent mold growth. 
It securely and successfully assists pets in meeting their molar demands and avoiding problems associated with long teeth, such as inflammation and malnutrition. Moreover, it can also help with the anxiousness and other unpleasant feelings that the pet may be experiencing.
Summary
Now you have a few best guinea pig treats to choose from. There is no better feeling than seeing your beloved furry ball get excited in anticipation of a yummy product. Treats will not only bring a lot of joy to your cavy but also help you bond with the guinea pig.
List of Sources