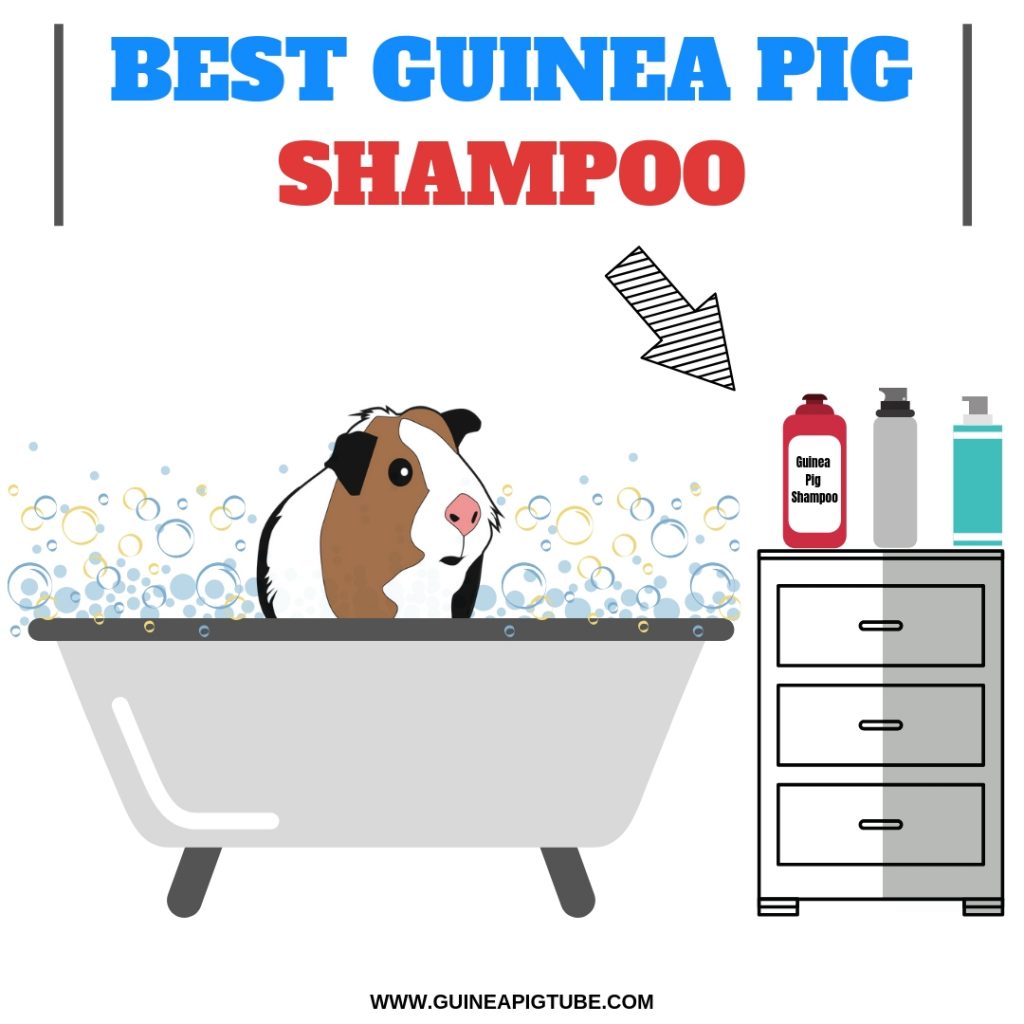 In case you are a proud guinea pig owner, the chances are high that you already know that you will need to bathe your beloved pet once in a while. Even though, in general, guinea pigs are low-maintenance animals, there certainly are a few grooming procedures that they need to go through. And taking a bath is one of them.
How often does your beloved cavy need a pampering day?
Is it true that excessive bathing can be dangerous?
What exact products can you use on your fluffy ball of happiness?
And what are the exact steps that you have to take when bathing a guinea pig?
Today we will be answering all of these questions. Isn't it great that only in a few minutes you will already be a guinea pig bathing expert?
For those of you who are desperately looking for a list of the best guinea pig shampoos on the market – read the list below. However, please keep on reading, if you need a proper detailed description of every product.
1. Kaytee Squeaky Clean Critter Shampoo, 8-Ounce
2. Odie and Cody Natural Shampoo, Organic Pet Shampoo
3. Kaytee Quick & Clean Critter Dry Shampoo
4. Arm & Hammer Tearless Shampoo for Small Animals 
5. G That's Awesome Brands Certified Organic Pet Shampoo
---
Before choosing the perfect guinea pig shampoo, you have to at least know what to do with the thing, right? So, we have prepared a simple step-by-step bathing guide for you. Our main aim to make the whole process as stress-free (both, for you and your guinea pig) as it can possibly be.
---
How Often Should You Bathe Your Guinea Pig?
Bear in mind that it is better to give your cavy fewer baths than too many of them. This is because:
Firstly, guinea pigs have natural oils in their hair that are extremely important for their overall health.
Secondly, cavies are relatively clean animals. Just like cats, guinea pigs tend to lick their fur to get rid of some dirt.
And last but not least, the whole bathing experience can be very stressful for the tiny guy. And we don't want the pet to be constantly anxious, right?
Usually, guinea pig owners give their precious fluffy balls a bath only a few times per year. However, up to one bath per month is considered to be ok. But if you are a great owner that likes to keep the guinea pig's cage fresh and clean, then you would surely not need to bathe the little fellow that often.
---
How to Give Your Guinea Pig a Bath?
Of course, giving your piggy a bath for the first time can be quite stressful. But with the help of our simple step-by-step guide you are going to know exactly what to do (and that' already half of the success, right?).
---
Firstly, you would have to decide where you want to bathe your beloved pet. Would that be a sink or a bathtub? If you choose the latter, then you would be sure that your guinea pig doesn't climb out.
Prepare a cup, one big and one small towel as well as your guinea pig shampoo.
---
Fill the tub or sink with around 1.5 inches of warm water.
---
Put your cavy in the water and give it a couple of minutes to get used to the new surroundings.
---
With the help of the cup, pour the warm water over the guinea pig. Next, apply the shampoo (you can find the instructions on every bottle). Pour more water over the cavy so that there is no shampoo left. Keep the shampoo and water away from the guinea pig's face and ears. By the way, you can give different treats to your fluffy ball during the bathing process to help the little thing relax.
---
It is extremely important to dry your guinea pig thoroughly. Use the small damp towel to gently wash the pet's face. By the way, you can try and use a hairdryer on your guinea pig. Some cavies adore the warm air coming out of the dryer. Don't over dry the animal's skin though.
---
Comb the little thing and put it back in the cage. But don't forget to make sure that the cage is clean, otherwise, all your efforts have been useless.
---
You shouldn't be giving your guinea pig a bath if he has a respiratory illness or lives outdoors (the cavy might get sick).
However, make sure to give your little friend a bath in case its hair is greasy and dirty or in case your cavy has a parasite or a fungal infection. You can also bathe your guinea pig after it has had a parasite infection to help the little fellow cleanse the skin.
Can you treat mites or lice in your guinea pig simply by using a special shampoo? Yes, that's usually how the treatment goes. However, if you suspect that your beloved pet is infested, make sure to pay a visit to the vet first and only then start using the shampoos that he or she had suggested.
The 5 Best Guinea Pig Shampoos
---
1. Kaytee Squeaky Clean Critter Shampoo
Any guinea pig owner would certainly want the shampoo to be 100% safe for the cavy's health. This particular product is pH balanced and totally tearless. So, your beloved pet won't be experiencing any inconveniences neither during the bath nor after (the shampoo does not dry the sensitive skin of the cavy). No wonder. Kaytee is one of the leading companies that manufacture and sell products designed especially for small animals.
The shampoo comes in an 8-ounce bottle that will surely last you quite a while (taking into consideration that guinea pigs do not need to have a bath frequently). Moreover, the formula helps eliminates all sorts of odors to ensure that your cavy is feeling fresh and soft after its pamper routine.
However, some owners confess that the smell of the shampoo might be a little too strong. The product has a long lasting baby powder fragrance. In case you don't mind the smell, this Kaytee shampoo will surely become your favorite product.
Check out the current price for Kaytee Squeaky Clean Critter Shampoo on Amazon.
---
2. Odie and Cody Natural Shampoo, Organic Pet Shampoo
Don't let the price scare you. Yes, it might seem like a little too much to spend on shampoo for your guinea pig. But bear in mind that you will be getting a 16-ounce bottle that you can end up using for years.
Moreover, this product is gluten and cruelty-free, biodegradable and vegan. It is possibly the best organic option available on the market right now. All the packaging is made of recycled materials. The ingredients used include rosemary extract, essential and organic oils, and organic aloe vera. Moreover, the product includes lemongrass that is considered to be a natural defense from fleas.
The shampoo has a fresh, mild smell of lemongrass, so its suitable for the owners and guinea pigs that are sensitive to strong smells. Certainly, the product is hypoallergenic, as well as anti-itch, moisturizing and allergy relief. The shampoo is highly concentrated, so you would literally need only a couple of drops per bath.
Check out the current price for Odie and Cody Natural Shampoo, Organic Pet Shampoo on Amazon.
---
3. Kaytee Quick & Clean Critter Dry Shampoo
This is the perfect option for the owners that just hate giving a bath to their pets. This dry shampoo can become a real savior for the tiny fluffy friends that start panicking every time you get them close to water.
This shampoo comes in form of a spray and all you need to do is put the thing on your guinea pig's hair and massage the shampoo in. The formula helps neutralize odors, loosed dirt and dissolve oil. Just like with the ordinary shampoo mentioned above, the product has a lasting baby powder smell.
By the way, you wouldn't really want to leave your kid alone with the cavy, while they're giving it a bath. This dry shampoo will do perfectly well if you want to teach your kids to take care of pets.
Check out the current price for Kaytee Quick & Clean Critter Dry Shampoo on Amazon.
---
4. Arm & Hammer Tearless Shampoo for Small Animals
The price of this product is practically unbeatable. The great thing about it is that the shampoo is tearless, pH balanced and will be able to neutralize all odors. The product includes baking soda to ensure that the hair of the guinea pig stays fresh and clean.
However, the shampoo does not dry the skin and you can even leave it while bathing for a couple of minutes for an even stronger effect.
Check out the current price for Arm & Hammer Tearless Shampoo for Small Animals on Amazon.
---
5. G That's Awesome Brands Certified Organic Pet Shampoo
The product is suitable for the guinea pigs that have particularly sensitive skin and different skin conditions. The formula does not irritate or dry the neither the animal's skin nor the human's hands. As an additional bonus, this shampoo even helps to improve the owner's hands!
This organic product has a pleasant mild smell and removes all dirt and odors extremely well.
Check out the current price for G That's Awesome Brands Certified Organic Pet Shampoo for Small Animals on Amazon.
---
Do you want your beloved cavy to smell like a flower, be fresh, clean and happy? These best guinea pig shampoos will most certainly help you with that.
Best of luck!