If you are a proud guinea pig owner, you should certainly know what your beloved pet needs to eat on a daily basis. But if you want to be the best possible owner of your guinea pig, you should surely choose the best food. On the other hand, if you're thinking about adopting a guinea pig, you should know what are guinea pig pellets.
Here is the list of the 7 best guinea pig pellets that you can immediately start buying for your guinea pig.
Small Pet Select Guinea Pig Food Pellets
Kaytee Supreme Diet for Guinea Pig
Oxbow Essentials Guinea Pig Food
Kaytee Timothy Biscuits Baked Treat
F.M. Brown's Tropical Carnival Gourmet Guinea Pig Food
Supreme Science Selective Guinea Pig Food
Hartz Guinea Pig Small Animal Food Pellets
Make sure to continue reading if you want to find out what exactly makes these pellets so good.
What are Guinea Pig Pellets?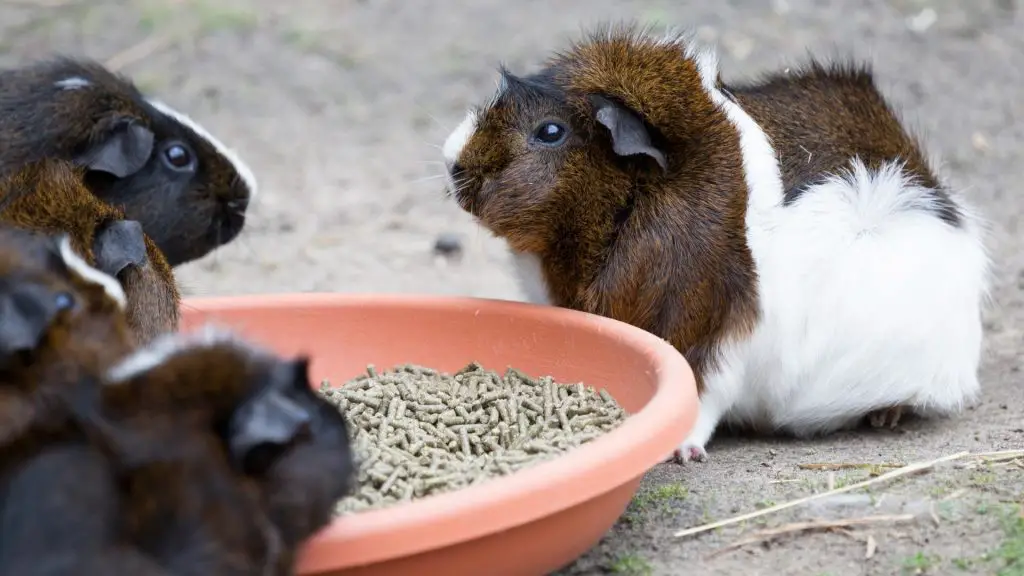 Sometimes guinea pig pellets are also referred to as 'nuggets', so don't get confused by that. Basically, it is dried food that you can buy in packs for your cavy. Pellets have been created according to the needs of guinea pigs. That's why there are a lot of different nutritional elements that will help make sure that your beloved pet is as healthy as it can possibly be.
It is important to give your guinea pig only the pellets created for guinea pigs. Rabbit food does not work for them! So, if you get lazy one day and decide that the dry food for some other animal will do for a while, your guinea pig will surely suffer from that.
The food that your cutie will need can be divided into two groups: dry food and fruits/vegetables. When it comes to dry food, pellets will do just fine. No need to give your guinea pig anything else if we are talking about high-quality pellets that have all the necessary elements.
What Should We Know About a Guinea Pig's Diet?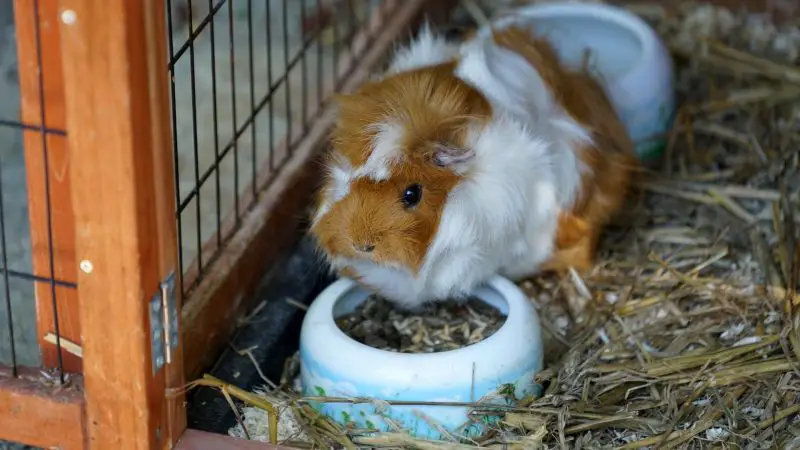 The little fellows should always have plenty of fresh hay and water at their disposal. They simply need to chew on something whenever they want to.
When it comes to the other part of a guinea pig's diet, a lot of owners like to experiment. Mainly, because it's a lot of fun. Guinea pigs have strong personalities and different tastes. Your pet might like one fruit and absolutely hate the other. But once you find out what the cavy is really fond of, you will be rewarded with funny noises and other cute 'rituals' that an excited guinea pig will show you.
However, bear in mind that if you are the kind of owner that wants to experiment with food preferences, you have to always remember that safety comes first. Do your research to find out what kind of fruits, vegetables, and other eatable things can be dangerous for the health of your cavy.
When it comes to pellets, it surely is the 'basis' of a guinea pig's diet. Cavies require around 1/8 cup of pellets per day. But the truth is that guinea pigs rarely overeat, so if you leave some pellets at their disposal at all times, it should be fine. Remember to throw away the old pellets and change them for a fresh portion every day.
Factors to Consider Before Purchasing Guinea Pig Pellets
When selecting food for your guinea pig, there are a few things to keep in mind:
Ingredients
When selecting food pellets, you need to check whether they have fiber, Vitamin C and Omega-3.
Fiber is essential in the diet of guinea pigs. This helps to maintain their stomachs healthy and their teeth, which are fast-growing, sharp, and strong. Fiber is typically found in alfalfa and timothy hay. Adolescent guineas benefit from alfalfa hay. However, if they consume large amounts, it can be hazardous. 
Because guinea pigs cannot synthesize vitamin C, it must be taken on a regular basis. 
Omega-3 fatty acids are very important since they give your guinea essential oils, which assist in the preservation of healthy skin and coat.
Bear in mind that a lot of brands (especially, cheap ones) try to make their product more colorful and more appealing to the customer. Make sure to not choose the pellets for your cavy based on the color scheme of the mixture or any other unimportant stuff. The bright flakes are usually unnatural and can be dangerous for the health of the animal. If the pellets are boring and brown, don't worry as they can have a brilliant mixture of nutrients and other great things.
Foods to Avoid
It's crucial not to feed your guinea pigs too much sugar. Pellets containing fruits and vegetables should be avoided or used in moderation. These treats will most likely be enjoyed by your guinea pig, but they should only be given as a special treat. Artificial colors and flavors should also be avoided because they might create health problems.
In general, experienced guinea pig owners recommend getting the pellets that don't have nuts and fruit bits in them. Nuts, for example, are high in fat and your beloved pet doesn't need that at all. Seeds can also be high in fat. But if we're talking about sunflower seeds, they can be dangerous for another reason. The shell can easily break into dozens of small, sharp pieces that can hurt your guinea pig not only from the outside but also on the inside. Moreover, these pieces can simply get stuck between the guinea pig's teeth – an incredibly unpleasant situation.
Reviews: Top 7 Best Guinea Pig Pellets to Buy
There are just so many options and brands to choose from nowadays. You probably don't have the time and energy to try and figure out by yourself which exact type works better for your guinea pig. Today, we will try to help you with that by narrowing the choice down to five options. But we are pretty much sure that thanks to our detailed descriptions, you will be able to pick the perfect dry food in just a few minutes of time.
Small Pet Select Guinea Pig Food Pellets, 5 Lb.
Highest Quality Guinea Pig Food
Timothy Hay Based Guinea Pig Food Pellets Made With Only The Finest Ingredients
Fortified With All Essential Vitamins And Minerals Your Guinea Pig Needs To Thrive
Milled In Small Batches To Ensure Freshness; Made With Love In The USA
100% Satisfaction Guarantee - We Are A Small Family-Owned Business That Prides Ourselves In Delivering A Better And Fresher Food For Guinea Pigs
These pellets are also available in larger-sized bags (10 lb, 25 lb) which a lot of owners appreciate. Another great thing is that Small Pet is a family-run business based in the USA. They pay extra attention to the quality of the ingredients and you can be sure that every pack had been formed with love. The company uses only local ingredients. And even the package is made in the US (not China).
The actual pellets are Timothy hay-based and they are fortified with all the essential minerals and vitamins. Bear in mind that this is a great option for adult guinea pigs. Timothy hay has less calcium (in comparison to alfalfa). Therefore, the young guinea pigs will simply not be able to get enough minerals with these pellets.
The ingredients are milled in small batches. That means that the product turns out to be as fresh as it can possibly be (a lot of customers noted that). The only downside of these pellets can be the price.
This brand has over 150 years of experience! And they have a great strategy – the simpler the better. These pellets really don't look appealing to a human's eye. But it doesn't matter if the guinea pigs adore them.
Moreover, the pellets are fortified with all the necessary minerals and vitamins (including long-lasting vitamin C). The price of these pellets will surely make you happy.
Sale
The brand Oxbow is well-known for producing high-quality items. These little pellets are seedless, homogeneous in shape and size, and reasonably priced, so sensitive eaters will not be put off. They're also available in a variety of bag sizes, allowing you to buy only as much as your guinea pig will consume in a few months.
This pellet is manufactured from timothy hay, which is strong in fiber and promotes good digestion. This also contains stabilized Vitamin C and antioxidants to help your guinea pig's immune system. There are no processed sugars or artificial substances in this product, making it completely safe and nutritious for your pets. Feed 1/8 cup pellets daily to adult guinea pigs (over 6 months), in addition to abundant grass hay.
Sale
Kaytee Timothy Biscuits Baked Treat for Pet Guinea Pigs, Rabbits & Other Small Animals, Apple, 4 oz
Supports dental health through natural chewing activity
Made with sun cured timothy hay and apples
Great enrichment and foraging for small animals
Ideal for playtime and bonding with your pet rabbit, hamster, chinchilla, and other small pets that crave the taste of real sun cured timothy hay, apples, and molasses
The high fiber content of natural timothy grass hay also supports your pet's overall health
Kaytee Timothy Biscuits Baked with Apple are high in vitamins, hay, and apples. It helps maintain your guinea pig's teeth in good shape. It also contains timothy grass hay, which is naturally high in fiber. This hay treat has a distinct flavor and feel from your guinea pig's pellets, as well as providing mental stimulation and preventing boredom. 
Each of these biscuits has roughly 10 calories. So if your guinea pig begins to gain weight, reduce the number of treats given to him. 
F.M. Brown's Tropical Carnival Gourmet Guinea Pig Food with Alfalfa and Timothy Hay Pellets - Vitamin-Nutrient Fortified Daily Diet - 5lb
Vitamin-Nutrient-Fortified: Specially formulated for the daily dietary needs of guinea pigs
Support Good Digestion: Added probiotics help stimulate good digestion so your guinea pig can get the most out of our nutrient-rich ingredients
Immune System Support: We add stabilized vitamin C, a necessary supplement for guinea pig health, to help maintain a healthy immune system
Fiber Rich: Timothy hay and alfalfa pellets are high in fiber for optimal digestion
ZOO VITAL Biscuits: Includes our specially formulated ZOO VITAL Biscuits for healthy teeth and gums with nutrients required for the well-being of your guinea pig
If your guinea pig gets tired with standard pellet-style feeds, this treat-filled food is a good option. This product includes pellets prepared from a blend of Timothy and alfalfa hay, as well as dried fruit, seeds, and F.M. Brown's Tropical Carnival Gourmet, which enhances teeth and gum condition.
This meal isn't only a good recipe; it also has all of the vitamins and minerals that pet owners require. It's high in fiber and contains vitamin C that's been stabilized, which is a critical complement for guinea pig health. It's abundant in antioxidants, which help the immune system work properly. This dish is also high in probiotics, which help the digestive tract work properly.
Supreme Science Selective Guinea Pig Food merits significant attention if you're seeking one of the most nutritious guinea pig foods on the market. This diet lacks many of the superfluous bells and whistles found in other foods. Instead, it focuses on what your pet requires to stay healthy and live a long life.
Its crisp, airy texture is appealing to guinea pigs. It's a really healthy choice because the recipes don't have sticky sugars or syrups. This meal is designed to provide the perfect balance of vitamins and minerals, and it is made up of identical-looking pellets. This appearance can help to prevent your pet from selecting out only the most delicious pieces. 
Additionally, it has fiber to encourage good teeth and stomachs, and it's fortified with vitamin C to keep your guinea pigs healthy. It also has linseed, which is an excellent source of omega 3. This helps to control coat gloss, thickness, and color intensity while also promoting healthy skin.
Hartz Small Animal Guinea Pig Food Pellets - 4Lb
Scientifically-Formulated To Meet The Nutritional Needs Of Guinea Pigs, This Diet Contains Carefully Selected Ingredients That Taste Great And Are Also Good For Your Pet.
Diet Fortified With Vitamins, Antioxidants And Omega-6 Fatty Acids.
Helps To Maintain Optimum Health And Shiny Coats.
Guaranteed To Provide 100-Percent Complete Nutrition.
This guinea pig food provides nutritious and delicious guinea pig pellets that your pet will like. It is carefully designed to fulfill your pet's nutritional needs. This includes ideal quantities of protein, fat, and fiber to aid your pet guinea pig's weight and digestive system. Furthermore, it also contains minerals, omega fatty acids, and vitamins, all of which assist bones and tissues health.
It also includes omega-3 fatty acids, which aid in the maintenance of a healthy heart. There are also omega-6 fatty acids, which aid in the maintenance of healthy skin and a soft, lustrous fur.
However, give your guinea pig 1/8 to 1/4 cup in a clean bowl every day, as directed. These amounts should be adjusted as needed to maintain a healthy weight. To achieve the greatest outcomes when introducing a new meal, start with a blend of current and new food to give your pet time to acclimate to the shift.
Do Guinea Pigs Need Pellets Every Day?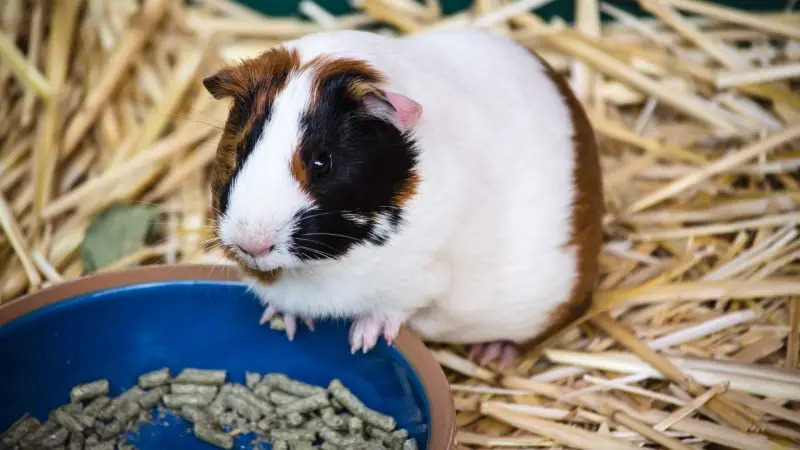 Pellets and timothy hay should be given to guinea pigs every day. However, make sure you're not merely leaving a bowl of food in your pet's cage all the time, since the food and dish might become filthy with urine, excrement, and bedding. Alternatively, feed your pet at the same time every day and then take away the food a few hours later.
Then, using soap and warm water, thoroughly clean the dish. Allow it to completely dry overnight before refilling it the next day with new pellets.
Can Guinea Pigs Just Eat Pellets?
Guinea pigs cannot just eat pellets. Timothy hay is required for their health. Pellets and hay should be offered every day, and fresh vegetables should be provided several times each week.
How Do I Get My Guinea Pig to Eat Pellets?
Guinea pigs are sometimes hesitant to accept the pellets that their owners give. To make them eat the pellets, you can do the following ways:
Switching to a new type of pellet. Your guinea pig's present pellets may be unappealing to them. Even with guinea pigs that have been eating the same pellets for months, this might happen abruptly.
Pellets with dried carrots, grapes, or other fruits and vegetables are frequently used to entice picky guinea pigs. You might also try a pelleted food with treats.
If you've tried giving them different pellets and they still won't eat them, you should see a veterinarian. Food resistance is frequently a symptom of an underlying health issue.
Summary
We really do hope that we've managed to make things a bit easier for you. Remember that every guinea pig has a strong personal taste. And no matter how beneficial a certain brand of pellets might be for its health, the cavy may simply not like the taste. Don't freak out and panic. You will always be left with other options of amazing guinea pig pellets provided by this article.
List of Sources
A Healthy Diet for Guinea Pigs