One of the main reasons why the majority of people decide to adopt a guinea pig is because they are low-maintenance. They don't need a lot of food and supplements. You don't have to take guinea pigs for a walk several times a day. Moreover, it is relatively easy to clean the cage of your beloved fluffy friend. 
Here is our list of the best guinea pig grooming kits:
Ware Manufacturing Small Animal Grooming Kit
3-piece Pet Home Grooming Kit
Pet Brush & Comb Set Foor Rabbit & Guinea Pig Grooming
Dasksha Brush and Grooming Glove – Small Animal Hair Remover
Nail Clippers by KittyNails – Professional Clippers Designed by 2 Veterinarians
Keep on reading if you want to find out exactly what you need to do with your guinea pig and how often the little fellow has to undergo the grooming procedures.
Do Guinea Pigs Need Grooming?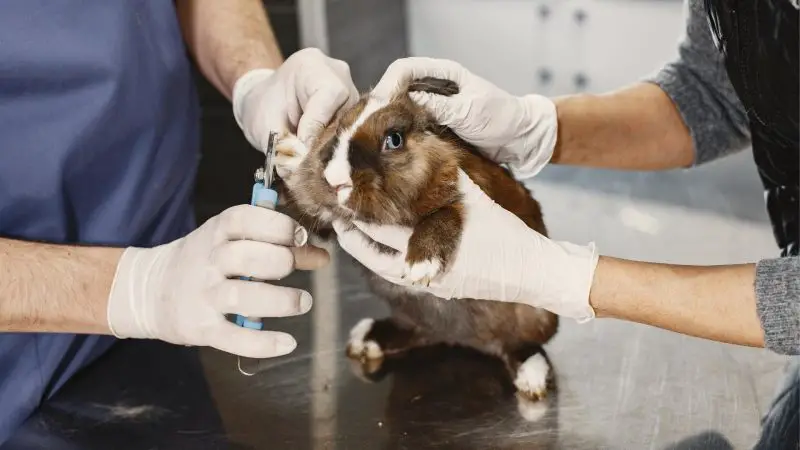 To maintain their fur in good condition, guinea pigs need to be groomed on a regular basis. Grooming requirements vary by breed. For instance, short-haired guinea pigs require less grooming than long-haired guinea pigs.
How Often Should You Groom Your Guinea Pig?
You can groom your guinea pigs depending on their breed.
1. Short-Haired Breeds 
Brushing and washing once a week. 
They may keep themselves clean for several months and only has to be bathed around once every six months or more.
2. Long-Haired Breeds 
Every 3-4 months, give their hair a nice shampoo, as well as a haircut.
In trimming guinea pigs, almost all of them require nail trimming every one or two months. But based on how active they are:
Active guinea pigs: Can go two months without trimming.
Inactive guinea pig: Requires trimming more frequently.
What Procedures Does a Guinea Pig Grooming Guide Include?
Even though the guinea pig grooming process includes quite a few different procedures, they are all incredibly simple and won't take a lot of your time. In fact, even children can be allowed to take care of the 'pamper routine' of a guinea pig.
The procedures include:
Cleaning the grease gland and ears
Checking your fluffy ball of happiness for various skin conditions (you can totally do that during the rest of the grooming process)
Before starting the routine, you have to make sure that your guinea pig is not anxious and that it feels safe. Moreover, it has to be used to being handled. If the little guy doesn't get stressed out, then the chances are high that it might even enjoy the whole process, especially the brushing part.
Hair Brushing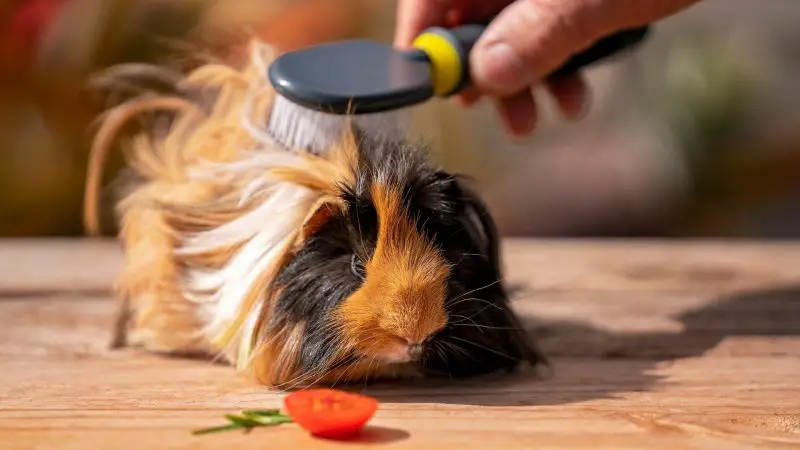 You should brush your guinea pig's hair depending on what breed you happen to have.
Long-haired cavies sometimes need to be brushed every single day.
Short-haired cavies can be combed once or twice a week. However, you can use only a soft brush to remove the excessive hairs (guinea pigs do shed).
Note:
Narrow-toothed combs designed for pets will work perfectly well on a guinea pig. The ones that are wide-toothed might simply be ineffective.
Owners usually recommend using scissors to remove knots, if you are unsure that you'll be able to remove the tangle without causing any pain.
Bathing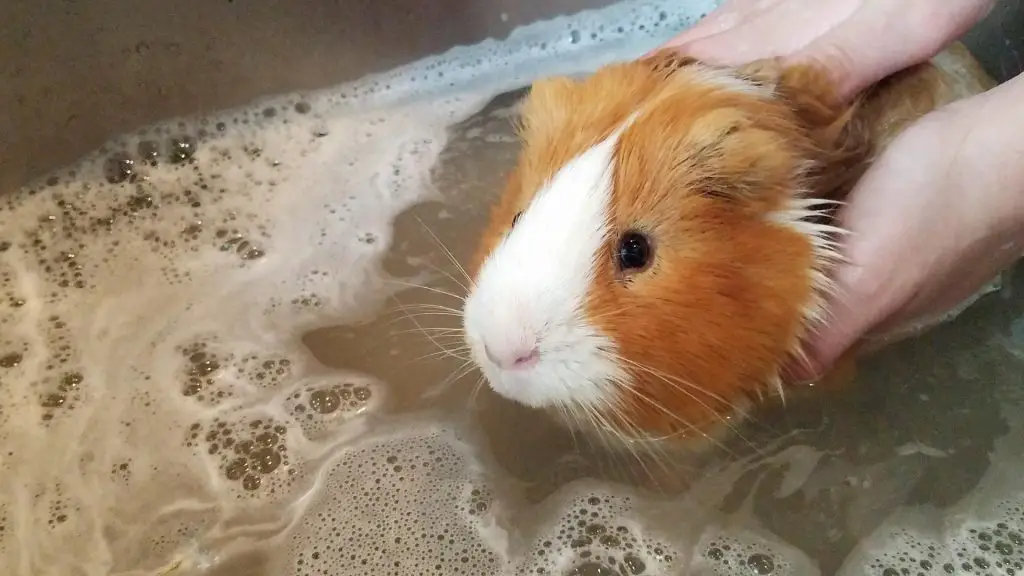 The good news is that you will need to bathe your cavy only a few times a year (the little ones are not quite fond of bubbly and relaxing baths). Use the products that are designed especially for guinea pigs. Otherwise, the thing might irritate the cavy's skin.
It's important to make sure that you have rinsed your guinea pig thoroughly. Then, towel-dry the little guy and ensure that it stays warm. =You can try to gently blow-dry your cavy. Usually, the fluffy balls don't mind it.
Related: How to Give Guinea Pigs a Bath?
Nail Trimming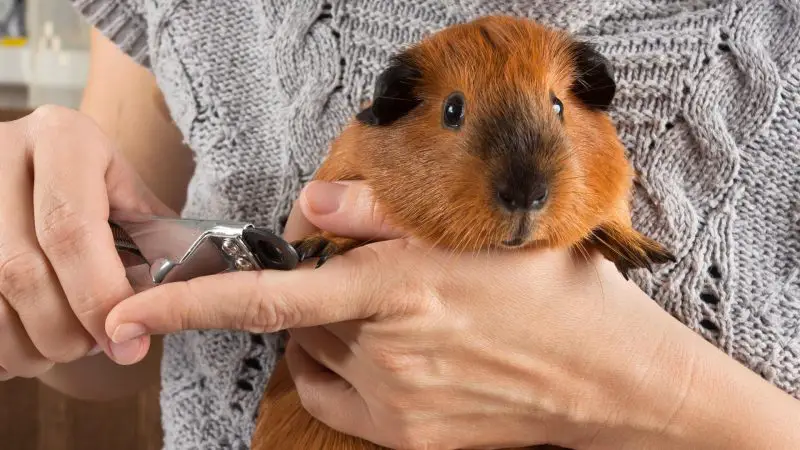 Nail trimming might sound like something extremely scary. But the truth is that there is nothing to be worried about. Usually, you would have to trim your beloved pet's nails every month or two. But, bear in mind that sometimes the nails can grow even faster.
Ideally, you would need a friend to be holding the guinea pig while you have both hands free to focus on the trimming. Simply make sure to not come too close with the scissors to the blood vessels. And remember that some guinea pigs will tolerate only a few nails at a time, so be patient.
Dental Care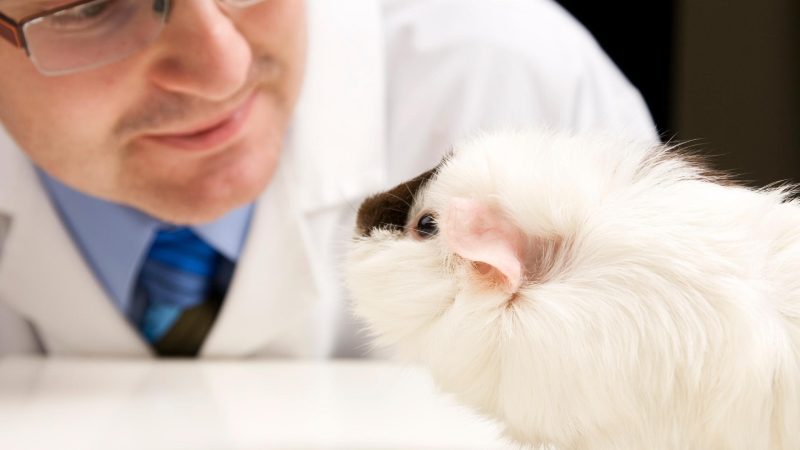 This is the easiest part. All you have to do is to ensure that the gums and teeth of your guinea pig are healthy. Additionally, give the little thing enough hay and other yummy things to chew on.
Related: A Guide to Guinea Pig Teeth: Everything You Need to Know About Guinea Pig Dental Care
Cleaning the Grease Gland and Ears
No matter if you have a boy or a girl, your guinea pig certainly does have a grease gland. The gland is positioned right at the base of the cavy's spine, where its tail might have been. You can use a cotton swab to soak the area with coconut oil and then wash everything off with a warm, wet cloth.
Examine the ears of your beloved pet as often as you can to make sure that there are no mites, infections, or wax buildups. However, you would need to actually clean the ears only once a month. Dip a cotton swab in mineral oil and gently clean the outer ear. Do not get into the actual ear canal.
Check Your Guinea Pig for Skin Conditions
Sometimes, you can't locate some skin conditions that your guinea pig has. However, you can easily do that while brushing the hair of your guinea pig. If you spot any crusts, redness, swollenness, bad smell, or any other atypical condition, make sure to take a trip to the vet.
5 Best Guinea Pig Grooming Kits
Ware Manufacturing Small Animal Grooming Kit
Safe and effective coat care tools
Reduces shedding and prevents hairballs
Promotes a natural luster to your pets fur
Helps build the bond between pets & owners
Includes Pin Brush to reduce shedding, Bristle Brush to make fur shine, and Nail Clippers
The kit includes a shedding brush, a soft bristle brush, a pair of nail clippers, and a chew treat. The first brush helps reduce shedding and ensures that there are no knots in the hair, while the second brush will help the hair of your pet become shiny and pretty. Moreover, shedding brushes are great as they make all the excessive hair stay in the brush rather than being all-around your house.
The treat is made out of wood and is included in the kit to help you keep the pet entertained while you try to groom it, though we would recommend using some other healthy treat as an alternative.
The important thing is that the nail clippers are 100% safe and easy to use so don't get scared by their appearance. Moreover, the blades are made thin, this helps you see exactly what you're doing.
2.
No products found.
No products found.
Now, this is a pricier option but the kit includes a lot of stuff that your guinea pig is going to need. You will be getting a nail trimmer, a massage brush, a soft slicker brush, and a microfiber washcloth.
These clippers have a great grip so that your hand doesn't get tired. Moreover, the blades are sharp and lightweight. One of the brushes is great for massaging and scrubbing your little friend, while the second one helps prevent tangles. The washcloth is truly a handy thing. It absorbs a lot of water fast, so you can totally try and use it after giving your guinea pig a bath.
Sale
In case you are looking only for a set of brushes, this might be the perfect option for you.
The set includes a tiny plastic brush that helps break the knots and comb the hair of your pet around the most delicate areas (face and ears, for example). The soft brush is great for removing unwanted hairs. Moreover, the brush has a special non-slip handle to make the whole process even easier. The plastic material is light and easy to clean.
This tool is a great option for owners who want to try out something new. The kit includes two tools:
Glove: Helps you to brush your pet's hair.
Brush: You can use to remove the loose hair from the furniture, clothes, and so on.
The tools have silicone tips so that the glove is gentle on your guinea pig's body. Moreover, the material is easy to wash. The brush can even be used to remove hairs from your carpet. If you use the brush while it's wet, the effect would be even better. Your guinea pig might love the glove as it is not only a grooming tool but also a great massaging device.
Simply Pets Online Cat Nail Clipper - Sharp Angled Blades - Veterinarian Designed - Professional Pet Nail Clipper for Small Dogs, Rabbits, Guinea Pigs and Birds
DESIGNED BY 2 VETERINARIANS in our own feline-only clinic - We use these cat nail clippers daily professionally and with our own cats
ANGLED STAINLESS STEEL BLADES - The angled, sharp stainless steel blades of our pet nail clippers are designed to give a clean quick trim and last for years. Instructional videos available directly from us
RUBBER COATED HANDLE - The handle of our cat nail trimmers is designed for your pet's safety first, offering a reliable non-slip grip through the lightweight rubber coating but with your comfort in mind
NOT JUST FOR CATS - These cat claw trimmers are also designed for medium and small dogs, kittens, rabbits, puppies, birds, guinea pigs and other small pets
OUR BRAND - We are vets with years of experience in a range of animals and with our own vet clinic in the UK. We are committed to developing products that enhance the health and wellbeing of all pets
If you're still looking for the best nail clippers, you might want to take into consideration the trimmers designed for cats. These clippers were not only created under the supervision of veterinarians, but they also have a lifetime guarantee. The rubber-coated handles will ensure a comfortable grip.
Moreover, there certainly won't be a slipping situation happening, so the whole process is as safe as it can be. The blades are very sharp, light, and made of stainless steel.
Summary
With the right set of tools, grooming your guinea pig can become an exciting ritual for both of you. Choose the best guinea pig grooming kit wisely and never forget that safety comes first.
List of Sources
How to Care For Your Pet Guinea Pig