Despite being a small animal, owning a guinea pig doesn't mean that you can leave it to its own. Guinea pigs require special attention and a place to live, preferably a cage. When a guinea pig is in the cage, it's safe from the other predators and its food is at its reach. However, buying a quality cage for your guinea pig is sometimes a very demanding thing to do.
So, which guinea pig cage should you buy? Here are our top 10 picks:
Living World Deluxe Habitat
Midwest Deluxe Critter Nation
Guinea Habitat Plus
Petsfit Guinea Pig Cage
AmazonBasics Pet Habitat
Kaytee My First Home 2-Level Pet Habitat
MidWest Homes for Pets Wabbitat Deluxe Guinea Pig Home Kit
Ware Manufacturing Home Sweet Home Guinea Pig Cage
Premium Pet Playpen Large 45" Indoor/Outdoor Cage (Outside/Portable)
Testo Dog Playpen, Portable Large Plastic Yard Fence for Guinea Pigs (Portable)
Continue reading to know more about guinea pig cages and the reviews of the above products.
What Kind of Cage Is Best for a Guinea Pig?
There are three different ways you can house a guinea pig. In an aquarium, storage cube, or store-bought cage.
Aquarium
Because it is affordable, durable, and easy to maintain, an aquarium may appear to be a good alternative. However, due to the solid sides, the guinea pig within does not receive any air circulation. It's also made of glass, which means that if you drop it, it might hurt the guinea pigs.
Most aquariums are too small for a single guinea pig. Cavies are social animals who enjoy in groups of two or more, making keeping them in an aquarium considerably more difficult. They will fight if their living conditions are too crowded.
Storage Cube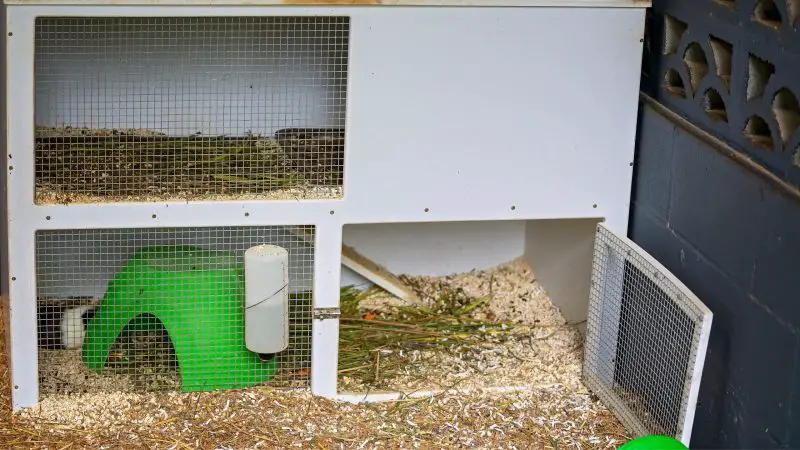 It is the best model in the guinea pig housing market. They provide plenty of space for guinea pigs to explore, and many owners prefer them. The grids are held together with conventional connections and cable ties for further strength.
If you have other pets like cats, you'll need a cover cage. Wire shelves work well as covers. Your cage can have an open-top if you don't have any possible predators in your house.
Store-Bought Cage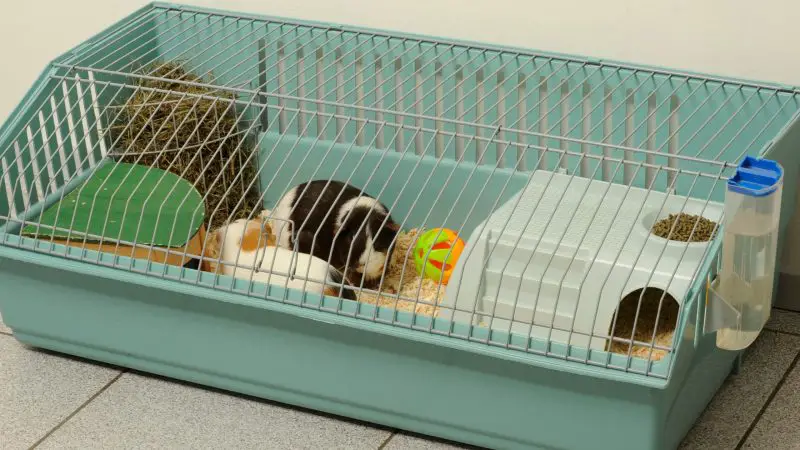 Cages purchased from a pet store will always be the best option if they are at least 7.5 sq ft with one guinea pig or 10.5 sq ft for two. If you buy a guinea pig cage from a pet store, you'll have to spend a lot of money to acquire one that's big enough. You may use the reviews of some of the top cages listed below to help you pick.
What to Consider Before Buying a Guinea Pig Cage?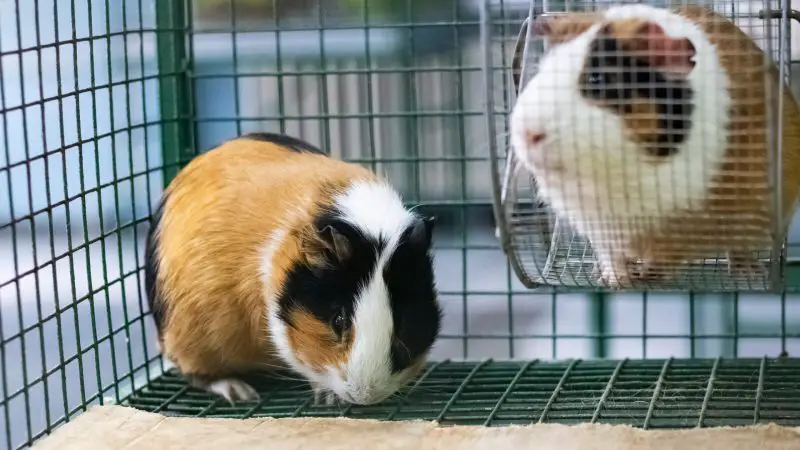 Sizes
Size is the most important factor for providing your guinea pig the life it deserves. Let's be clear – animals like guinea pigs definitely hate confined and claustrophobic spaces. This means that a single guinea pig still needs a decently-sized cage. While many guinea pigs would be perfectly satisfied with a cage for a rabbit, we still recommend that you buy a cage that's slightly smaller.
Approximately, one pig can live in 30×36 inches of space and if you want to introduce another pig, you should definitely consider a much bigger cage.
Related: Top 4 Best Large Guinea Pig Cages to Buy in 2022: Reviews and Guide
Build Quality
Guinea pig cages come in various different sizes, shapes, and materials. Commonly used materials are plastic, wood, metal, and various combinations of these materials. If you want a cage that isn't very heavy, the best choice is plastic combined with metal wire mesh. But, if you really want a cage that's sturdy and heavy, a combination of high-quality wood and metal wire mesh is sometimes your best bet.
Beware that wood is much easier to chew than plastic, so buy only expensive wood cages. Otherwise, it's better to stick with the chew-resistant polycarbonate (plastic).
Outdoor/Indoor Use
If a guinea pig is going to spend the majority of its life inside, that's great. However, if you plan on moving your cage inside and outside, you should definitely buy cages that can do both. Cages for outdoor use are almost always more durable and they provide a weatherproof roof, unlike indoor cages which use wire mesh for the roof.
Portability
For guinea pig owners that travel a lot, portability is of the utmost importance. Portable guinea pig cages aren't that big or robust. Instead, the emphasis is on compact design and a bit of a compromise on the build quality. However, those who travel have no other choice but to purchase a cage like this one.
Ease of Cleaning
Despite not mentioning it first, we think that cleaning is one of the most important factors. The reason for this is that your guinea pig can get bacteria if it lives in a dirty and odor environment. For a cage to be completely easy-to-clean, it must have several access points for you to clean it. Ideally, a bit bigger doors are great and it's even better if you can remove the wire mesh.
Buying a cage that isn't easy to clean will just make you hate it more and more. And we simply can't neglect this important process.
Wire Mesh Spacing
Wire mesh spacing is very important if you want to keep your guinea pig intact. If the wires are too widely spread, a guinea pig can squeeze through and sometimes injure itself. That's why we recommended a big cage, but not a cage for rabbits. These cages often come with slightly bigger mesh spacing, making it easier for a guinea pig to squeeze out.
Top 10 Best Guinea Pig Cages in 2022
Sale
Living World Deluxe Habitat, Rabbit, Guinea Pig and Small Animal Cage, White, X-Large
Versatile Habitat: Living World Deluxe Habitat provides everything you need for safely housing pet rabbits, guinea pigs, chinchillas, ferrets, and more. The hybrid cage provides a safe, well-ventilated and comfortable place for small pets.
Hybrid Design: The hybrid cage consists of an upper wire frame and plastic bottom base. Wire frame is elegantly styled, with an arcing red wire top and white wire sides. Top opens easily in 2 separate parts with a wire door at the front.
Safe Environment: Living World Deluxe Habitat includes a balcony with an access ramp, a tip-proof food dish that secures to the balcony floor, and a hideaway space under the balcony to provide your small pet with a quiet and secure hiding place.
Additional Features: Deluxe Habitat comes with a drip-proof water bottle and a hay guard, both of which are located outside the cage to save interior space and allow easy maintenance access.
Easy Assembly: Cage assembles in minutes using eight easy-to-use plastic clips-no tools required. Measures 46.9 L x 22.8 W x 24 H inches.
This guinea pig cage is one of the best and the most popular out there. It offers some of the best features. While this is arguably an expensive cage for a guinea pig cage, you can expect only the premium features here. First of all, the cage consists of an upper wireframe and a plastic base. Polycarbonate isn't the most durable material out there, but this one is simply amazing, and it's not even heavy, as aluminum or metal would be.
It is plastic built, so it can be carried easily and put wherever you want. The upper wireframe allows guinea pigs to breathe fresh and ventilated air. For added convenience, there is a balcony with an access ramp, alongside included tip-proof food dish.
The food dish is secured to the balcony floor, preventing it from flipping over if your guinea pigs are restless. Of course, we're talking about the X-Large edition, which will allow you to house more than 2 guinea pigs. The cage is made not only for guinea pigs but also other small animals, making it more versatile.
Sale
MidWest Homes for Pets Deluxe Critter Nation Single Unit Small Animal Cage (Model 161),Gray Quartz
Critter Nation Single Unit habitat / cage with stand (161) includes one pan, one adjustable shelf and one ramp with cover. The 1/2 " horizontal wire spacing allows pets to fulfill their instinct to climb & explore in a secure environment.
Full-width double doors on Critter Nation small animal cage and removeable shelf provide maximum accessibility for easy cleaning & feeding
Critter Nation's wide expanse shelf & full width leak-proof pan provides maximized play area & prevents dangerous falls
Extremely sturdy & durable metal cage (great for Rats, Chinchillas, Dagus, Ferrets) & stand is easily maneuverable with 4 locking wheel casters
Critter Nation small animal cage measures 36"L x 25"W x 38.5"H, no tools required assembly & includes a 1- year Manufacturer's Warranty
Midwest Deluxe Critter Nations is an excellent cage for those who value portability and ease of use. Although it boasts a solid metal construction, which makes this cage more durable than ever. The inside of the cage is really beautiful and will make a guinea pig's life much better. On the frontal side, we have full-length and height doors that can easily be opened, allowing you to access any side of the cage. This makes the mundane process of cleaning much more fun and easier.
The cage itself boasts a second-floor platform with a ramp. This will allow your guinea pig to move freely and the sole architecture of the cage is great for a guinea pig to move around. For example, the upper part of the cage can serve as a place to rest and sleep, while the lower one can be used for food and water, even for some toys.
We're overly impressed with this cage, but we think that enormous price is justified only for those who are looking for top-of-the-line guinea pig cages. Also, people think this cage is not made for guinea pigs because of the ramp. This is really not the case because they can climb easily up and down the ramp with no problems. Guinea pigs love the change of settings and the second floor in their house makes them happy.
Sale
Mid West Homes for Pets Guinea Habitat Plus Guinea Pig Cage by MidWest w/ Top Panel, 47L x 24W x 14H Inches
Provides 8 square feet of living area for guinea pigs as recommended by veterinarians and breeders; Assembled product dimensions (Length x Width x Height): 47 x 24 x 14 inches
Fully removable wire mesh top to protect your guinea pig from predators; The multi access folding top and divider panel with hinged "lock in place" ramps/doors separate play and care areas
Durable, leak proof, washable and easily removable PVC lined canvas bottom allows for easy care and maintenance while providing traction and protection for guinea pig's sensitive feet
14 inches high sides provide for secure and convenient access to guinea pigs; Great guinea pig cage for Indoor or outdoor use; Sets up in minutes, no tools required for assembly
Durable and sturdy extra-deep base keeps bedding contained
Guinea Habitat Plus is called 'Plus' for a reason. It's a guinea pig cage that allows you to house more than two guinea pigs. Since it packs 47 inches in length, 24 inches in width, and 14 inches in height, this one has lots of space. This is the reason why it's on such a high spot on our list. The bottom of the cage is made of plastic, while the upper part is wire mesh. While the cage isn't one of the most beautiful out there, it offers a lot of possibilities for customization.
Thanks to its huge space, you can put in bedding, feeding cup, etc. The wire mesh is now fully removable, making it easier to clean the whole cage. Although there are doors at the front and back, we still recommend that you do it this way. Once again, we have PVC-lined material that covers the bottom of the cage, making it leak-proof and fairly durable.
Since it's a large cage, there is a compromise made here and its portability. The cage is significantly harder to move around than the previous one on our list. After all, for a price this low, you can't expect a compromise-free experience.
Sale
PETSFIT Guinea Pig Cages Wooden Indoor Hamster Cage with Hideout for Rest and Ramp for Enter and Out,Light Grey
Spacious Space of Guinea Pig Cages: 35.5"L x 21"W x 21"H. Hidey House: 19"L x 12.5"W x 7"H, Entrance of the hideout: 5.9"W x 6.2"H, suitable for small to medium animal such as bunnies, guinea pig, dwarf rabbit, hedgehog, hamsters, quail, chinchilla, gerbil, and ferret, providing more room for them to play with no weight limit.
Distance between the side panel iron nets is ≈ 1", which is not suitable for ultra-small animals. Please make sure that your furry friend will not get out of the gap before purchase our guinea pig cage. Grey style without bottom net, and solid style has bottom net.
Thoughtful Design: Deeper galvanized pull-out tray with no leakage at the bottom is handy for cleaning up.It has two latches that are hook and eye type attachments (top &side). Non-slip wooden detachable climbing ladder, suitable for small pets who like to be climbers and look out at everyone on the top. Wall gaurds built in to stop hay and bedding from being pushed out, this design also good for shy and unsocial furry babies who can stay in the cave.
Sturdy to Use: 100% made of 10mm Finnish spruce panels(NOT CEDAR), thicker than others guinea pig cages, ensures good sturdiness to use. All metal meshes are firmly embedded in the wood with sufficient screws. There are pre-made holes to make the drilling easier and more aligned, which is assemble for 20 minutes with ease.Hutch is designed for indoor use and a nice grey colour that blends nicely with furniture décor. The wood surface is coated with safe and environmentally varnish.
Tips for Use: The enclosed wood side can be used for sleeping room or bathroom with litter box in the corner if he/she has been well trained. If not, recycled newspapers, puppy pads or aluminum foil on the bottom would be good choice to clean up. rabbits love to chew wood - in order to last beautiful cage's pristine condition long term, please providing your furry children plenty of wood toys helps to distract the bunnies to an extant.
Unlike some of the cages we've mentioned before, Petsfit is made of wood and it looks really nice and elegant. This cage has lots of space and guinea pigs really love it.
This cage also has a pull-out tray that is easy to use and clean. You can open it from the top and from the sides so you can have an easy interaction with your guinea pig. You can modify it and make it more portable by putting the wheels on the bottom of the cage but if you hold your pets only in one part of the house there is no need for this.
The wood is of good quality and paint also. It will of course fade after a few years, this means that you will have to repaint it on your own but this is expected from wooden objects. The only complaint here is the price, which is a bit higher for a wooden cage.
Amazon Basics Pet Habitat, Large, Multicolor
Large small-animal habitat for pet rabbits, guinea pigs, or chinchillas
Steel wire upper frame and PP plastic base; large top and front openings for easy inside access
Includes non-drip water bottle, hay guard, and balcony with access ramp and tip-proof food dish
Hide-away space underneath balcony for privacy; simple assembly (no tools needed)
Measures 42.1 by 24.2 by 19.7 inches (LxWxH); weighs 15.56 pounds; backed by an Amazon Basics limited 1-year warranty
For those who want to merge aesthetics and functionality in a single product, AmazonBasics Pet Habitat is an ideal choice. The cage comes in three sizes – standard, large, and jumbo. Here, we chose to talk about a large edition, which represents the best value for the money.
The base of the cage is made of PP plastic, while on the upper side, we have an iron wireframe. This isn't the most quality wireframe we've seen, but it's decent. Furthermore, the cage is very easy to clean, as we have both front openings and a large top.
Due to the modest (albeit large) size of the cage, you can clean it in a matter of minutes, thanks to its opening that's able to fit even larger hands. Inside the cage is where this product shines. There is a non-drip water bottle, hay guard, and even a balcony with an access ramp and food dish.
It's sort of a mini apartment for your guinea pig and we know your piggie is going to have a good time inside! Once again, don't expect it to be a good portable cage and definitely not a good outdoor cage.
Sale
Kaytee Deluxe 2-Level Habitat for Pet Guinea Pigs
An ideal habitat for guinea pig or dwarf rabbit
Chew proof latches and large access door
Dimensions: 30" x 18" x 19"
Includes comfort shelf, safety ramp, water bottle, food dish, hay buffet and caster wheels
Ships in its own container for protection during shipment
As its name implies, we have a 2-level guinea pig cage here and this one is a bit more portable. The cage is made of chew-resistant material which will prevent your guinea pig or even a dwarf rabbit to chew its way outside. Thanks to the addition of 4 wheels at each side, the cage can be safely transported to the place you want it.
However, we have a wire mesh encapsulating the sides and top of the cage. That being said, bringing it outside isn't a smart decision unless you add something to protect it from rain.
The inside of the cage is, once again, really beautiful and functional. As this is a 2-level cage, there is a safety ramp that your pig can use to traverse both levels. This will not only make your pig more active but also promote a healthier life for it.
Aside from that, there is a comfort shelf, food dish, hay buffer, and water bottle. Although the cage can be opened from the front, it doesn't allow you to reach every part of it. Thankfully, the wire mesh can be detached.
Our only issue with this cage is that you need to remove the mesh in order to clean it properly. If you want to clean your cage without a hassle, this isn't the best choice.
Sale
MidWest Homes for Pets 158 Wabbitat Deluxe Rabbit Home, Rabbit Cage, 39.5 L x 23.75 W x 19.75 H Inch, Maroon/White
Rabbit Cage includes free hay feeder, water bottle, feeding bowl & elevated feeding area, Ideal for Rabbits, Guinea Pigs & Chinchillas
Rabbit Cage measures 39.5 L x 23.75 W x 19.75 H inches providing a large living space & maximum comfort for your pet
Rabbit Cage features 5.5" deep base to contain litter & convenient top / full side-door access
Rabbit cage (model 158) is compatible with both extensions to create an even larger living space (Wire: 158WEX or wood Rabbit Hutch: 158HEX)
We have a two-level habitat for your guinea pigs and small animals. To be honest, this one looks and feels very premium and at its price, it's almost a steal deal. The cage comes with levels, making it a cute little playground for your guinea pig. As it runs up and down, it can be physically active, making it a lot healthier. The base is made of plastic and it runs very deep, to prevent any mess outside of the cage. Moreover, the wire mesh is sturdy and removable.
On the front, the door can be opened which allows you to clean the mess inside. However, the door can be very small for some people, which then forces you to remove the wire mesh, making the process a bit of a hassle. But, those who have a bit of time to spend on cleaning and value great build quality, narrow wire spacing, and levels to play with, they'll like this cage a lot.
If you're on a tight budget and you don't have a lot of money to spend, here's a decent budget solution for you. Its name says it all – Home Sweet Home, that's how your guinea pig is going to feel inside. Since it's a budget option, there are some compromises made here, but let's first focus on the good stuff. The build quality… yep, this one comes with a plastic base and metal mesh wires. The wires are very sturdy, making it impossible for your guinea pig to chew them.
With its size of 28 inches in length and 17 inches in width, it's not the largest cage out there. In fact, it's a bit small if you ask me. There is also a large variant available. The cage sports a deep base pan and large doors which will let you access every part of the cage easily. As a budget cage, it doesn't feature any fancy stuff like multiple floors, safety ramps, and all of that.
This is a vanilla cage made for users who are in a dire need of a cage but don't have that much money to spend.
If you're interested in an unusual-looking cage that's portable and can be used outdoors and indoors, this is the right one for you. The cage has a circular shape, meaning that any part of the cage can be easily accessed. While we don't have any kind of metal or plastic construction, the manufacturer claims that this is chew and scratch-resistant fabric. Decent enough at this price!
For added convenience, this cage can be fully collapsed into a carrying bag with a handle. Quite a useful feature if you want to carry your piggie around or simply travel a lot. With only a couple of steps, this guinea pig cage can be assembled and the whole process lasts under a minute.
The roof of the cage is also made of fabric and since it can be used outdoors, there's a mesh only at the sides. As the manufacturer says, this is a water-proof fabric, making your guinea pig safe from rain outside.
All in all, a decent cage for the money. We don't have any special drawbacks to mention here but remember this is not a home cage for guinea pigs.
Sale
Tespo Pet Playpen, Portable Large Plastic Yard Fence Small Animals, Puppy Kennel Crate Fence Tent, 28 X 20 Inch, White, 12 Panels
UPGRADE VERSION: Cable ties and anti-slip pieces added in. Cable ties help build doors or make playpen suitable for any environment. Anti-slip pieces prevent connectors from slipping on the floor.
DIY EXPANDABLE: Make qualified translucent white material panels into different shapes to present various combinations to the actual room layouts. It provides a maximum of 20 square feet space.
FOR VARIOUS SMALL ANIMALS: Hedgehogs, hamsters, guinea pigs or rabbits, they can all have fun in this fence. Easy to keep an eye on them from any angle
EASY ASSEMBLY: Easy to put together with the illustrated instruction and included mallet. Use cable ties to achieve even more features like doors or foldable fence
100% SATISFACTION GUARANTEE: We are always available to provide professional customer service before and after your purchase, so don't wait any longer and enjoy it right now
Are you up for another unusual guinea pig cage? Here's the deal. A plastic yard fence that's great for small animals, including guinea pigs. While this cage isn't that sturdy and doesn't come with a metal build, it's basically the king of portability.
Since this is a fence for your guinea pigs, it can collapse flat, making it so compact that you can even fit it in your backpack. It also provides 28 square feet of space, which is a lot, considering that not many cages can provide this much space.
Since it's foldable, you can combine its folding parts to create a unique space. It doesn't always have to be a rectangle or square, but a shape that you like. This means that the cage represents a great solution for those who are often traveling or simply don't want to give a lot of money.
You can provide your guinea pig with lots of space to play and run around. On the other hand, a drawback is quite obvious. You'll need a base in order to make a full cage unless you already have something to put under. Nevertheless, it's a unique-looking guinea pig cage that's going to attract your attention.
List of Sources