Frankly speaking, it's relatively difficult to find a large guinea pig cage. Yes, there are plenty of options on the market today. But the truth is that the absolute majority of those cages are way too small for even one guinea pig. Cavies are active and curious animals that need a lot of exercise. And a large cage is something that these little animals simply have to have!
To help you out a bit, we have come up with our very own list of the top 4 best large guinea pig cages to buy in 2022. These cages have the right dimensions, great rankings, and are easy to clean.
"Guinea Habitat" Guinea Pig Cage & Accessories by MidWest
AmazonBasics Pet Habitat
Living World Deluxe Habitat
MidWest Homes for Pets Wabbitat
Continue reading to learn more about guinea pig cages and the reviews for these products.
What Is the Perfect Size for a Guinea Pig Cage?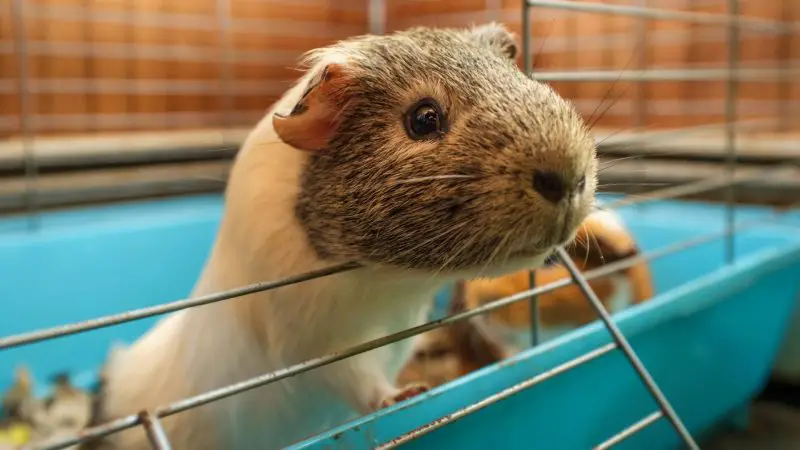 First things first, we have to figure out what is the right size for a guinea pig cage. The dimensions will depend on how many guinea pigs you plan to have. Two guinea pigs would need a cage that is 10.5 square feet. Three guinea pigs will feel great in a 'home' that is 13 square feet and so on.
The minimum cage size approved by veterinarians is at least 7.5 square feet. That's a cage that is approximately 30 inches wide and 36 inches long. Bear in mind that those are the adequate dimensions for a cage that will become home to one guinea pig. 7.5 square feet can be enough for two piggies, but you would certainly want to get a larger option to avoid conflicts between the two cavies.
Related: What Guinea Pig Cage Size Is the Best? (Proper Accommodation)
Where to Put the Large Guinea Pig Cage?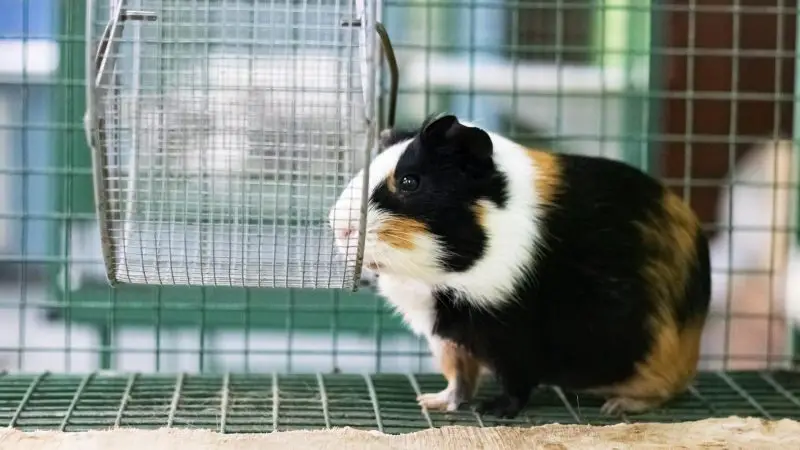 Once you find the perfect guinea pig cage (with the help of our guide), you will need to figure out where to put it in your house. There are quite a few different things that you have to take into consideration.
The Place Has to Be Quiet
Guinea pigs have sensitive ears. Moreover, these creatures can easily get stressed out and loud noises can frighten the fluffy balls a lot. So, make sure to place the cage away from your TV. The quieter the room, the better. However, don't put the little guy in a room that no one uses. Guinea pigs are social animals and they like to be around people.
The Room Should Be Warm
There is an optimal temperature range that guinea pigs can live in. The little guys don't like the temperatures that are too high or low. Make sure to take that into consideration. It is acceptable to make the room a bit warmer with the help of a heater. Simply use it only when you are around and place the heater away from the cage as it is full of hazardous elements.
The room should also be draft-free, with low humidity and with enough natural light. The cage should not be placed in the bathroom or in the laundry room as the humidity can get high. Natural light is important, but the little fellows should not be placed under direct sunlight as they can easily get a heatstroke.
Don't Put the Cage on the Floor
Firstly, during winter it might get a bit too chilly for the piggies as the floor is usually cold. Secondly, in case you place the cage a little higher, the guinea pigs will stop seeing you as a scary giant. Moreover, even if you are simply walking around a cage that is set on the floor, it will cause a lot of stress to the animal.
It's much easier to clean a cage that is set a bit higher than the floor. Put the guinea pig's home on some wooden panels, for example. Or get a special table.
Can You Place the Guinea Pig Cage Outside?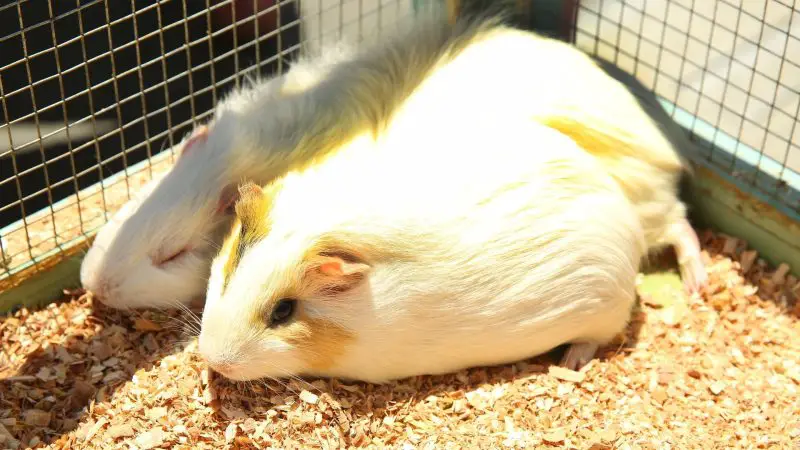 It is not recommended to keep the cage with your guinea pigs outside all the time. It might get too cold during winter. Moreover, weather conditions might simply not be suitable for guinea pigs. And the place where you live might also have some wild animals running around.
However, during the summer you can take the cage outside from time to time. In such a case, make sure that the cage is made out of waterproof materials, that the little guys have a roof above their heads and that the cage is not placed under direct sunlight as cavies can't regulate their body temperature very well.
Factors to Consider Before Purchasing Guinea Pig Cages
You must first set up your guinea pig cage and ensure that you have acquired the right food, hay, and shavings before you can have your guinea pig. It's critical to have a cage large enough to accommodate your guinea pig, a guinea companion, and toys.
Before you purchase a cage for your guinea pig, consider the following factors:
To ensure that there is adequate area for exercise and free play, you should choose the biggest size. Your guinea pig will also require daily free playtime outside of his cage to socialize with you and exercise healthily.
Guinea pig cages must be simple to assemble and well-ventilated, as guinea pigs heat up quickly and can die from heat exhaustion.
Because guinea pig feet are extremely sensitive, avoid any wire mesh materials on the cage's surface.
When looking for the finest guinea pig cage, look for one that can be put up without tools and is suitable to use for both indoor and outdoor. 
Cages must be long-lasting and sturdy. Spending a little extra on a guinea pig cage that promotes security, convenience, and longevity is always a good idea.
Guinea pig cages with pet-friendly designs and nature-inspired components should be your choice.
Review: Top 4 Large Guinea Pig Cages to Buy in 2022
If you want to be a great owner to your guinea pigs (which we are sure you do), then the first thing that you would have to do is get a properly sized cage. The perfect cage should have the right dimensions. That's exactly what was the main standard was for our top 4 large guinea pig cage list. If you need only a cage for two guinea pigs, check out our other guinea pig cage review.
Some of the options are more on the pricier side. But a large guinea pig cage is something that you can invest only once and then let your guinea pigs enjoy using it for the rest of their lives. Let's start with the reviews!
Sale
Mid West Homes for Pets Guinea Habitat Plus Guinea Pig Cage by MidWest w/ Top Panel, 47L x 24W x 14H Inches
Provides 8 square feet of living area for guinea pigs as recommended by veterinarians and breeders; Assembled product dimensions (Length x Width x Height): 47 x 24 x 14 inches
Fully removable wire mesh top to protect your guinea pig from predators; The multi access folding top and divider panel with hinged "lock in place" ramps/doors separate play and care areas
Durable, leak proof, washable and easily removable PVC lined canvas bottom allows for easy care and maintenance while providing traction and protection for guinea pig's sensitive feet
14 inches high sides provide for secure and convenient access to guinea pigs; Great guinea pig cage for Indoor or outdoor use; Sets up in minutes, no tools required for assembly
Durable and sturdy extra-deep base keeps bedding contained
This option will provide 8 square feet of living area. That's a really great size for your guinea pigs. The exact dimensions are 47 x 24 x 14 inches. The bottom is made of PVC linen canvas. You can easily remove it, whenever you need to wash it. It is durable and leak-proof. Moreover, guinea pigs tend to get various unpleasant foot conditions, if they live in a cage with a wired bottom. This linen canvas will help make sure that the gentle feet of your precious pets are protected.
The wire mesh top is removable. Moreover, it can easily fold for your convenience. The cage also comes with a divider panel with ramps and doors, so that you can organize the thing the way you want to. It is extremely convenient as you can have separate eating, playing, and sleeping areas.
The cage can be set up only in a few minutes and you don't need any tools to do that. The cage is suitable both, for outdoor and indoor use.
Amazon Basics Top Access Small Animal Ferret Cage Habitat With Accessories, Jumbo, Multicolor, 49 x 27 x 21 Inches
Jumbo small-animal habitat for pet rabbits, guinea pigs, ferrets, or chinchillas
Iron wire upper frame and PP plastic base; large top and front openings for easy inside access
Includes non-drip water bottle, hay guard, and balcony with access ramp and tip-proof food dish
Hide-away space underneath balcony for privacy; simple assembly (no tools needed)
Measures 48.6 by 26.6 by 20.6 inches (LxWxH); weighs 18.7 pounds; backed by an Amazon Basics limited 1-year warranty
The size of this jumbo cage is 48.6 x 26.6 x 20.6 inches. You can choose to get this model in a large or a standard. However, the jumbo option is perfect, in case you are planning to have two guinea pigs. The bottom is made of PP plastic and the top is an iron wireframe. The model has relatively large top and front openings to ensure that you experience no difficulties changing the bedding, water, etc.
In case you decide to get this cage, you will also be getting quite a few accessories for the price:
Balcony with an access ramp
By the way, there is a great hideaway place under the balcony (a thing that you usually have to buy separately). It's easy to assemble this model, tools won't be needed.
Sale
Living World Deluxe Habitat, Rabbit, Guinea Pig and Small Animal Cage, White, X-Large
Versatile Habitat: Living World Deluxe Habitat provides everything you need for safely housing pet rabbits, guinea pigs, chinchillas, ferrets, and more. The hybrid cage provides a safe, well-ventilated and comfortable place for small pets.
Hybrid Design: The hybrid cage consists of an upper wire frame and plastic bottom base. Wire frame is elegantly styled, with an arcing red wire top and white wire sides. Top opens easily in 2 separate parts with a wire door at the front.
Safe Environment: Living World Deluxe Habitat includes a balcony with an access ramp, a tip-proof food dish that secures to the balcony floor, and a hideaway space under the balcony to provide your small pet with a quiet and secure hiding place.
Additional Features: Deluxe Habitat comes with a drip-proof water bottle and a hay guard, both of which are located outside the cage to save interior space and allow easy maintenance access.
Easy Assembly: Cage assembles in minutes using eight easy-to-use plastic clips-no tools required. Measures 46.9 L x 22.8 W x 24 H inches.
This is a more 'stylish' option with a red upper wireframe (the rest of the wire is white). The base is made out of plastic and it is easy to clean. You can get this cage model in three sizes: standard, large and extra-large. However, we would recommend getting the biggest one. The measurements are 46.9 x 22.8 x 24 inches. By the way, this cage includes:
Practically everything that your guinea pig would need accessory-wise. You wouldn't need any tools to assemble the cage. Moreover, the wire top part can easily be opened in two parts to help you with the cleaning.
Midwest Homes for Pets Deluxe Rabbit & Guinea Pig Cage, X-Large, White & Red
Rabbit cage includes free hay feeder, water bottle, feeding bowl & elevated feeding area, Ideal for Rabbits, Guinea Pigs & Chinchillas
XL Rabbit Cage measures 47.16 L x 23.62 W x 19.68 H inches providing a large living space & maximum comfort
Rabbit Cage features 5.5" deep base to contain litter & convenient top/side door access
Rabbit cage is compatible with both extensions to create an even larger living space (wire: 158WEX or wood hutch: 158HEX)
No tools required for assembly & Rabbit Cage includes a 1-Year manufacturer's warranty
Basically, this is an XL rabbit cage, but it will work perfectly well for your guinea pigs. The measurements are 47.16 x 23.62 x 19.68 inches. The model includes a hay feeder, a bowl, an elevated feeding area, and a water bottle. The great thing about this option is that you can get some extensions to make it even bigger. Those include a wire extension and a hutch extension.
With the cage, you will be getting a 1-year manufacturer's warranty. The plastic base is deep enough to ensure that all the litter stays in the cage. The wire has a convenient top and side door access. You can quickly assemble the cage without any tools.
Summary
Those were our top 4 large guinea pig cages to buy in 2022. Take your time, read all the reviews carefully, and make the best choice.
Related: Top 10 Best Guinea Pig Cages In 2022
List of Sources