Choosing the perfect guinea pig cage is a tough job. After all, this thing is about to become the exact place where your beloved guinea pigs will be spending a lot of time. And you have to make sure that the cage is not only safe and roomy but also cute and cozy.
There are so many different options on the market nowadays that you might find it challenging (and even stressful) to pick the right guinea pig cage for 2. That's exactly why we have made our top 8 best guinea pig cages for 2 reviews for 2022. Here is our list:
Living World Deluxe Habitat
Guinea Pig Cage and Accessories by MidWest
AmazonBasics Pet Habitat
Ferplast Krolik Rabbit Cage
ToysOpoly Premium Pet Playpen
Amazon Basics Indoor-Outdoor Small Pet Habitat Cage
MidWest Homes for Pets Wabbitat
Kaytee My First Home 2-level Pet Habitat
However, we would definitely recommend reading to the very end of the article and reading our detailed reviews. Also if you need a bigger cage for more guinea pigs, check out our other review for large guinea pig cages.
Why Choose a Guinea Pig Cage for 2?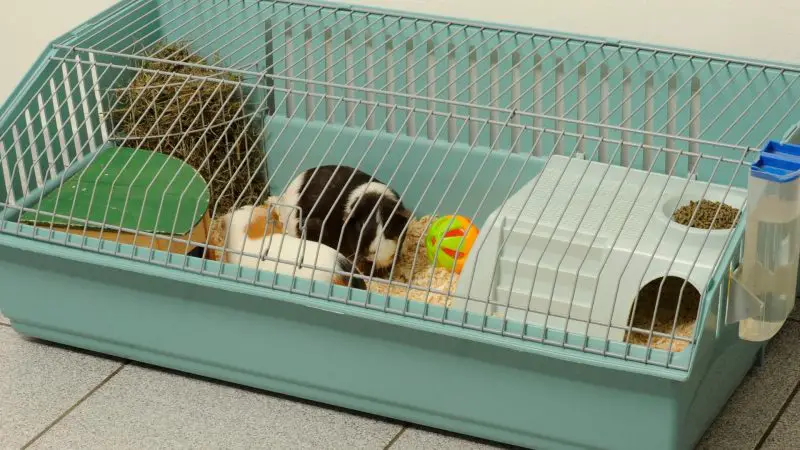 Before deciding to become a proud guinea pig owner, you should know that adopting two cavies is always a better decision. Guinea pigs are incredibly social animals. In fact, the little guys will become real friends, keep each other warm during colder nights and keep each other company all day long.
So, if you feel like you can get two piggies, then certainly do that! In case you have two guinea pigs, the cage would have to be a bit bigger so that the two fellows have enough space to play around. This means that there are no territorial conflicts between the two of them.
What Are the Types of Guinea Pig Cages?
There are two main types of guinea pig cages.
The actual cage usually has a plastic bottom. The top is either plastic or mesh. All these facts combined make such cages easy to clean. Moreover, you can easily move around the thing as the majority of these types of cages are light.
But then there are also hutches. These ones are the perfect option if you are planning to keep your guinea pig outside. Hutches are usually made out of wood which automatically makes them a bit heavier and more difficult to clean. You would certainly need some extra accessories to ensure that the guinea pig is warm. Moreover, weather can become an issue, so make sure that the hutch is resistant to different conditions.
What Is the Perfect Size for Guinea Pig Cages for 2?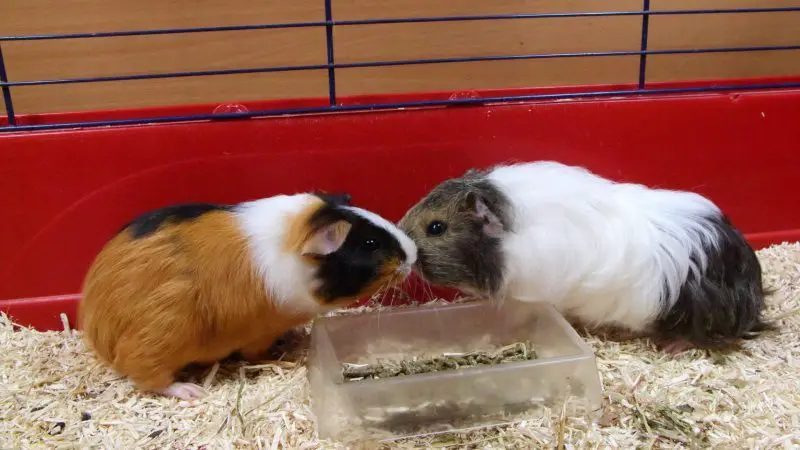 According to The Humane Society of the United States, the cage for two guinea pigs needs to be at least 7.5 square feet. However, the preferred size is 10.5 square feet. That basically means that the cage is better at 30 inches wide and 50 inches long.
Unfortunately, it's relatively difficult to find a cage with the right dimensions. In fact, some of the options that are specially designed for guinea pigs are simply too small for these curious and active animals.
If the cage is too small, it might lead to various problems in the cavy's health. The little guy won't be able to exercise properly, will get bored faster, and in case you have two or more guinea pigs, little space might be the main reason for fights.
In a spacious cage, the guinea pigs will be able to organize different 'zones'. There will be a separate space for their bedding, another one will serve as a 'dining room' and then there will be another zone for the little fellows' toilet. It is much easier to keep a big cage clean. Guinea pigs are neat animals and they like to keep everything in order. So, the fluffy balls will end up getting only the 'toilet zone' dirty.
How to Choose the Ideal Guinea Pig Cage?
When choosing a cage for your guinea pig, there are a few main things that you have to pay attention to:
The Size
The dimensions of the cage are probably the main thing that you have to think about. That's why we are going to talk about this important point separately in one of the next sections below.
The Material
Are you planning to take the cage outdoors from time to time? Then you have to make sure that the material is weatherproof. Moreover, the cage has to have a roof of some sort to protect the guinea pigs from different weather conditions.
You would also want to make sure that the material is 100% safe for guinea pigs, as the chances are high that the little guys might try to nibble on it.
Will You Be Able to Transport the Cage?
If you are going to be moving the cage outdoors and then back indoors again, then you have to make sure that you can easily do that on your own.
Will You Be Able to Easily Clean the Cage?
It is important to keep the cage clean. You would like to be spending as little time as you possibly can on the whole process. So, to easily clean the cage, make sure that the material of the cage is stain and odor-resistant.
Place the bedding in a place where you can quickly change it and ensure that you can reach every corner of the cage. Wooden options are usually a bit more challenging to keep clean, than plastic or metallic ones.
Review: Top 8 Best Guinea Pig Cages for 2 in 2022
Now that you know what to look for in the perfect cage, we present to you our top 8.
Living World - Deluxe Hybrid Habitat, X-Large - Rabbit, Guinea Pig, Chinchillas, and Small Animal Cage
Versatile Habitat: Living World Deluxe Habitat provides everything you need for safely housing pet rabbits, guinea pigs, chinchillas, ferrets, and more. The hybrid cage provides a safe, well-ventilated and comfortable place for small pets.
Hybrid Design: The hybrid cage consists of an upper wire frame and plastic bottom base. Wire frame is elegantly styled, with an arcing red wire top and white wire sides. Top opens easily in 2 separate parts with a wire door at the front.
Safe Environment: Living World Deluxe Habitat includes a balcony with an access ramp, a tip-proof food dish that secures to the balcony floor, and a hideaway space under the balcony to provide your small pet with a quiet and secure hiding place.
Additional Features: Deluxe Habitat comes with a drip-proof water bottle and a hay guard, both of which are located outside the cage to save interior space and allow easy maintenance access.
Easy Assembly: Cage assembles in minutes using eight easy-to-use plastic clips-no tools required. Measures 46.9 L x 22.8 W x 24 H inches.
This cage comes in a standard, large and extra-large size. The latter cage is approximately 50 inches long, 23 inches wide, and 24 inches high. The base is made out of plastic and the top is a wired frame.
This cage is easy to keep clean and includes a few additional accessories. By buying this cage you will be getting:
Balcony with an access ramp
Tip-proof food dish that can be easily secured to the balcony floor
The top of the cage has red wires and the rest of them are white, a perfect addition to any room where you decide to place the cage. You can easily open the top bit to access the cage (to change the bedding, for example). Moreover, you will not face any difficulties while assembling the cage. The whole construction has eight details with plastic clips (no tools required).
Sale
MidWest Homes for Pets Guinea Habitat Plus Guinea Pig Cage by MidWest w/ Top Panel, 47L x 24W x 14H Inches
Provides 8 square feet of living area for guinea pigs as recommended by veterinarians and breeders; Assembled product dimensions (Length x Width x Height): 47 x 24 x 14 inches
Fully removable wire mesh top to protect your guinea pig from predators; The multi access folding top and divider panel with hinged "lock in place" ramps/doors separate play and care areas
Durable, leak proof, washable and easily removable PVC lined canvas bottom allows for easy care and maintenance while providing traction and protection for guinea pig's sensitive feet
14 inches high sides provide for secure and convenient access to guinea pigs; Great guinea pig cage for Indoor or outdoor use; Sets up in minutes, no tools required for assembly
Durable and sturdy extra-deep base keeps bedding contained
The dimensions of this cage are 47x24x14 inches (LxWxH) which is just enough for two piggies. The wire mesh top can be fully removed. It also has a few 'doors' that you can use to have quick and easy access inside the cage.
The bottom is a PVC linen canvas. You can easily remove the material and wash it. Great for the gentle guinea pig's feet as they might develop different unpleasant conditions if the little fellows walk on the wire. The material is durable and leak-proof.
You will be getting a 1-year manufacturer's warranty. The cage includes a deciding panel with hinged, lock-in-place ramps. These things will help you separate the cage into different areas for the guinea pigs' convenience.
This cage comes in three sizes: standard, large and jumbo. The latter is the perfect size for two piggies (48.6×26.6×20.6 inches). The base is made of PP plastic, while the top is an iron wireframe. There are large top and front openings that can be used to change the bedding, food, and so on.
For the price, you will be getting:
Basically, everything your guinea pigs would need to start with. You can easily assemble the cage all on your own, no tools are required. The cage comes with a hideaway place underneath the balcony (your guinea pigs will love it). You will also be getting a 1-year warranty.
Ferplast Krolik Extra-Large Rabbit Cage w/ Wood Hutch Extension Rabbit Cage Includes All Accessories and Measures 55.9L x 23.62W x 19.68H and Includes ALL Accessories
Perfect Rabbit Cage Starter Kit w/ Wood Hutch Extension | Rabbit cage includes large water bottle, feeding bowl, hay feeder, elevated feeding area ideal for rabbits, guinea pigs or chinchillas
Extra-Extra-Large Living Space | Rabbit cage measures 55.9L x 23.62W x 19.7H inches & includes a wood hutch ideal for nesting that creates a private living quarters for your pet
Easy Maintenance Rabbit Cage | Krolik features a 5.5" deep base to contain litter & entire base of the rabbit cage detaches for cleaning or dumping of litter / debris
Convenient Access | Full front door provides quick access inside the rabbit cage; wood hutch features a locking top panel w/ full access
If you decide to choose this cage, you can pick either the option with a wood hutch or the one with a wire hutch. The cage is 55.9×23.6×19.7 inches (one of the largest options from our list). The bottom has no flares to ensure that the fluffy balls have enough floor space.
There are special extensions for nesting, a hay feeder, a bowl, a drinking bottle, and a cute home. This cage can be easily assembled and has a large opening to make sure that you experience no inconveniences while changing the bedding or cleaning the cage.
Portable Pet Playpen 45 * 45 * 22" Premium Large Size Puppy Kennel - Best for Small and Medium Size Dogs and Cats - Simple Folding Design for Easy Storage
🔵 BEST VALUE FOR MONEY: 1 Large Pet Playpen + Removable Top Zipper + Waterproof Bottom Zipper + Carrying Case + 4 Stainless Steel Anchors.
🔴 EASY TO SET UP and TAKE DOWN: Pops up in seconds with no need for any assembly. Folds flat when not in use for easy carrying and storing. Foldable design for easy storage.
🔵 BOTTOM IS WATERPROOF: Zipper Top and Zipper door for Easy Access.
🔴 YOUR PET'S SECOND HOME – Provides a safe space for pets to play, sleep, eat or rehabilitation.
🔵 YOUR PET'S SAFETY IS IMPORTANT TO US. All products are exhaustively and Independently Third-Party Lab Tested. Certified Non-Toxic our Engineering Learning Set is BPA-Safe, Lead-Safe and Phthalates-Safe.
It might not be the option that you had in your head when you imagined a 'guinea pig cage'. However, this might be an amazing choice. This playpen has a circular shape and is 45 inches. Your beloved pets will have enough floor space to run around and play.
You will also be getting a manual and 4 stainless steel anchors, in case you want to place them outside. The top and the bottom are attached with the help of zippers, so it will be easy to get in the cage and clean the parts once you need to. The material is not toxic and it is chew and scratch-resistant, as well as waterproof.
It will take you less than a minute to assemble this type of cage. In case you need to carry the playpen around, it folds into a small bag with a handle.
Put enough hay in the playpen, a few hides, and toys and it becomes the perfect cage for your guinea pigs.
Amazon Basics Canvas Bottom Guinea Pig Pet Cage, Black, 46.65"L x 23.62"W x 13.78"H
Indoor/outdoor canvas-bottomed pet cage for guinea pigs and other small animals
Steel wire cage frame to keep pet effectively contained and safe
Provides a textural surface that creates traction and comfort for small, sensitive feet
Leak-proof design keeps pet messes and water spills contained
Easy no-tools-required setup; convenient to disassemble and store or clean when required
This item is 46.65 x 13.78 x 23.62 inches and can accommodate two guinea pigs. It's a canvas-bottomed indoor/outdoor pet cage. This product has a steel wire cage frame that efficiently confines and protects your pet. It also features a textured surface that provides grip and comfort to the guinea pig's little, sensitive feet.
This product is made of durable wire and canvas. A robust wire cage frame joins to a leak-proof polyester cloth floor suited for sensitive small feet in this cage. It's also simple to set up, a no-tools setup that's also easy to deconstruct. The cage assembles in minutes and provides a fun and relaxing place for your pet to wander and rest.
Furthermore, this cage is simple to clean. Simply remove the base of the canvas, clean up any dirt, and then wash the canvas and tray with soap and water.
Sale
Midwest Homes for Pets Deluxe Rabbit & Guinea Pig Cage, X-Large, White & Red
Rabbit cage includes free hay feeder, water bottle, feeding bowl & elevated feeding area, Ideal for Rabbits, Guinea Pigs & Chinchillas
XL Rabbit Cage measures 47.16 L x 23.62 W x 19.68 H inches providing a large living space & maximum comfort
Rabbit Cage features 5.5" deep base to contain litter & convenient top/side door access
Rabbit cage is compatible with both extensions to create an even larger living space (wire: 158WEX or wood hutch: 158HEX)
No tools required for assembly & Rabbit Cage includes a 1-Year manufacturer's warranty
For those searching for a large and well-ventilated cage, this product is ideal. It's an extra-sized cage, measuring 47.16 x 23.62 x 19.68 (L x W x H) inches. These are large enough to house guinea pigs comfortably.
The cage is made of robust and high-quality materials. This product is long and spacious, based on the size above. The body is constructed of powdered coated wire to extend its life, and the 5.5-inch-deep foundation is made of high-quality plastic to avoid pain in pets' feet. The foundation is easily removable and washable.
It has all of the features you'll need to ensure the health and safety of your guinea pigs. This cage has a top and side door. The two side doors are wide enough to cover the whole width of the cage. For cleaning, feeding, and playing, each door lifts and rests overhead. Your pet will have easy access to the huge top door.
Moreover, a detachable hay feeder, a water bottle, and a feeding bowl are also included with the cage. The elevated feeding area provides a private place beneath it, while the stationary feeding bowl prevents spillage during meals.
If you want a long, roomy cage with a chew-proof body, this product is an excellent choice. The body is made of strong metal that is chew-resistant for your guinea pig. To ensure enough ventilation and transparency, the cage is made of lightweight steel and features a one-inch bar spacing.
It also has an 8-square-foot living space that is well-ventilated and large. This is enough for two guinea pigs to play and exercise. It has two shelves for the guinea pigs to rest on, two ramps that go to the shelves, two entrances positioned at the top, and casters for movement.
Can You Make a Guinea Pig Cage?
It is most likely possible to build a guinea pig cage. When making the cage, make sure it's spacious and comfortable for your pet. They should be able to walk around, play, and have fun in their cage. Thus, it should be spacious enough for them. Bowls, hay feeders, water bottles, and other equipment for your pet should all fit within the cage.
The cage for two or three guinea pigs must be at least 7.5 square feet in size, but 10.5 square feet is much better. The only things your guinea pigs want are a feeling of independence, good care, and time spent bonding with you. They are unconcerned about the appearance of the cage.
Summary
These were our top 8 best guinea pig cages for 2 in 2022. We hope that you have found our review useful. You can also make your own guinea pig cage but you should consider the space and comfort for the pet. Good luck in picking the perfect cage for your precious guinea pigs!
Related: Top 10 Best Guinea Pig Cages in 2022: Reviews and Guide
List of Sources