The chances are high that you already know how important water is for guinea pigs. They should have a constant supply of water at all times. You might have already figured out for yourself that a water bottle is much more convenient than a bowl. But there are so many different options on the market nowadays, that it's sometimes practically impossible to find the one that will be perfect for you.
Here is the best guinea pig water bottles option that you may want to consider buying:
Choco Nose H128 Patented No Drip Small Animal Water Bottle
Kordon Oasis (Novalek) SOA80304 Bell Bottle and Hold Guard Small Animal Value Set
Guinea Pig Water Bottle B.C.
Choco Nose H220 Patented No Drip Top-Fill Small-Sized Water Bottle
LIXIT Natural Wide Mouth Water Bottle for Pets
Living World Eco + Water Bottle
Trixie Honey and Hopper Glass Water Bottle
Animal Water Bottle
No Drip Small Animal Water Bottle
If you want to know exactly what makes these water bottles so good, then keep on reading our article.
How Much Water Do Guinea Pigs Need Every Day?
Your guinea pig's water consumption will vary depending on a variety of factors. 
Guinea pigs that live in warmer houses will consume more water than those who reside in cooler houses.
Water consumption is also influenced by the number of fresh fruits and vegetables they consume. There are water components in fruits and vegetables. Thus, those guinea pigs cavies that consume a lot of them will normally drink less water compared to those who don't consume too much.
Though guinea pig water intake varies depending on size, hunger, and so on, the average cavy is probably drinking approximately 80-100 milliliters of water each day. Take notice that this figure is for each guinea pig per day, so if your guinea pig is drinking less or too much, you should keep a watch on them or immediately take them to the doctor.
Note: Water should not be withheld from guinea pigs for longer than 12 hours. For all living things, dehydration is exceedingly harmful. Ensure that your guinea pigs have constant access to fresh water.
Related: Can Guinea Pigs Drink Cold Water? (Benefits, Risks, Serving Size & More)
Should You Use Water Bottle or a Water Bowl for Guinea Pigs?
Even though guinea pigs do not drink as much water as some other small pets do, they still need to have a bowl or a bottle full of water all the time. Bottles and bowls are the most popular options to use by the owners of guinea pigs.
Bowls are usually cheaper. Moreover, some cavies might find it easier to use water bowls. Especially, if the little ones have never used a water bottle before. Bowls can be great for sick or old guinea pigs that might simply find it hard to raise their head and drink from the bottle. Unfortunately, this is where the pros of a bowl come to an end.
Bowls certainly are more 'filthy' than bottles. Everything starting from food and ending with your guinea pig's bedding will get into the bowl sooner or later. That means that the water can no longer be used as it is contaminated.
Guinea pigs like to run around and sometimes they don't really care if they're stepping a bowl or not. As a result, your cavy and the whole cage might get wet, so you would have to clean the thing more often. That is why so many guinea pig owners opt for water bottles.
Bottles certainly are a much cleaner option. However, you have to make sure that the bottle actually works and that your pet understands how to use it. But if you find some dirt or strange pieces in the liquid, then you have to change it more often. In case you have a water bottle, the inside has to be thoroughly washed with a brush at least once a week to ensure that there are no algae.
Parts of a Guinea Pig Water Bottle
A cavy's water bottle is not a very complex device, but there still are some things that you have to know. The material from which the bottle is made can be different. However, a lot of guinea pig owners recommend buying a glass option as it is easier to clean those. But bear in mind that glass water bottles are a bit pricier.
The nozzles are the actual 'tubes' from which your fluffy ball will be drinking. Nozzles can be of different sizes and even shapes. Look for a water bottle that has a nozzle that is a bit bent at the end. Moreover, the thing has to be long enough to ensure that your guinea pig can easily reach it.
The bob is a sphere at the end of the nozzle that your cavy has to push in order to get that water. Always check the bob to make sure that it 'works' and that water can get through.
Some water bottles have grids and some don't. Experts usually recommend getting a device with grids as it is easier to keep track of how much your pet is drinking.
Don't forget to pay attention to the hangers that the water bottle comes with. The hanger needs to be able to hold the bottle firmly on the cage so that your beloved pet can safely get a drink whenever it feels like it.
Factors to Consider Before Buying Guinea Pig Water Bottle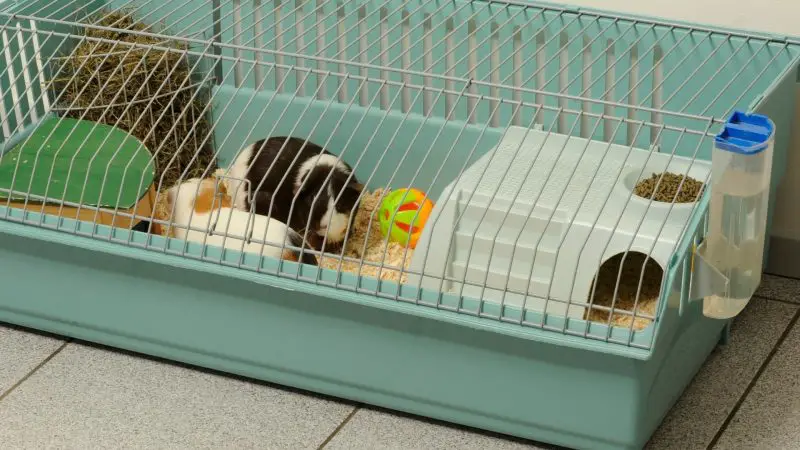 Before buying a bottle for your guinea pig's cage, there are a few things to think about.
Materials Used
The majority of guinea pig water bottles are made of glass or plastic.
Glass bottles: It is favored because they are easy to clean, chew-proof, mold-resistant, and chemical-free. It's more robust than plastic and won't absorb smells like certain plastic bottles. However, it is a more expensive alternative as a result of this.
Plastic bottles: It is less expensive, frequently feature retractable lids that make refilling quicker, and are lighter, allowing for additional installation possibilities. However, the guinea pig is more inclined to chew it, which might make them sick. Also, certain plastics contain dangerous chemicals which can seep into your guinea's water that is hazardous to them.
Make sure it's BPA-free, long-lasting, and non-toxic before you buy it. Additionally, a single guinea pig needs about 100ml of water every day, so be sure the water container you choose can carry at least that much.
Ability to Support and Capacity of the Bottle
You'll need a bottle that can last at least one or two days. However, this is dependent on the number of guinea pigs you have. If you have two or more guineas, you may need to purchase numerous bottles.
The bottle should be able to safely and securely attach to your guinea's cage. You don't want the bottle to fall on top of the guinea or spill, flooding the cage. Thus, it should have a sturdy hook, and for tanks, it should have powerful suction cups.
Nozzle
While a drip-free bottle nozzle is a pipe dream, some nozzles are virtually drip-free, or at least drip-free for a short period. A leaking nozzle might saturate your guinea's bedding and cage with water. 
Moreover, it shouldn't be so protected that your guineas can't get to the water. It should flow properly and freely. If not, these can dehydrate guinea pigs since they are unable to drink from them. Also, a water-level indicator is a beneficial feature because it will alert you when it's necessary to replenish your container.
Reviews: 9 Best Water Bottles for Guinea Pigs
Sale
Choco Nose Patented No-Drip Water Bottle/Feeder for Guinea Pigs/Hamsters/Bunnies/Ferrets/Other Small Pets, Critters and Animals -for Cages, Crates or Wall Mount. 10.2 oz. Nozzle 10mm, Blue (C128)
🐾 Why Choco Nose Water Bottle? Are You Tired of Changing the Wet Bedding for Your Pet Cage? This Is The Best Small Pet Water Bottle For Your Beloved Pets. Providing A Wet-Free and Mess-Free Living Area For Your Furry Kids Is Very Essential. Choco Nose U.S. Patented Leak Proof Nozzle Can Prevent Water Leakage Effectively. Our Innovative Design Allows Your Pets to Enjoy Clean and Fresh Water While Keeping Your Home Clean and Dry.
🐾 Mini-Sized Nozzle (10mm) is recommended for Guinea Pig, Ferret, Hamster, Bunny. / Made of BPA Free Material/ 10.2 oz Capacity.
🐾 User-friendly Screw-on Bracket: Simple and Easy Installation. You Can Easily Snap the Water Bottle On or Off for Cleaning and Refilling Water.
🐾 Nail-on Bracket: It May Also Be Nailed To The Wall or Wooden Furniture with Screws (Not Included). Eco-idea: Pet Parent Can Switch Our Bottle to Most Regular Sized PET Bottles (Soda Bottle, Smart Water)
🐾 Very Important Instruction: Please Check the Water Bottle Daily and After Every Refill by Tapping the Metal Ball at the Nozzle Tip to Ensure Water Comes Out Properly. The Water Bottle is Ready to Use when Air Bubbles occur when you Tap the Metal Ball.
The best part about this water bottle is its leak-proof nozzle. The biggest problem with these devices is that they start leaking at one point or another. Owners then have to come up with different ways to stop the bottle from leaking or simply buy a new one. Moreover, a dripping bottle also means that the cage and the pet will always be wet and dirty and you would have to spend a lot of time cleaning up and changing the bedding, for example.
Even though you can get a Choco Nose for an affordable price, you can be sure that the situation mentioned above, simply won't happen (in case you use the device properly, of course). The materials used are BPA-free, so the bottle is 100% safe for your pet. The 10 mm nozzle can be easily placed on a bigger bottle if you like. The bracket is a screw-on as well as a nail-on, so you can simply decide what works better for you.
As a small yet pleasant bonus, you have the opportunity to choose one of the three colors of the bottle.
This surely is a pretty water bottle. So if you have been looking for something that looks cute, then this might be your choice (there is a variety of colors that you can take into consideration).
The device consists out of two parts: the actual bottle and a basic hold-guard to fit the bottle. The top is rounded to ensure that your beloved pet does not chew on it (the bottle is made out of plastic). The only downside is the installation process. If you have an aquarium or a cage where the wires run horizontally, then you won't have any issues as the adjustable strap can be easily hung over the top edges.
Pet Small Animals Hamster Hideout Drinking Waterer 2-in-1 Water Bottle for Small Animals
The hamster bottle designed with premium roll ball,your hamster can drink happy and easily.
Stand Steady:Made of durable plastic and metal,our hamster drinking bottle can stand up steady,no worry about tipping over.
Suitable Size:The water bottle holder volume is 80ml,the tall is 13cm / 5''and the diameter is 4.5cm / 1.75" ,which is suitable for small animals,like dwarf hamster.
Healthy & Easy Clean: With the premium eco-friendly material,safe to use and easy to clean.
Good Choice:There are four colors provided for your hamster.Strongly recommend as a gift for families and friends.Please buy with confidence,your after sale is guaranteed.
This water bottle is totally different from the ones that we have mentioned as it stands on a steady base. Moreover, the device has a hole that your guinea pig can use to play! This water bottle is a two-in-one and that's great because guinea pig cages don't really have too much space to waste.
The base really is steady, so you don't have to worry about your guinea pig tripping the thing over. However, take the dimensions of the hole into consideration to make sure that your fluffy ball is not too big for the thing.
Choco Nose Patented No-Drip Open Top Refill Dog Water Bottle/Feeder with Hook for Dogs/Cats and Other Small-Medium Sized Animals - for Cages, Crates. 13.5 Oz. Leak-Proof Nozzle 16mm, Orange (H220)
🐾 Why Choco Nose Water Bottle? Are You Tired of Changing the Wet Bedding for Your Pet Cage? This Is The Best Small Pet Water Bottle For Your Beloved Pets. Providing A Wet-Free and Mess-Free Living Area For Your Furry Kids Is Very Essential. Choco Nose U.S. Patented Leak Proof Nozzle Can Prevent Water Leakage Effectively. Our Innovative Design Allows Your Pets to Enjoy Clean and Fresh Water While Keeping Your Home Clean and Dry. BPA Free/ 11.2 oz Capacity.
🐾 Regular-sized Nozzle (16mm) is perfect for Small-Medium Sized (15-30 lb): Beagle, Corgi, Dachshund, French Bulldog, Mini Poodle, Shiba Dog Inu, Schnauzer, etc;Large-sized Rabbit; Cat.
🐾 User-friendly Screw-on Bracket: Simple and Easy Installation. You Can Easily Snap the Water Bottle On or Off for Cleaning and Refilling Water.
🐾 Nail-on Bracket: It May Also Be Nailed To The Wall or Wooden Furniture with Screws (Not Included).
🐾 Very Important Instruction: Please Check the Water Bottle Daily and After Every Refill by Tapping the Metal Ball at the Nozzle Tip to Ensure Water Comes Out Properly. The Water Bottle is Ready to Use when Air Bubbles occur when you Tap the Metal Ball.
This model also has a patented leak-proof nozzle but it's a bit bigger this time (16mm). The installation process is incredibly easy. You can either hang the device or screw it on.
After that, the actual bottle that needs to be refilled or cleaned can be snapped on and off without any inconveniences. You can refill the bottle from the top without even moving the thing. Another huge 'pro' is that you can adjust the height of the Choco Nose water bottle.
Sale
Lixit Wide Mouth BPA-Free Cage Water Bottles for Rabbits, Ferrets, Guinea Pigs, Rats, Chinchillas, Hamsters, Mice, Hedgehogs, Gerbils and Other Small Animals. (Translucent, 16 Ounce)
PREMIUM QUALITY: The wide mouth series is the top-of-the-line Lixit water bottle. It's designed from the ground up to be the best quality and longest last bottle in our lineup. It features a thick high quality water bottle that is BPA free and weather resistant.
THE PERFECT SIZE: The 16oz bottle is designed for Dwarf Rabbits, Ferrets, Guinea Pigs and other small animals. The bottle is weather resistant and can be used in outdoor environments. Not all small animals need the same amount of water. For the 16oz we use a 3/8 inch tube that is large enough to accommodate the water needs of the pets noted above.
VACUUM SEAL: Lixit bottles work by forming a vacuum to hold the water inside. It is important to fill the bottle all the way to the top and ensure the cap is on tight to prevent leaking. Some dripping when the bottle is first turned over is normal.
EASY TO CLEAN: The Lixit wide mouth bottles are designed with a large opening to allow easy access inside for cleaning. The opening is large enough to accommodate a bottle brush and is easy to refill with water.
QUALITY STAINLESS STEEL: Our tubes are made of the same 304 grade stainless steel in food preparation. We polish our tubes until they have the same satin finish that is found in quality silverware. Each tube is hand coned on the end to ensure that it has a smooth tip that will not harm your pet.
The cheapest option on our list. However, it does the job perfectly well. Moreover, the design is as simple as it can be chew-proof and climb-proof. A lot of clients mention that this is the best water bottle when it comes to cleaning because you can easily brush the inside. The capacity of the bottle is great (16 oz), so your guinea pig should have enough water to go through the whole day.
Important point: To prevent leakage, make sure to fill the bottle up to the top and only then flip it over. Such a technique will create a vacuum that is necessary to avoid dripping.
This product is great for those who prefer a glass water bottle to the conventional plastic bottles on the market. Living World Eco is an environmentally friendly recycled glass product. A double ball-bearing, drip-resistant tube with a water level indicator is included in the water bottle.
The capacity of this water bottle is 6, 12, and 26 ounces. The design is ideal for individuals seeking a modern, minimalist water bottle. This guinea pig water bottle also has a spring attachment and hook that makes it simple to hang the bottle.
This product is chew-proof and long-lasting, according to the majority of reviews. The customer's complaint, on the other hand, is that the water bottle barely delivers any water. Your pets have no way of getting any water out of it. As a result, you should keep an eye on your pets and make sure the water bottles are working properly to avoid your pet being seriously dehydrated.
A metal cap drinking straw and a ball valve are included with this bottle. It's chew-proof and comes with a visible indication that shows you how much water is left. This water bottle, which is particularly made for small animals, not only has a lovely design but is also dishwasher-safe, which is ideal if you despise washing bottles.
Furthermore, it is simple to connect to a cage and may be done in a variety of ways, depending on the space and the place where it will be installed.
Sale
This water bottle is ideal for individuals who prefer not to empty the entire bottle when refilling it. It has a stainless steel sip spout and is manufactured of BPA-free plastic. This weighs 10.14 ounces, the ideal size for guinea pigs or rats. This product also includes a lift-top cap that makes filling it easier and quicker.
Each water bottle features suction cups for use in a glass aquarium habitat, as well as a user-friendly plastic screw to connect it to the cage. The quick-fill lift-top lid makes it easy to keep the bottle filled. It can also be removed and reassembled. Although this product is constructed of plastic, many consumers indicate that it does not leak. Others, however, claim that it is simple to break.
The cage attachment clips are made of plastic and are easily broken, especially if your guinea pig pulls on the bottle. The plastic screw is also prone to loosening. Thus, it may become stuck in the cage.
Some consumers claim it is leaking continuously, and their guinea pigs quickly chewed up the components. The volume of water that came out of the guinea pig's mouth when drinking, as well as the dripping that comes with this bottle, were both issues. As a result, you should inspect the product while it is in use.
No Drip 1L Small Animal Water Bottle. BPA Free. Best Water Bottle for Small Pet/Bunny/Ferret/Hamster/Guinea Pig/Rabbit
🐹 CHEW-PROOF! Suitable for small animals (rabbits, ferrets, guinea pigs, hedgehogs, chinchillas, hamsters, rats, mice, etc.) that would usually chew through anything plastic. WATER STAYS CLEAN! No backflow into the waterer. Fresh clean water for your pets every day!
🐁 WATER STAYS CLEAN! No backflow into the waterer. Fresh clean water for your pets every day!
🦔 EASY! EASY! EASY! Drinker easily attaches to outside of cage. Flip-cap cover on drinker allows for easy refill; just fill from the top! Water level is viewable from the outside through the plastic. No need to remove drinker from cage!!!
🐰 INCLUDES One 1L(32oz) BPA-Free food-grade plastic waterer, flip-cap cover, chew-resistant nozzle, universal fit spring clip, wire bracket, instructions and the world's best customer service in case you have any additional questions!
🐭 BEST CUSTOMER SERVICE! Here to answer any questions you may have.
It features a chew-resistant nozzle and a flip-top cap that makes refilling simple. As a result, it is appropriate for small animals like your guinea pig, which would normally gnaw through anything plastic. You may select between 1L and 2L bottles, depending on the size of your pet and its environment.
Because there is no backflow into the waterer, the water in the bottle stays clean. As a result, your pets will always have access to fresh, clean water. This product is simple to install on the cage's outside. There is a flip-cap lid that makes refilling simple, filling it to the top. Moreover, through the plastic material, the water level can be seen from the outside. 
Some of the reviews claimed that the waterer had leaked on them. To solve this, they have customer support available in the case that they have any additional questions or issues, and they are happy to respond.
How to Clean a Guinea Pig's Water Bottle?
Cleaning your guinea pig's water bottle is nearly identical to cleaning any other dish. The following are some tips you may use in cleaning their bottle:
If you're using a glass bottle, you'll probably be able to clean it in your dishwasher.
If you use a plastic bottle, you should hand-wash it with soap and warm water. Always properly clean the water bottle after washing it since soap residual might make your guinea pigs sick.
Rice is an alternate and safer way to clean your pet's bottle. Simply fill the bottle halfway with rice and a little amount of water. Then, shake vigorously to allow the rice to serve as a scrape inside the bottle. Finally, thoroughly rinse.
You should also wash the rubber floater that displays the water level in the bottle if you have one.
To ensure that your guinea pigs are drinking clean and healthy water, clean the bottle at least once a week. However, you should replace the water every day.
Note: You'll have to clean the water bottle differently depending on the type. You should read the manufacturer's cleaning instructions to prevent damaging the bottle or invalidating any warranties.
Summary
We sincerely hope that we've managed to make things a bit easier for you. Though on the whole guinea pigs are low-maintenance, there are still a lot of things that you have to take into consideration if you want to be a great owner. Starting from buying one of the best water bottles for guinea pigs is a great idea!
List of Sources