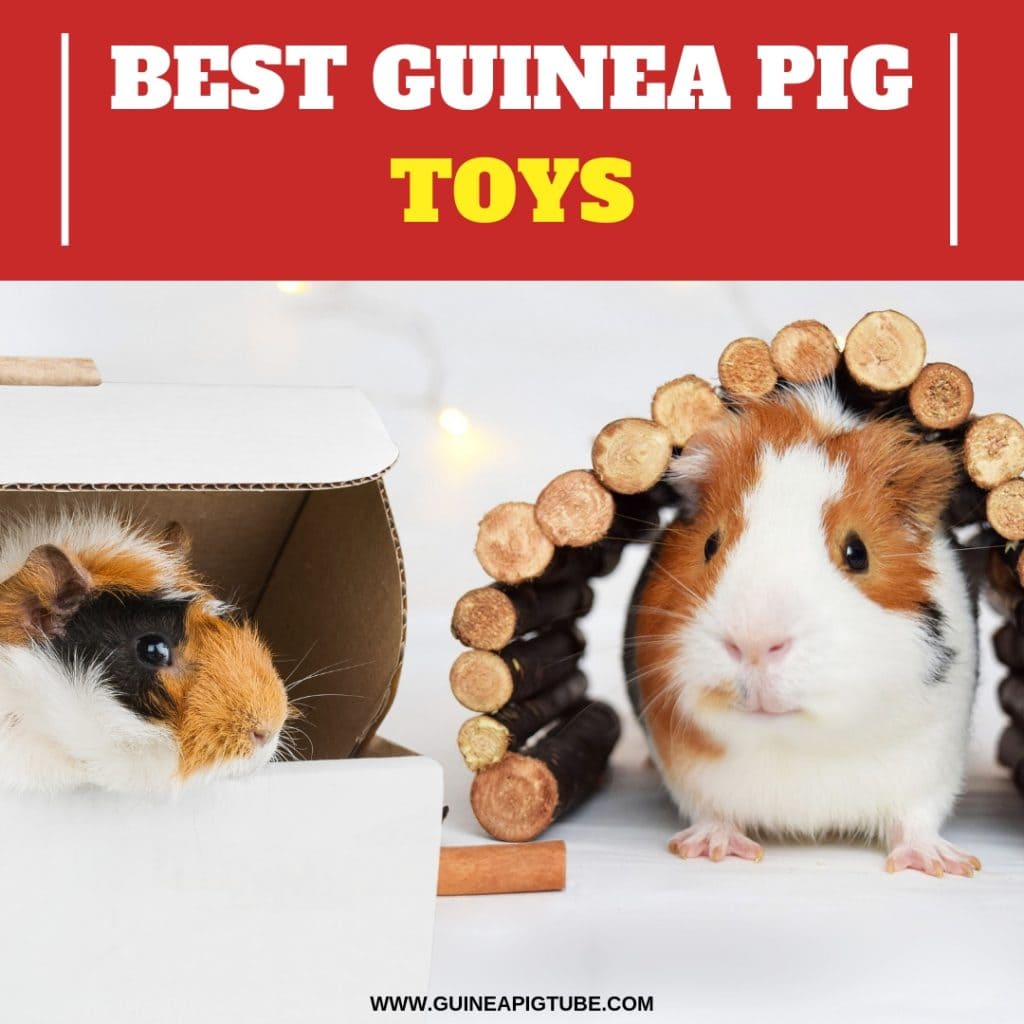 You might be surprised to hear this, but toys can be just as important for the overall health of a guinea pig as a well-balanced diet. But, of course, you wouldn't want to simply throw the toy inside the cage of your beloved pet without doing some research about what toys they actually like to have.
However, there are so many options on the market nowadays that you might find it extremely hard to find the toy that would be just right for your cavy.
Thus, we provide here are at least 10 amazing options to choose from.
AUOKER Apple Sticks Pet Chew Toys
Kaytee Perfect Chews for Guinea Pigs
Rosewood Boredom Breaker Small Animal Activity Toy Floral Hanging Basket
Trixie Natural Living Bridge
Rosewood Naturals Hay 'n' Hide Medium
Naturals Dandelion Roll 'n' Nest
Kaytee Igloo Hideaway
Prevue Pet Products Multi-Color Small Pet Playpen
WINOMO Pet Hammock Hanging Toy Snuggle Hut
Living World Hay Feeding Station for Pets
Continue reading to learn more about the different guinea pig toys.
Why Toys Are Important for Guinea Pigs?
Toys are not something 'extra' that you can treat your guinea pig with. In fact, they are a real necessity for the little guy. Guinea pigs are incredibly emotional animals and, in a lot of ways, they resemble us, humans. The truth is that these fluffy balls can easily get bored. Especially, if they spend all their time inside a cage where you don't really have a great variety of activities.
In the worst-case scenario, the little pet might get bored, fat, and even depressed. All these things combined can surely affect the physical health of the cavy and its lifespan. Thus, they really need toys.
Toys can help keep your beloved guinea pig in great shape. They can run around and play and that certainly is a great exercise. Moreover, guinea pigs are intelligent animals. Toys can totally provide the mental stimulation that guinea pigs need.
What Are the Different Types of Guinea Pig Toys?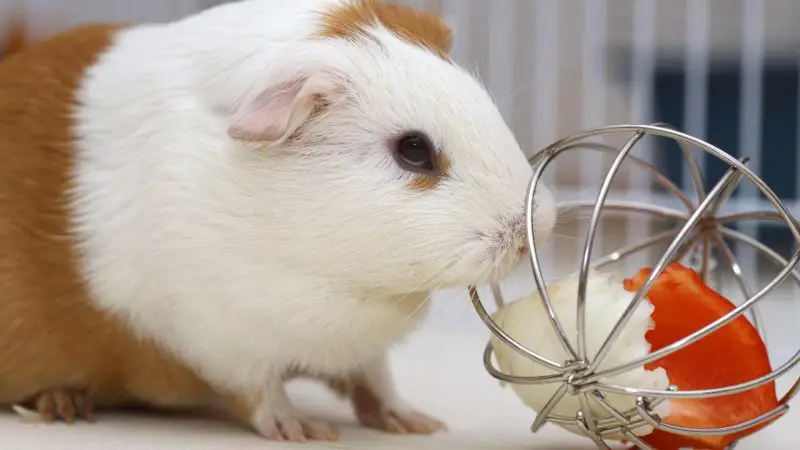 Fortunately, guinea pigs do not need toys that are too complex and expensive. In fact, you can even manage to create a couple of things all on your own.
Cavies love different tunnels and houses that they can climb in and out of. However, usually, the absolute favorites are the toys that can be chewed on. Those can be cubes, nests, balls, and hanging things made out of hay, branches, and fruit. But bear in mind that you have to always check the ingredients of the toy that can be chewed on by your guinea pig to ensure that all of them are safe. You can follow one simple rule – the more natural the toy the better.
Don't pack the cage with dozens of toys. Especially, if it has a small size. Guinea pigs should still have plenty of room to be able to run around. Two or three different toys would do just fine.
What to Look For When Purchasing Guinea Pig Toys?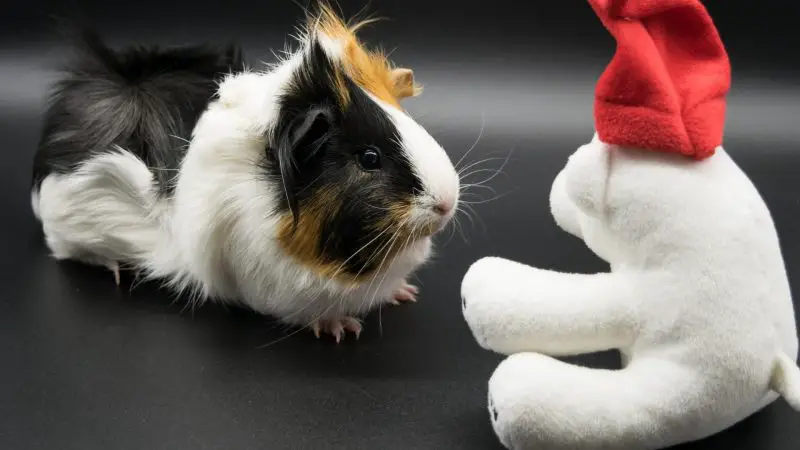 Guinea pigs love to play. Thus, it is critical to be careful about the type of toys you purchase. The following are the most important factors to consider when looking for a toy for your pet guinea pig.
Material
When you choose a toy for your pet guinea pig, keep this factor in mind. A toy's safety for a guinea pig is determined by the material it is made of. Plastic or metal toys are not recommended since they might be harmful to their health if swallowed.
You should go for toys made of wood or other natural materials. Since guinea pigs like to chew on things, they may eat this without causing harm to their health. On the other hand, do not purchase toys with wheels or with bars because they may injure their legs.
Non-Toxic
Although some toys are made of wood, they may contain chemicals that are harmful to your cat. Toxins can be found in paint, insecticides that are inserted in the wood. Thus, select a toy that is free of harmful toxins. Always check the materials utilized by the manufacturer to discover whether chemicals were employed.
Smooth Edges
If your guinea pig's toys have sharp edges, they may harm themselves while playing. Thus, keep such toys away from them since they can inflict significant damage, particularly to the eyes. If you have to buy a toy with sharp edges, make sure you smooth them out or remove them before giving them to guinea pigs.
10 Best Guinea Pig Toys in 2020
This is a great chewing toy made out of apple sticks and natural grass cakes. By the way, all these eatable toys will keep your pet away from chewing the cage or furniture. Moreover, these sticks and cakes are great for the guinea pig's dental health as they help wear down the teeth. The toy can be easily mounted on the cage.
Sale
Kaytee Perfect Chew Guinea Pig
The Perfect Chew for guinea pigs includes orange slices, wood balls, a wood log and a block in brilliant orange, red and yellow colors
A completely chewable kabob toy with a metal attachment hook make it easy to hang in any habitat
Disposable chew, simply discard after your pet devours it, and buy a new one
A Super Pet 10 Essentials Chew item for healthier, happier pets
Helps reduce boredom in small animals and provide your pet with hours of playtime fun
An affordable and colorful option. The chew is made out of wood balls, orange slices, and a wood log. The toy comes with a hook so that you can easily attach it to the cage. Your guinea pig will love the different textures, shapes, and vibrant colors.
Sale
Floral Hanging Basket - Pet Bird Toy
Made from rattan and other pet safe materials.
Hang in and brighten your pet's cage, Pets will love to chew and destroy!
Ideal for all small animals
We want the cage of our beloved pet to be both, clean and pretty. Thankfully, there are a lot of toys on the market nowadays that will not only become entertainment for your cavy, but also a beautiful decoration for its cage.
This cute basket is made out of rattan, non-toxic glue, and pet-safe dyes. Your guinea pig would be happy to chew on the flowers and, ultimately, destroy them.
Sale
TRIXIE Natural Living Bridge, 28 x 17 Centimeter
Rodents bridge is a real eye-catcher
Made ​​of real beech wood material
Pets can hide under it or climb around it
Great for exercise
Perfect playground for hamsters, gerbils and mice, providing them with more to explore, nibble and climb
Now, if we were to name a real 'classic,' then it would certainly be a natural bridge. There are so many things that your cavy can do with it! They can climb around the bridge, hide under it, and chew the sticks.
It is made of real beechwood material. If you want, you can bend the bridge so that it suits the cage more. However, do check the dimensions before purchasing to ensure that it's neither too big for the cage nor too small for the cavy.
Rosewood Naturals Hay 'n' Hide Medium
The original and the best hay roll
An extra thick parchment roll coated inside and out with delicious meadow hay
Ideal added daily to your pet's main diet
Measures approx 25cm x 15cm dia
Made only from 100% natural ingredients
A hay roll is one of the simplest yet one of the best ways to keep your guinea pig entertained. Basically, this thing is a parchment roll that has been coated inside and out with hay and, sometimes, little twigs. The ingredients are 100% natural and the roll itself is quite big, so your guinea pig won't be able to destroy it in seconds.
Naturals Dandelion Roll 'n' Nest
A large (15cm dia) 100% natural woven grassy ball, stuffed with meadow hay, dandelion and marigold
A real boredom breaking challenge for rabbits, guinea pigs and chinchillas
Also ideal for smaller pets like degus, rats and hamsters to play and nest in.
Doesn't contain and glue or wire
This woven grassy ball is 100% natural and quite large (15cm). It is made out of dandelion, marigold, and meadow hay. The great thing is that the nest doesn't contain any glue, so it's absolutely safe for the animal. Moreover, your guinea pig can try and get inside the toy which will also be entertainment on its own.
Kaytee Igloo Habitat Hideout For Pet Guinea Pigs, Ferrets, Dwarf Rabbits, Chinchillas, and Other Small Animals, Assorted colors, Large
Made of durable Plastic, igloos are easy to clean and stain resistant
Encourages natural nesting instincts in small animals
One piece construction
Ideal for guinea pigs, ferrets, dwarf rabbits, chinchillas, and other small furry animals
Igloos come in assorted cool colors and they're made of translucent plastic so you can see your pet inside
The chances are high that your guinea pig will end up living in this colorful igloo! It's just the perfect place to hide. Moreover, this is easy-to-clean, odor and stain-resistant, and made out of durable plastic. As a bonus, you can choose one out of four bright colors that would suit your cage.
Don't forget to check the dimensions of the entrance to make sure that your guinea pig can get in.
Sale
This piece is a must-have for the owners that like to let their beloved guinea pigs run around a certain room in the house. In such a case, you would certainly need a playpen.
This particular one includes eight colorful panels that are made out of pet-safe powder-coated steel mesh. Bear in mind that a cover mat is sold separately.
Sale
WINOMO Pet Hammock Hamster Hanging Toy Snuggle Hut for Squirrel, Chinchilla, Guinea, Pig, Rat, Mice, Small
Perfect pets hut: Nice house choice for your squirrel, chinchilla, guinea pig, rat and other samll animals
Super soft texture: Supple material enable your little friends to cozily enjoy the comfortable touch
Easy to use: With anti-rust and corrosion resistant 4 clip chains for convenient and portable hanging
High quality: Frim structure with refine stitching for durable and long-lasting use
Not only a hammock bed. But also a hammock toy for your little pet
A great hammock bed and toy for your cute cavy. The thing has four clip chains so that you can easily hang it. The chains are anti-rust and corrosion-resistant. The hammock itself is made of a soft and cozy material. The stitching is of amazing quality to ensure that the hammock does not fall apart. Guinea pigs love to use this toy as a hideout or a sleeping area.
Living World Hay Feeding Station for Pets
Easy and fun way to feed hay to small animals
Encourages natural foraging behavior
Helps keep hay clean
Accessible the front and back of the wheel as well as the sides
Measures 5.1-Inch L x 5.1-Inch Width x 7-Inch Height
If guinea pigs need to eat hay anyway, why not turn the process into an exciting journey? The front, the back, and even the sides of the wheel are accessible for the cavy. Your beloved pet would have so much fun spinning the thing and rolling it around. Moreover, such a wheel is a great way to keep the cage relatively clean from hay.
Summary
Now you have a great variety of amazing guinea pig toys to choose from. We would recommend having at least one chew toy in the cage and a hideout or a bridge, for example, which will make your precious cavy exercise a little more.
Choosing the perfect toy for your guinea pig can certainly become entertainment for you as well. However, even if you think you have found the best toy out there, don't be afraid to try out new things also. The manufacturers keep coming up with great toys every year.
List of Sources