Fleece beddings are one of the most popular out there, mostly because they are soft, comfortable, and look good, but they are also machine washable and you can make one by yourself. However, owners also like aspen beddings for their furry friends and because of that, we need to devote a special article for this type of bedding.
What is aspen bedding? Aspen bedding is made from aspen trees and it can be used as a guinea pig's bedding. It's less absorbent than fleece bedding, which is the champion in this category. On the other side, the aspen bedding is excellent at encouraging your guinea pig's natural behavior such as nesting and burrowing.
Before we move on, we need to accentuate the utmost importance of guinea pig beddings. They are essential for your guinea pigs because they can feel safe, secure, and comfortable in their cage.
In this article, we've chosen aspen beddings that you can purchase. But before we move on to our reviews of these products, we will talk about the aspen bedding, including its advantages and disadvantages. So, let's begin with that!
Is Aspen Bedding Safe for Guinea Pigs?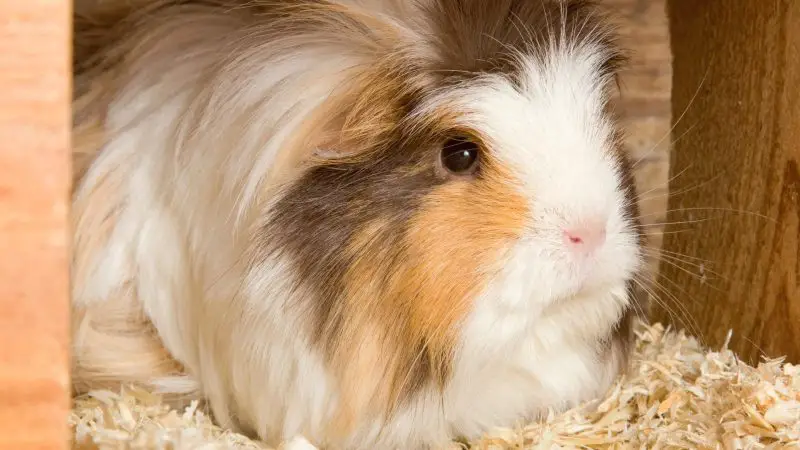 Wood shavings are one of the common bedding options for guinea pigs. There are three common wood shavings – aspen, pine and cedar wood shavings. However, aspen is preferred instead of pine and cedar shavings because it lacks the aromatic oils (phenols) that guinea pig owners are concerned about.
To protect guinea pigs' delicate respiratory systems, aspen bedding should constantly be dust-free. Thus, these shavings are safe for our tiny pets.
Nevertheless, please select a reputable brand because some low-cost companies sometimes sell low-quality aspen shavings with a lot of dust in them. Dusty bedding can be harmful to your guinea pig's health, causing diseases such as upper respiratory infection, allergy, and other problems.
Can Guinea Pigs Be Allergic to Aspen Bedding?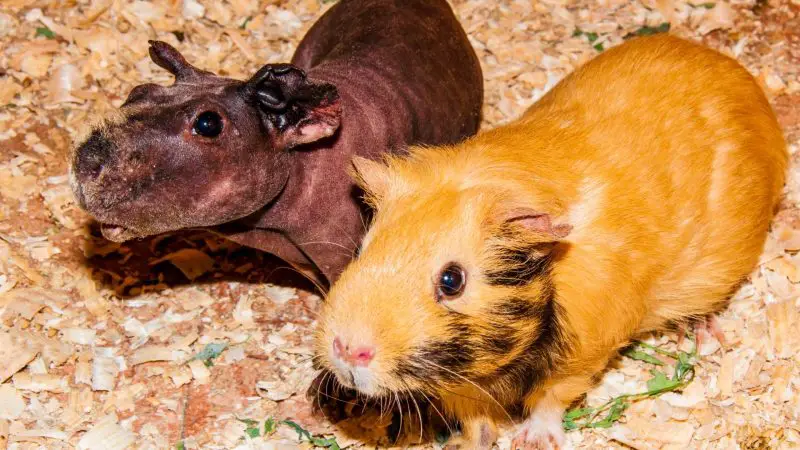 There is a possibility that your guinea pig is allergic to aspen bedding. When guinea pigs' bedding was changed to aspen bedding, some of the guinea pigs had allergic reactions.
If your guinea pigs are allergic to aspen bedding, they may exhibit the following symptoms:
If your guinea pigs exhibit any of these symptoms, you should visit a veterinarian to ensure that the allergy is caused by the bedding and not by a medical issue.
Aspen Bedding for Guinea Pigs: Advantages & Disadvantages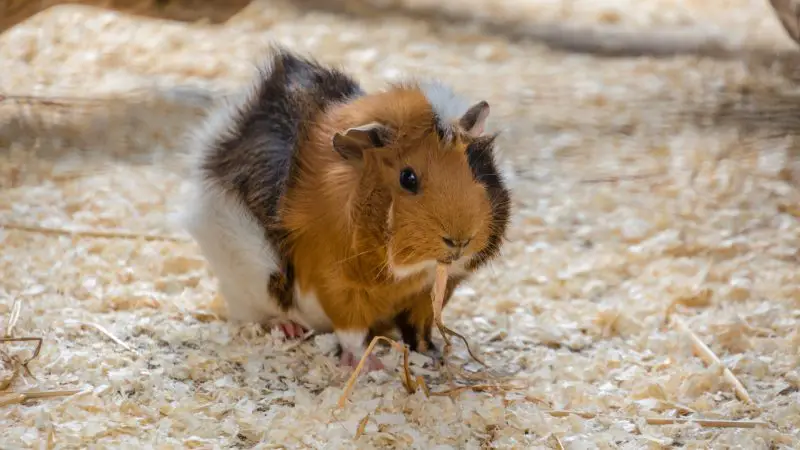 There are many aspen beddings of the market but not all of them are good for guinea pigs. Its safety depends on the quality of the wood and how it was processed. This is why we have carefully selected our products. Aspen beddings that we have recommended are non-toxic, meaning that they are completely safe for your guinea pigs.
These manufacturers have avoided any kind of chemicals, which makes these beddings eco-friendly. Finally, we need to mention that aspen beddings are dust and scent-free, leaving no odor in your guinea pig's cage, making it far easier to clean and manage.
As for disadvantages, one disadvantage is obvious – mediocre absorption of liquids. It's not bad but certainly not as great as fleece beddings. One thing that you'll notice is that aspen beddings tend to be a tad more expensive than other types of bedding, which is a small downside.
Below are all advantages and disadvantages so you can easily grasp them:
Advantages:
Disadvantages:
More Expensive than Other Types of Bedding
Top 5 Best Aspen Beddings for Guinea Pig
Kaytee is one of the most popular manufacturers of guinea pig beddings. This time, their aspen bedding bag is on the first spot on our list, purely because of its undisputed quality. This product is available in four different editions. We have 4 cubic feet, 8 cubic feet, 1200 cubic inches, and 3200 cubic inches packagings.
Here, we're talking about a pack of 8 cubic feet, which is, in our opinion, the best bang for your buck. This bedding bag includes natural aspen shavings, processed in a way that eliminates excessive wood debris and dust found in low-quality beddings.
Since this is a natural product, there are no inks and aromatic oils, so there isn't any distinguishable smell, which is great. All habitats are supported, meaning that you can use this bedding in aquariums and guinea pig cages.
Since this is an aspen bedding, no additional cleaning is required. You just need to change the bedding once a week and you're good to go.
Small Pet Select Premium Natural Aspen Bedding, Animal Bedding for Small Indoor and Outdoor Pets, Made in The USA, Jumbo Size 141 L Pack
Only the Best for You and Your Furry Friend: The ideal Bedding for your rabbit, guinea pig, gerbil, hamster, chinchilla, rat, mouse, snake, reptile, or any small animal; Small Pet Select Premium Small Animal Aspen Bedding is a very low-dust, safe, high-quality product that will last
100% Heat-Dried All Natural Aspen Shavings: Made in the USA without any harmful dyes, chemicals or additives; Made from wood shavings directly off the tree - so no potentially dangerous fibers that may cause respiratory problems or other health issues; Breaks down easily and organically for safe disposal in your garden, compost, or organic waste bin
Comfy Is Key: Super cozy and fluffy but still super absorbent; We have developed this product for optimal absorbency which aids in odor control without any added artificial scents; Safe for your pets and for you!
Recommended Use: Line the bedding inside the pet's habitat; Remove and replace as used; Damp bedding can cause urine scald, so we recommend removing damp spots or soiled areas between changes and replacing the paper bedding every one to two days (or fluffing to prevent large damp areas where your animal stands); Store in a dry place
Pawtastic Products for Your Pet: When it comes to pet care, quality should never be compromised; Small Pet Select is a family-owned company that handpicks each of our products with love; We aim to deliver the safest, most effective, and highest-quality pet essentials
Small Pet Select also made sure that this aspen bedding is all-natural, which means it contains zero additives such as aromatic oil, which can give a specific smell to your bedding. Having that neutral smell, your guinea pigs will enjoy burrowing and nesting in it since it promotes their natural instincts.
This whole bedding is processed in a way that we only get natural aspen shavings, with no dust and wood debris. Another great thing about this bedding is that it's absorbent.
Of course, not absorbent like fleece bedding but it's great for the aspen bedding. This means that the bedding will stay relatively dry and comfortable for your guinea pigs. On top of that, it will decrease the risk of bumblefoot and respiratory diseases.
Small Pet Select aspen bedding also suppresses the odor that might be produced by urine or your guinea pig's grease gland, keeping its cage clean, odor-free, and fresh all the time.
So Phresh Natural Aspen Small Animal Bedding, 56.6 Liters (3456 cu. in.)
All natural aspen wood shavings
Naturally absorbent small animal pet substrate that helps to control odor
Scent-free, with no aromatic oils for healthier pets and easier care
Dust-free to protect delicate small animal respiratory systems
Biodegradable animal bedding that can be recycled and used as compost
So Phresh Natural Aspen Small Animal Bedding comes in a package of 56.6 liters and represents a very good purchase for the price. Once again, we have natural aspen wood shavings, and whenever the product is completely natural, we recommend it. Guinea pigs will react poorly to non-natural products, meaning that you should always buy a product with zero additives, like this one.
Its absorbing capabilities are very good but not as good as in fleece beddings. Still, the aspen bedding from So Phresh is great at minimizing odor and absorbing the liquid.
We've read that some customers complained about odor, i.e. the odor of this bedding. However, we didn't experience any such problems. Dust-wise, the manufacturer states that it's dust-free, so it's completely safe for your guinea pig's respiratory system.
Since it's biodegradable, the bedding can be recycled and used again. Even if you decide to throw it away, it will degrade in nature, making it safe not only for your guinea pig but also for the environment.
Living World Aspen Wood Shavings for Small Animals, Bedding & Nesting Material, 4 Cubic Feet
Aspen Shavings made from 100% natural aspen wood, kiln dried and virtually dust and scent-free
Highly-absorbent aspen shavings can absorb up to four times its weight in moisture
Ideal bedding material for small pets such as hamsters, gerbils, guinea pigs, rabbits, ferrets, and chinchillas
Hypoallergenic and does not contain potentially harmful aromatic oils, ideal when there is concern that your small pet may have respiratory and skin sensitivities
Expanded volume 4 cubic feet
Living World is another manufacturer we've mentioned in our previous article. This time, they appear on our list with their amazing aspen bedding, made of natural aspen shavings. The packaging of 4 cubic feet might seem like it's small but this packaging can last you a couple of months if you have 2 guinea pigs.
For one guinea pig, the duration might extend a little bit. Another highlight of this product is its ability to absorb odor and liquid. The manufacturer states that it can absorb up to four times in its weight in moisture.
If we compare it to some of the fleece beddings we mentioned, it's almost equal in that regard. The versatility of this product extends further, as it can be used for any type of small animal, including hamsters, ferrets, rabbits, chinchillas, gerbils, and of course, guinea pigs. If you want an affordable package of high-quality aspen bedding, this is a chance you can't miss!
Sale
Finally, we have aspen shaving nesting liners from MagJo Pet. There are 4 editions of this product but we've chosen a 12-pack one, with 12 nesting liners inside. The primary use of this product is for chicken. However, as this is still an aspen bedding, it's great for your guinea pig.
In the packaging, you get 12 liners with the dimensions of 13×13 (inches). One liner is enough for one or two guinea pigs, meaning that with this product, you get a space for 12 to 24 guinea pigs, which is more than enough for a vast majority of buyers.
Made of quality USA-grown aspen shavings, this bedding offers astounding quality. Its absorbing capabilities are stellar but not as good as with some other products on the list, hence the fifth place on our list. Other than that, you get plenty of space for an affordable price and it's great for guinea pig owners with more than 10 guinea pigs.
Related: Guinea Pig Pine Bedding | Can Guinea Pigs Use Pine Bedding?
How Often Will You Need to Clean Out Aspen Bedding?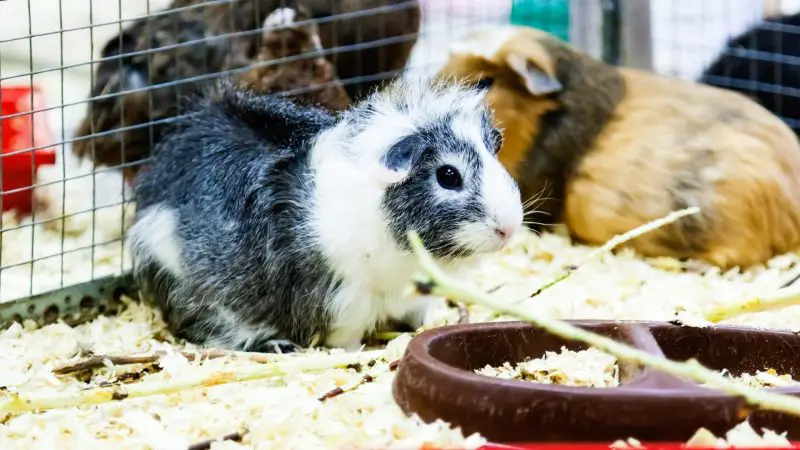 You'll need to clean your cage on a daily basis and eliminate any moist places, which you can usually discover in dark corners. Make sure your guinea pigs have sufficient of bedding to absorb their pee and avoid getting a moist coat. Add a few more shavings if it starts to seem a little thin in spots after you spot clean.
Furthermore, after 5-6 days of utilizing aspen bedding, the cage required a thorough clean. The thorough cage clean entails removing all bedding, cleaning the cage, and replacing it with new, clean material.
How Often to Change Aspen Bedding?
Guinea pigs are notorious for making a lot of mess in their hutch. They have to pee every few minutes, therefore your bedding will rapidly get filthy. You may replace the bedding every 7-10 days with a pair of guinea pigs in a regular size cage. If you're going to use aspen bedding, go for the bigger size because it's more cost effective and lasts longer.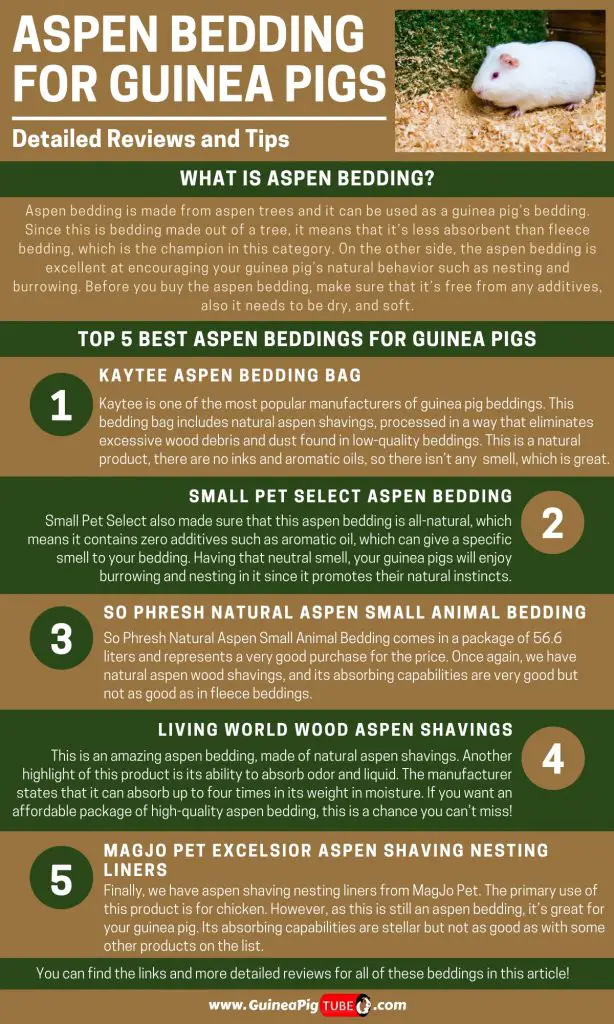 Summary
If for some reason you skipped the entire article and went straight to the conclusion, here's what you need to know. Aspen bedding, as mentioned above, is completely safe for your guinea pigs and it represents one of the most popular types of bedding.
It's soft, comfortable, and easy to maintain. On the other side, it isn't as absorbent as fleece bedding and it's a tad more expensive than other types of bedding.
Other than that, it's very good not only for guinea pigs but other small animals, as well as your chicken, if you happen to own them. Think about your needs and choose adequate bedding according to that. Don't rush your decision as this is the most important part of your guinea pig's cage!
Related: Recommended Equipment/Accessories for Guinea Pigs
List of Sources
The Manufacture, Shipping and Receiving and Quality Control of Rodent Bedding Materials
Guinea Pigs: Good Practice for Housing and Care
Preference of Guinea Pigs for Bedding Materials: Wood Shavings Versus Paper Cutting Sheet
Chemical and Physical Properties of Processed Newspaper Compared to Wheat Straw and Wood Shavings as Animal Bedding
Absorbencies of Six Different Rodent Beddings: Commercially Advertised Absorbencies Are Potentially Misleading