If you have a guinea pig in your house, you already know that they need a lot of space in their cage for playing, eating, and sleeping. This is where the bedding comes into play. Among the guinea pig owners, fleece bedding has become the most popular type of bedding for guinea pigs.
What is guinea pig fleece bedding made of? The guinea pig fleece bedding consists of soft fleece on the upper layer, the middle layer is made of absorbent pads or cotton, and the lower part is usually some waterproof material or just fleece. These types of bedding are also the best choice when it comes to your guinea pig's skin, as it is soft and doesn't cause allergies or any irritations.
In this article, we have reviewed a few fleece beddings for guinea pigs. But, before we begin, we are going to talk about beddings in general and why you should always have some type of guinea pig bedding in their cage.
Do Guinea Pigs Need Bedding?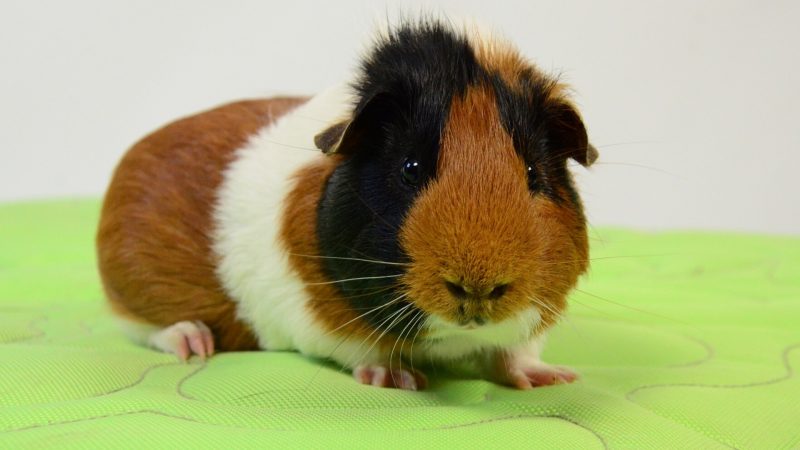 Guinea pigs need beddings. These beddings sometimes represent a pricey investment when it comes to small animals. This is why it's very important to choose the best quality bedding for your guinea pig.
You may now say that the quality bedding is more expensive than the less-quality one, which is certainly true. But, imagine buying low-quality bedding and after a few months, you have to buy another one, and then after a few months, you buy another one. The price of low-quality bedding goes up easily after only a few months.
Buying decent bedding for your guinea pig lets you save some cash instead of wasting it away. Furthermore, quality bedding will let your guinea pig live a healthier life. This way, you'll further save your cash by visiting the vet less frequently. Aside from that, there are other reasons why guinea pig bedding should be of high quality.
What Is Guinea Pig Fleece Bedding?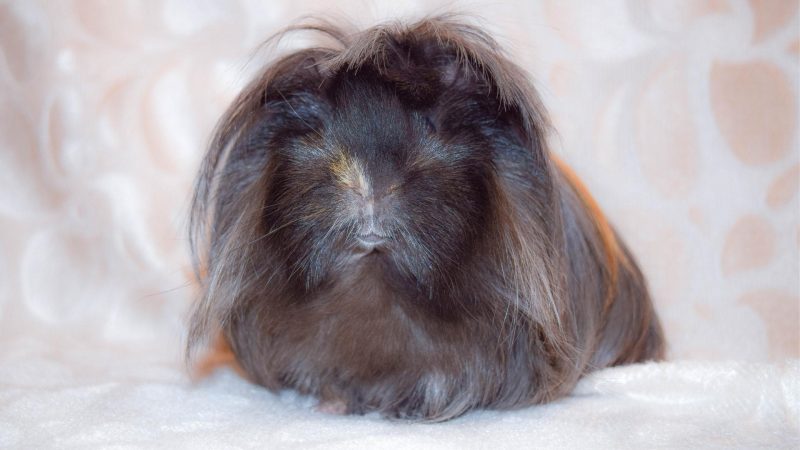 A common guinea pig bedding option is fleece bedding, also known as cage liner. It is among the most expensive options, but it lasts a long time, is extremely absorbent, and is dust-free. There is a wide range of fleece bedding products that can fit any budget. For instance, self-heating fleece cushions, which are one type of fleece bedding that may help you regulate your pig's temperature, maybe your favorite.
Pros:
Fleece is a long-lasting and reusable material that is beneficial to the environment.
In the long term, it's cost-effective
It's non-toxic and completely safe for your guinea pig.
It has no odor and is extremely absorbent
Dust-free and allergy-free.
Cons:
It's pricier than other varieties.
It should be cleaned regularly using a pet-safe detergent.
Review: Top 7 Best Guinea Pig Fleece Beddings
GuineaDad Fleece Liner 2.0 is really a product that your guinea pig is going to love. This is why we couldn't help but place this bedding on the first spot. Whit this bedding you also get to choose your desired color, some of them are blue, orange, pink, purple, and sea green.
Furthermore, this fleece liner comes with a bit different absorbent layer called a bamboo fiber. Of course, fleece layers are located at the top and the waterproof material on the bottom. The main characteristic of bamboo fiber is that it's very good at accumulating moisture, and this is probably the main reason why this product is the first on our list.
Your guinea pigs will love this bedding because it's so convenient to use. GuineaDad claims that its beddings are dust-free and anti-bacterial, to prevent diseases such as bumblefoot and urinary infections. The dimensions are 24×47 inches.
All in all, if you want quality bedding that costs slightly more than usual, this is the product to buy. Your guinea pigs will love it, we promise!
Small Pets and Company Guinea Pig Fleece Cage Liner for Midwest Habitat | Fleece Guinea Pig Bedding (Midwest, Northern Lights)
HIGH QUALITY - Small Pets & Company has been selling cage liners for several years, only purchasing the highest quality fabrics.
PERFECT FIT - By popular demand, our cage liners are made LARGER than the cage, to allow for shrinkage, and to ensure complete protection from messes.
CONVENIENCE - Never run out of bedding again, just shake off your liner and throw it in the washer!
MADE IN USA - Unlike our competitors, Small Pets & Company's products are made right here in the USA, with each product personally made by our team in the Chicago Suburbs.
CAGE SIZES - Midwest (24" x 48"), 1x2 C&C (28" x 14")
Small Pets and Company is known for its high-quality beddings for small animals. Priced similarly to the previous one, this one offers almost the same qualities. There are many reasons why this is an amazing product.
First of all, this company offers three different variants of the product, regarding its colors – northern lights, feathers on gray, and clouds on blue. All three of them are gorgeous and will make your guinea pig cage a tad more beautiful. As expected, this is a quality fleece fabric.
To accompany the high quality, this bedding is very big. The dimensions are 24×48 inches, meaning that it's bigger than almost every guinea pig cage that exists. The reason for this is that the manufacturer wanted to ensure that every part of the cage is covered and that your guinea pigs are happy and warm.
The maintenance is pretty easy as well. If you want to wash it, just shake it off and throw it in the washer. Overall, this is a pretty good bedding for guinea pigs, we had a tough time determining if this one deserves a second or first place on our list.
KAMEIOU Polar Fleece Guinea Pig Cage Liner Bedding for Small Animals Bed Chinchilla Rat Hedgehog Polar Fleece Bunny Rabbit Midwest Guinea Pig Liner Cages Beds C&C Small Pet Blanket Mats
★ PERFECT FOR SMALL PETS - Guinea pig, Rat , Sugar glider,Hamster , Hedgehog ,Chinchillas,Ferrets,Bunny,Rabbit etc.A liner that's warm and easy to clean.
★ CAGE LINER SIZE - 48 x 24 inches.This cool design and warm habitat for small pet and ensuring that they have enough room for play and exercise.Your small pets will love it very much.Note:The liner is made in 48x24 inch according to production specification. But the cotton may shrink or the liner is not placed well or other reasons, there will be 1-2 inch error in measurement. We hope that you would know it.
★ MATERIAL - 100% Brand new ,Super soft Polar fleece + High precision PP cotton filling+Non-slip bottom ,Fine workmanship,Lightweight Portable,Durable,Soft Comfortable and Warm,High-quality guinea pig nest allows your pet to fall in love with it . No need for expensive and smelly paper bedding.
★ BEAUTIFUL APPEARANCE – Super soft polar fleece with Cartoon Animal Shapes Design. Super soft short plush. High quality small pet nests are popular with pets.
★ BEST SERVICE - ALLOW TO 30 DAY MONEY BACK UNCONDITIONALLY. We will refund or replace immediately if not meet your 100% satisfaction, no question asked!
Kameiou fleece bedding is similar to the previous two products. If you're looking for big, soft, and good absorbent bedding, you need to take a look at this one.
This fleece bedding is a great product for small pets at an affordable price. It comes with a cool design and 48 x 24 inches dimensions which is a good size for average guinea pig cages. The quality of this bedding is exceptional. This triple-layer bedding is made of super soft polar fleece on the top, followed by a super absorbent middle layer and a non-slip bottom.
Bedding is lightweight, yet durable, soft, comfortable, and warm. It can absorb the liquids pretty quickly and it's also designed to eliminate odor and keep your guinea pigs dry.
GuineaDad Fleece Liner 2.0 comes in several variants. Pee pads are smaller guinea pig beddings, made for a single guinea pig. Its dimensions of 12×12 inches aren't the most impressive but considering the size of a single guinea pig, it's more than enough. They are also great for out-of-the-cage use, for example, if you are holding the guinea pig on your lap you can put pee pads under it and you won't get dirty or wet.
The reason why this is called a pee pad is that it has some amazing absorption capabilities. To make things clear, it's able to take in up to three times its weight in liquid, which is enormous. This feature grants the prevention of bumblefoot, which is very common in guinea pigs. Dry bedding equals no bumblefoot, it's that simple.
The absorption doesn't end here. Thanks to its inner bamboo layer, the bedding will decrease odor build-up. Anti-fungal, anti-bacterial, and anti-microbial properties of this bedding will decrease the chances of diseases caused by bacteria, such as conjunctivitis and various respiratory diseases.
Kaytee Cuddle-E-Cup is something different from the rest of the guinea pig's beddings. This is bedding in one color for those who love a minimalistic design with less flashy colors. The design is rather simple – it has one color on the outside and grey-ish color on the inside.
With dimensions of 10" L x 12" W x 5. 5" H, this bedding is more than enough for a single pig and maybe two little guinea pigs. You can put this bedding in the corner of the cage and your guinea pig will often take a rest on it.
However, the quality of this bedding is where it shines. It's made from durable polyester material with soft and cozy padded faux fur and you can wash this bedding in the washing machine as well. Kaytee Cuddle-E-Cup comes also with strong straps that secure the bed anywhere in your guinea pig's cage.
You can combine this bedding with all of the beddings we have listed above. Your guinea pigs will have a special place for sleep. It's simple, yet so effective – we love it!
WOWOWMEOW Small Animals Warm Hanging Cage Cave Bed for Hamsters, Guinea-Pigs, Rats, Rabbit and Chinchillas (L, Star-Blue)
Material: Short-plush, Warm and cozy for small animals: guinea pig, hamster, rat, chinchilla, squirrel, ferret, small bird, etc.
An ideal place designed for your little friends, safe and warm for them to sleep or play inside. Nothing is more important than a safe shelter for the sensitive little ones, even if you already have the cage, they still need this hideaway to relax.
Machine washable. Easy to clean and wash.
Two clips included, allows the plush hammocks to attach firmly to the cage
Dimensions(WxDxH): M- 7 x 8 x 6 inches, L- 10 x 10 x 9 inches. Your piggies could play, rest, hide, sleep or do other activities in this safe hideout, which is also treated as a cozy home.
Finally, we have an interesting product that is a little similar to the previous one, as it is also a hideout but made of fleece. Guinea pigs like to hide, that is their natural behavior and you need to put some hideouts in their cage for them to feel safe. This hideout is great if you want your guinea pigs to feel safe, secure, and calm, and even to sleep better.
Fleece is such a versatile material and you can choose this product in different colors and different pattern combinations. The great thing is that it can fit two guinea pigs inside, even though it's not that big.
This bedding is very warm and cozy, made of soft fleece fabric, and filled with high-quality polyester to hold its shape. Also, it's machine washable and your guinea pigs will love it because they can sleep but also play inside.
The FLAdorepet bed house is a low-cost, soft, warm guinea pig fleece bedding for your guinea pigs. Furthermore, it is made of soft and warm coral fleece, which makes the pet feel at ease and comfortable. It's a lot fluffier and more difficult to get out of form.
This product comes in a range of colors and sizes. It is absorbent and can be rinsed out as needed, which is normally once a week or more depending on your guinea pig's size.
Related: How to Make Guinea Pig Fleece Bedding? | DIY Guide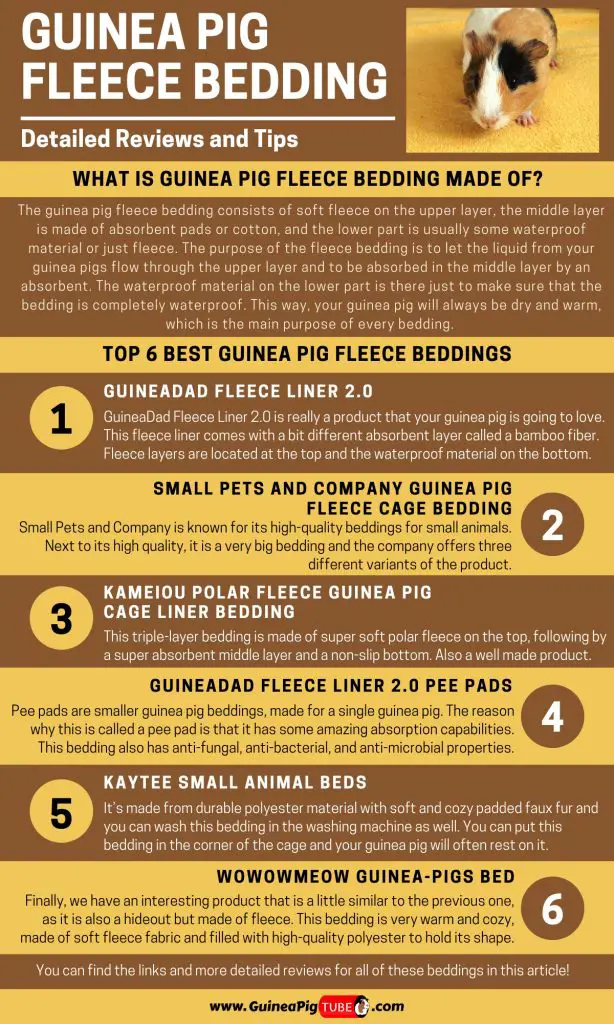 Summary
A quality guinea pig bedding should not only be comfortable but also absorbent and soft. As a guinea pig owner, it's your responsibility to choose a quality product for your little friend.
So, are fleece beddings worth buying? Absolutely! If you want comfy, soft, and absorbent bedding for your guinea pig, look no further. Fleece beddings will offer you all of that and in most cases, its design will enrich your guinea pig's cage, making it not only prettier but more pleasant for your guinea pigs.
If you don't like fleece beddings, make sure to still buy some type of bedding for your guinea pig, as this is an essential component of your pig's habitat. Best of luck!
Related: Recommended Equipment/Accessories for Guinea Pigs
List of Sources
Preference of Guinea Pigs for Bedding Materials: Wood Shavings Versus Paper Cutting Sheet
The Dust Content, Dust Generation, Ammonia Production, and Absorption Properties of Three Different Rodent Bedding Types
Absorbencies of Six Different Rodent Beddings: Commercially Advertised Absorbencies Are Potentially Misleading