Even though guinea pigs have their own cage, they like having some sort of a hideout where they can sleep and enjoy their quiet time. Guinea pigs are very sensitive animals and as such, their hideout should be there to protect them and make them feel comfortable.
Here is our recommended list of the best guinea pig hideouts (tubes/tunnels and caves) for your precious little friends:
Kaytee Woodland Large Guinea Pig House
Prevue Pet Products Wood Guinea Pig House
Kaytee Igloo Guinea Pig House
Willow Guinea Pig House
Guinea Pig Hay Tunnel House
Amariver Hammock Hanging Bed Toy House Cage
Ecotrition Guinea Pig Treat House
Guinea Pig Grass Tunnel
Guinea Pig Tent
Kaytee Igloo Hideout, Giant-Size
If you choose to stick with us to the end of the article, you'll be able to choose and buy a quality guinea pig hideout in a matter of minutes.
How Many Hideouts Do Your Guinea Pigs Need?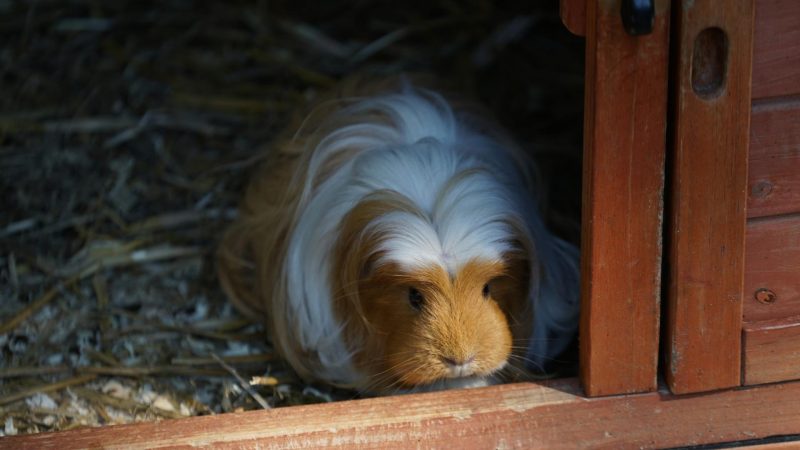 As a general rule, each guinea pig should have at least one hideout. If they're always fighting or disputing over their belongings, you should acquire an extra bed, hideout, as well as a larger cage. Moreover, guinea pig cages and hideouts should always have at least two entrances. So, guinea pigs may escape rather than face a fight if cornered.
Guinea pigs don't normally like to sleep close to one another. That is why they prefer to sleep in different dwellings and hideouts. It's not that they don't like one other; they simply value having some space and privacy.
Things to Look When Buying Guinea Pig Hideout (Hideaway Houses)
Materials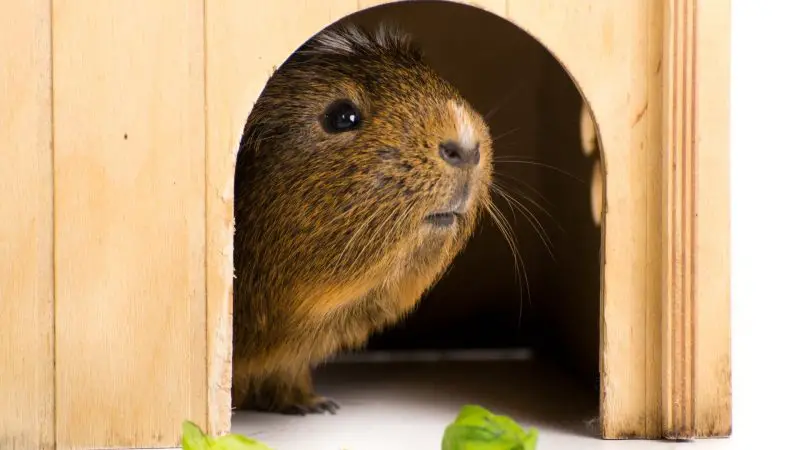 As you've probably realized, the material of which the guinea pig's hideout is made plays a crucial role. You can't buy a hideout that's not safe for your guinea pig, as it can have an impact on its health. On the other hand, no manufacturer will sell a hideout that's not safe. But, it's always better to focus on the materials, such as cloth, plastic, wood, hay, and pig-friendly grass.
Related: What Is the Best Guinea Pig Bedding: Ultimate Bedding Guide
Sanitation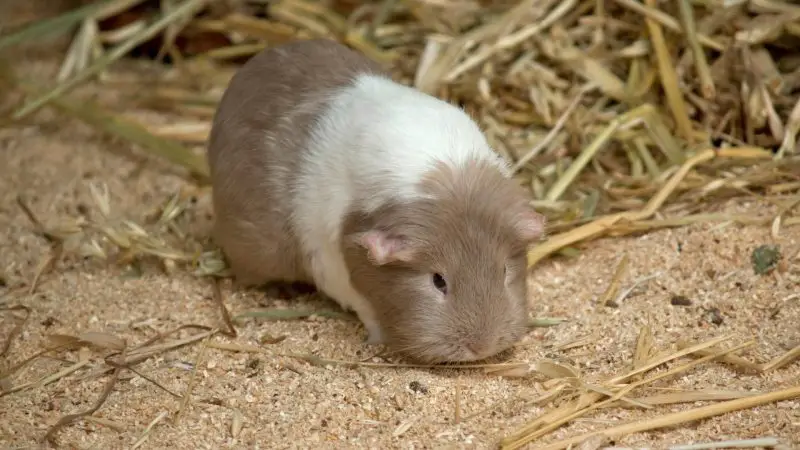 Even more important for your guinea pig's health is sanitation. The more open the house is, the easier it is to sanitate. If a house has two or three openings, it's easy to wipe it clean. This is incredibly important for your guinea pig, as it can easily get infected and become sick. Our recommendation is to put in some hay inside and replace it when needed. This way, you'll keep the hideout intact and you won't have to clean it as often as you would need to without hay.
Accessibility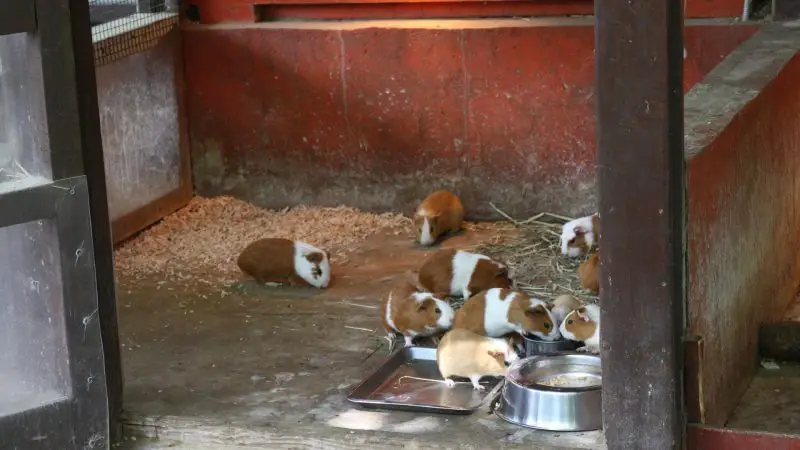 Now that you made sure that you can access the hideout, make sure that your guinea pig can do the same. Never purchase a top-mounted hide house because it can be too tall, making it hard or even impossible for your guinea pig to access it. Not to mention that there's a high risk of injury when getting in or out. Some side-mounted houses are great. They can save a lot of space and they're easy to mount and dismount when needed.
Dimensions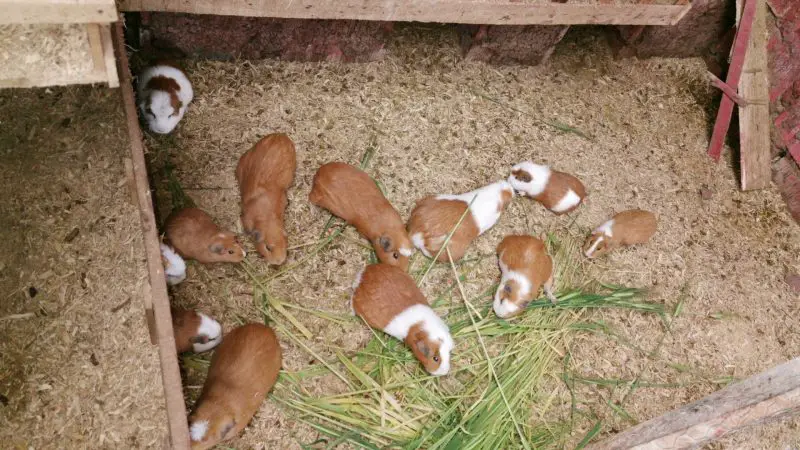 If you want your guinea pig to enjoy its stay in the hideout, purchase a bigger one, with some space inside. You can never go wrong with a bigger hideout, as you can with a smaller one.
Multi or Single-Guinea Pig Use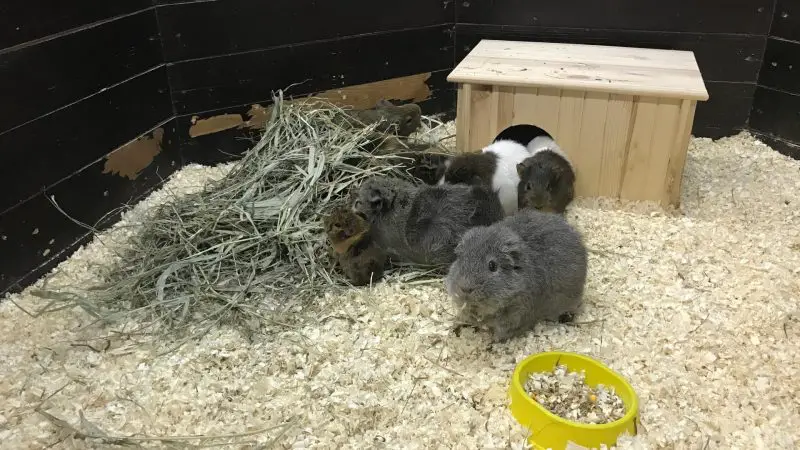 If you have several guinea pigs, you can opt for bigger guinea pig houses or you can buy several smaller houses. The first option is great if you want to keep them together and the second is great if you want them to have some space. Sometimes, guinea pigs will prefer the second option, which you must notice when observing their behavior.
Review: Top 10 Best Guinea Pig Hideouts (Tubes/Tunnels, Caves, Safe Houses and More)
Kaytee Woodland Get-A-Way Large
Provides small animals with a hideout, promotes nesting, and promotes chewing instincts
All natural wood is safe for animals
Fully assembled
Ideal hide-outs for guinea pigs, chinchillas and pet rats
9-Inch long, 1-inch wide, 7-inch high
Kaytee Woodland Large Guinea Pig House is the best choice if you want a sturdy and durable guinea pig hideout. The design of this hideout is rather simple. It has an entrance and one circular cutout that serves as a window. The bottom part of the hideout is wider than the top, meaning that it has a shape of a con. The manufacturer says that this hideout promotes nesting and chewing instincts, which is great for a small animal like a guinea pig.
The reason we went with the wooden hideout is that it's the most durable. If you want a hideout that you won't have to replace often, this is the one to choose. On top of that, this hideout is made of natural wood, which means that it's completely safe for all animals.
Speaking of other animals, this hideout is not only for guinea pigs but also for pet rats, chinchillas, and other small animals. The hideout is 9 inches long, 10 inches wide, and 7 inches high, which is plenty of space for your furry friend.
Sale
Prevue Pet Products Wood Guinea Pig Hut 1122
Perfect for playing, nesting, hiding or sleeping
Designed for guinea pigs or other small animals of a similar size
Unvarnished wood hut
Two crawl holes plus a larger corner opening
10" Long, 8 3/8" Wide and 7" High
This wooden guinea pig house is from Prevue Pet Products. This is one interesting house that's great for small animals but only for one. Unlike the previous product, this one's shape is completely simplified. It's a cube with one big opening which serves as an entrance and two circular openings serving as observation spots. One opening is on the side of the house, while the other is on the top of it. This means that your guinea pig will not feel confined inside the hideout.
This safe house will let your guinea pig breathe, providing it with a sense of freedom. Dimension-wise, it's around 10 inches long, 8.5 inches wide, and 7 inches high, which is almost the same as the previous product.
Kaytee Igloo Habitat Hideout For Pet Guinea Pigs, Ferrets, Dwarf Rabbits, Chinchillas, and Other Small Animals, Assorted colors, Large
Made of durable Plastic, igloos are easy to clean and stain resistant
Encourages natural nesting instincts in small animals
One piece construction
Ideal for guinea pigs, ferrets, dwarf rabbits, chinchillas, and other small furry animals
Igloos come in assorted cool colors and they're made of translucent plastic so you can see your pet inside
A guinea pig house in a form of an igloo from Kaytee is one of the prettiest houses on our list. It's a plastic house but that shouldn't detract you from buying it. It is made of durable and plastic and will not harm your guinea pig. Plastic guinea pig houses are slightly less durable than wooden ones but this shouldn't be a problem, except if your guinea pig is wreaking havoc inside its cage, which is very rare.
The hideout comes in four basic colors – purple, pink, green, and blue. It's excellent for a single pig and the manufacturer offers three different packages. You can buy a single house, a package of two, and three houses. This is great if you have multiple pigs.
Now, as far as the dimensions go, there are two variants if you decide on a package of two houses. One is a large house, with 10.25 inches in length, 12.25 inches in width, and 6.5 inches in height, while the other is 6.5×7.87×3.62 inches respectively.
Willow Guinea Pig House is a simplistic, minimalistic hideout for your guinea pig. If you love having a guinea pig house made of natural willow, this is the perfect product. Its natural look will make it blend perfectly in your guinea pig's environment, which is great if you don't want a colorful guinea pig house like the previous one.
Basically, this is a guinea pig tunnel/tube but can also serve as a hideout. As this is an open-ended tunnel, your guinea pig will have space to move in any direction it wants.
Of course, there's no bottom, making it very easy to clean. In fact, there's almost no need to clean it! You can just wipe the outside part of the hideout and you're pretty much done. Some owners will be concerned by the willow but as the manufacturer says, this is a completely natural one. It's safe to chew and your guinea pig will love it!
When it comes to dimensions, it has 8 inches in width, 10 inches in length, and 7 inches in height.
Sale
Oxbow Animal Health Timothy Hay Tunnel
HAND-WOVEN FOR REST AND RELAXATION: Made by hand to offer an ideal place for your rabbit, guinea pig, or chinchilla to rest and relax throughout the day
100% EDIBLE: Made with only 100% all-natural Timothy hay
100% ALL-NATURAL: All-natural – no chemicals, wires, or threads
PROVIDES ESSENTIAL ENRICHMENT: Supports your pet's instinctual hiding behaviors. Enrichment is essential to total pet health and wellbeing.
VETERINARIAN RECOMMENDED: Used and recommended by leading veterinarians worldwide
Guinea Pig Hay Tunnel House from Oxbow is the only house on this list that your guinea pig might eat. Remember that guinea pigs love hay. This house is made completely of quality Timothy hay, which is the number one choice for your guinea pig's diet. Knowing what's it made of, you can already guess this is a safe house for your furry friend.
The design is reminiscent of the previous product. A guinea pig tube with both ends left open, with a crucial difference – the bottom. There is a bottom here, meaning that it's a bit more complex to clean.
Your guinea pigs might use the house for defecating or peeing, which needs to be cleaned regularly. For that reason, this house is below the previous one, as it needs a thorough cleaning on an almost daily basis. Other than that, this house is all-natural and looks gorgeous.
Its dimensions are 7 inches in height, 7.5 inches in width, and 10 inches in length.
If you're up for a cloth guinea pig house, Amariver Hammock Hanging Bed Toy House Cage is an excellent choice. Since it's a cloth guinea pig house, it's very soft, comfy, and your guinea pig will love it.
The design is very simple. It's rectangular with a circular hole at the front, which serves as an entrance. On the sides of the house, there are three clips to attach to the cage. This way, you'll ensure that the house stays in one place and does not slide around while the guinea pig moves. Furthermore, this helps save some space in a relatively small cage.
The downside of this hideout is the material. While the clothing is soft and comfortable, it needs a bit more cleaning than usual, especially if your guinea pig peed in it. The dimensions are standard – 10 inches in length, 8.5 inches in width, and 8.5 inches in height.
Ecotrition Snak Shak Natural Hideaway For Guinea Pigs And Large Rabbits, Large, Chewable
3-In-1 Hideaway: Provides A Natural Shelter For Hiding, A Chew And A Great-Tasting Treat.
Made For Small Animals: Ideal For Guinea Pigs, Dwarf Rabbits And Similar-Sized Small Pets.
100 Percent Chewable: Made With Fresh Alfalfa, Golden Honey Flavor And Other Listed Ingredients.
Provides A Place To Chew: Promote Your Small Pet'S Natural Chewing Instinct.
Cage Accessory: Provides A Multi-Functional Accessory For Your Small Animal'S Cage.
Ecotrition Guinea Pig Treat House is such a sight to behold. This is a completely edible house, made of alfalfa and golden honey. On one hand, it's a hideout and a toy, and on the other hand, it's a bloody delicious snack for your guinea pig.
This 3-in-1 product is ideal for small animals such as guinea pigs but also dwarf rabbits, and other small rodents. Since it's a natural hideout, it promotes your guinea pig's natural chewing instinct, which is quite good, as the house is completely edible.
If you're worried about its longevity, that's a relative factor. Some guinea pigs will chew it faster and some might not chew it at all. But, as this house is much bigger than your pig, it should last quite a while.
The dimensions of the available space are 14 inches in height, 13 inches in width, and 10 inches in length, which is more than sufficient for a single guinea pig.
Sale
Guinea Pig Grass Tunnel from Prevue Hendryx is a nice, comfy, and delicious hideout for your guinea pig. It's not made of Timothy hay but of natural couch grass instead. This means that it's completely safe for your guinea pig to chew it.
The design is very simple, but there are some differences when compared to the previous tunnels. This one is in the shape of a cylinder, which means that there is a bottom.
The hand-woven structure makes this tunnel worth more than it is. It's a beautifully crafted piece of guinea pig hideout that will impress even the most demanding buyers. Its dimensions are 13.5 inches in length, 6 inches in width, and 6 inches in height.
Hagen Living World Tent for Pets, Blue/Grey
Indoor and outdoor collapsible tent for guinea pigs and rabbits
Equipped with a wide doorway for easy access; size large
Durable build with sturdy metal frame
Provides a comfortable hide-out for your pet
Measures 14.6-inch length by 14.6-inch width by 14.6-inch height
Moving on to guinea pig hideouts for two pigs, we have an amazing guinea pig tent from the company Living World. This is an outstanding tent replica, with a side window and rolled-up rain guard which isn't really a rain guard but serves to perfectly replicate the real tent.
The tent is made of nylon fabric in conjunction with a sturdy metal frame. Since this is a tent for two pigs, you're probably interested in its dimensions. It is 14.6 inches in length, 14.6 inches in width, and 14.6 inches in height. Some buyers said that the tent is enough for one average-sized cat, meaning that your pigs can get comfy and lazy all they want inside.
Sale
This is the exact same product that we mentioned before but in gigantic size. Its dimensions are 12.8 inches in length, 15.8 inches in width, and 8.5 inches in height. If you loved the same product with a bit smaller dimensions, this one will be even better, as it allows up to five small guinea pigs to live inside.
How to Make a Guinea Pig Hideout?
If you choose not to buy a guinea pig hideout, you may make one by looking around your home. Your guinea pigs will like hiding in paper bags, old food containers, or cardboard boxes that you may have lying around the home. You can tear or cut these materials apart as long as you can make a safe hiding place out of them.
Making use of things easily available in your home will make life easier for you. Instead of cleaning them, you can quickly throw them away and replace them with new ones. The best part is that these hiding spots are entirely free and may be located throughout your home.
Summary
Before buying any type of guinea pig hideout, be sure to think about the factors we've talked about in the previous section. Never try to save money on a guinea pig hideout, as it will only result in a bad purchase. It's better to buy a quality hideout than to buy a mediocre hideout that will last shorter and is not that safe for your guinea pig.
Now that you know everything there is about guinea pig hideouts, you can go ahead and make the purchase. If you like your new guinea pig hideout, you might want to share this article and help other guinea pig lovers around the world. Best of luck!
Related: Recommended Equipment/Accessories for Guinea Pigs
List of Sources
Genetics and the Behavior of Domestic Animals
Cleaning and Disinfection of Animal Cages and Accessories
Preference of Guinea Pigs for Bedding Materials: Wood Shavings Versus Paper Cutting Sheet