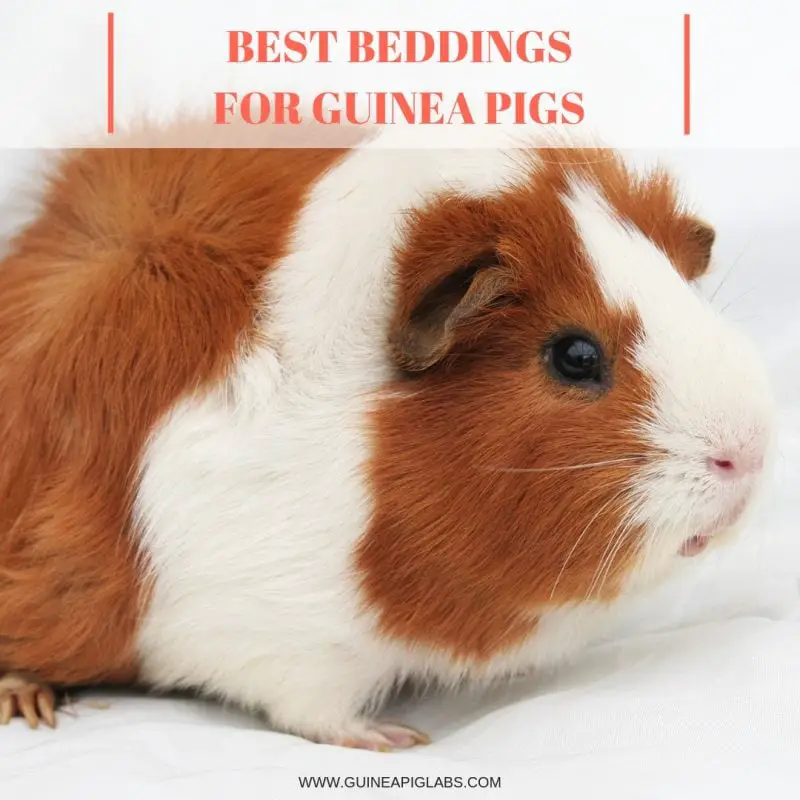 Guinea pigs are small, fun and lively pets. The guinea pigs spend a lot of time in their cages, so it's necessary to make sure that you have the correct size of the cage. It needs to be appropriately fitted with all the stuff required to make your guinea pig happy and healthy. This includes food, water, bedding, and entertainment.
With numerous options available in the market people are often confused about the bedding material that can be used for guinea pigs.
Guinea pigs need comfortable and soft beddings which can absorb anything wet (urine). It is essential to keep their cages dry and free from the smell which comes from their urine. So, even if you provide them the best bedding, it is crucial that you clean it at least once a week.
You will need to change the bedding if it becomes wet and you need to replace it often. The best bedding for guinea pigs does not mean the best material for bedding, but it means the best sanitary conditions that you can provide them. In this article, we are going to cover a few of the beddings made for guinea pigs.
---
List of Best Beddings Suitable for Guinea Pigs You Can Buy Online
---
The review of these products is below.
---
Basic Bedding to Make for Your Guinea Pig at Home
---
1. Set the first layer using a newspaper. It helps protect the wood base of the hutch and makes it easy to pull out all the bedding when you change it.
2. Now, set the second layer with a branded wood shavings from a pet store. They absorb the urine and help make the place smell nice. They are reasonably comfortable when the guinea pigs are naughty and eat most of their hay.
3. The third layer should be of hay. It is nutritious, delicious and fun for burrowing in and lying on. Top up at least once (preferably twice) a day and keep some separation in a feeder if possible. Put a two-inch layer over their bed area every day, topping it up in the evening in cold weather.
---
Why Do Guinea Pigs Need Good Bedding?
It will provide them with warmth and comfort.
They need a soft bed to sleep and rest.
Polar fleece or wool blanket should be preferred for the bedding, mainly in case of baby guinea pigs.
Good quality and dust-free hay is an inexpensive solution for bedding.
The bedding helps to keep the cage clean for a longer time. It also absorbs the urine.
The rationale behind spending time in deciding and picking good quality bedding for guinea pigs is that they need a place where they can feel secure and can remain free from any illness.
Investment in good guinea pig bedding will help you reduce the amount of money that you will need to give later if they get sick from lousy cage conditions.
---
Types of Guinea Pig Beddings
Wood Shavings Guinea Pig Bedding
Paper Guinea Pig Bedding
Fleece Guinea Pig Bedding
Cage Liners Guinea Pig Bedding
Vet Bed Guinea Pig Bedding
Sawdust Guinea Pig Bedding
---
Wood chips and wood shaving have been used by guinea pig owners for a long time but now people are more inclined to use paper-based bedding, and in some cases they even use fleece.
---
Wood Shavings Guinea Pig Bedding
This has been the most common bedding that was used by pet owners for years. But, in modern times, pet owners are more conscious about their pets and want the best for them.
So, it is essential to know that not all types of wood shavings are suitable for guinea pigs' health. For instance, the wood shavings of Cedar contain oil that can make your guinea pigs extremely sick. It is even right for other small animals.
Some pet owners prefer Aspen as it is inexpensive. However, wood shavings will become a problem if guinea pigs need trimming. Wood particles can cause matting which if not fixed can cause pain in the crotch area of the guinea pig. So, wood shavings are not the best option for your guinea pigs as far as their health is concerned.
Wood shavings do not absorb the water content and also it does not control the smell of the urine. So, it becomes a tedious task if you have to keep changing their bedding more than often. Just imagine your kid sleeping in the smell of his shit and wet bedding. If you think it is not a suitable thing to do, well, the same goes for animals.
---
Paper products are more expensive than wood shavings, but they are the best option. Many companies make paper-based guinea pigs products. But, you have to be careful while picking the best product because they differ in quality.
Not all paper products are suitable for guinea pigs as some of them have a rough texture to it which makes it uncomfortable for guinea pigs. Also, some paper products are not very good at absorbing the urine, and they smell ridiculously bad.
If you are looking for good paper-based bedding, make sure you check the amount of dust. If it is too dusty, it will cause respiratory problems and is very bad for the health of your guinea pig. Also, it can cause allergies, which is not good for your guinea pig. Cleaning this bedding is not an easy task.
Still, paper bedding is the most liked option by pet owners. Paper beddings come in different colors so don't be confused about it because the color doesn't matter. The packaging of the paper bedding is tight, so even if it looks like a small package, it is good enough, as it will expand when you take it out and put it in your guinea pigs' cage.
Make sure that you pick a product of good quality. With a good paper bedding, the task of changing and cleaning becomes easy, and there is no harm to your pigs' health. It absorbs urine and controls the bad smell.
Paper beddings are more comfortable than wood shavings with no health hazards.
If you do decide to select disposable guinea pig bedding, there is absolutely no doubt you should choose paper-based bedding and not wood-based bedding.
---
Fleece Guinea Pig Bedding
Fleece is an even better option if you want the best bedding for your guinea pig. Though it is not very popular yet, the pet owners love this material. Fleece is comfortable and soft material to make sure that your pets enjoy their beds as much as you do yours.
Also, if it is properly treated and has thick underlayer, it works as an excellent adsorbent. Fleece can be reused, and it is an even cheaper option than sawdust, it is quite convenient in the long run. You can just put two layers of fleece and two layers of towels underneath.
---
Cage Liners Guinea Pig Bedding
It is basically fleece, but they are sewed between two layers. So you won't need anything else with it. It is straightforward to clean. You can throw it in the washing machine and use it again as you do with your clothes.
It is considerably more expensive than just the fleece lining. But it is very long lasting and easy to handle. The only disadvantage to this one is that everything sticks and guinea pigs tend to get insides of it because it is fleece. But, we would prefer convenience over anything.
---
Vet Bed Guinea Pig Bedding
It is thick and snuggly. The main advantage is that if a guinea pig wees on it, the liquid is drawn away from the surface and stays dry. It makes sure that your guinea pig isn't sleeping on the wet surface.
It is cheap and easy to wash. One more advantage of this vet bed over fleece is that nothing sticks on it and your guinea doesn't try to get inside it or bite it. Almost all pet shops sell this and availability won't be a problem.
---
Sawdust Guinea Pig Bedding
It is incredibly cheap and very popular choice of bedding. But it is way messy because once it gets wet, you will have to change it. Also, when your guinea pig starts playing and jumping, you will see it everywhere in your house.
This can be the cheapest option but not the most convenient bedding for your guinea pig.
---
Like paper and fleece, the cotton cloth can serve as a low-budget, affordable and practical type of home-made guinea pig bedding.
You can use any cotton cloth, towels or cotton/fleece cloth available in your house. It is very cheap, and it is already available in your home. Cotton is an absorbent material, and guinea pigs like them since they are soft.
But, the problem with a cotton cloth is that it needs daily maintenance in cleaning waste, and the solid waste needs to be removed by hand.
Also, it is not very helpful in the prevention of odor.
---
Reviews of 6 Best Guinea Pigs Beddings You Can Buy Online
---
Small Pet Select All Natural Pellet
This product is highly absorbent and is thus exceedingly useful when it comes to cleaning the cage. You will not need to change it too often. It controls odor, and it is easy to dispose and scoop. Pellets are dense and highly fabric, and because of that, they take less storage space. It is free of toxins that are usually associated with wood stove pellets.
Things I like about this product:
It does not contain any additive or irritant
It is recyclable and compostable
Economic since it will last longer
Click here to see this product on Amazon
---
GuineaDad Fleece Liner 2.0
The liner is of excellent quality, and it will undoubtedly last for years. It will save you money, time, and will make your guinea pig happy and healthy. It's thick, sturdy and excellent absorbent. The water disappears as soon as you put it on the liner. You won't regret it.
It may be on the somewhat more expensive side, but your guinea pig will love this one. This is a great cage liner. It's cleaner than paper bedding and doesn't smell.
Things I like about this product:
It's a kind of a blanket for guinea pigs, and they love it
Reusable after wash
It is soft, absorbent and has a waterproof layer
No allergies, no sneezing
Click here to see this product on Amazon
---
Guinea Pig Fleece Cage Liner for Midwest Habitat
You can just directly put this cage line in the cage. There is no need to put any layering with this product. You can easily wash this once a week.
The good thing about this product is the availability of different prints, so they will make your cage your look beautiful. It is better than just using fleece because it helps with getting rid of odor while fleece does not. It might be big for your little cage, but you can fold it to fit it in.
Always remember to wash the liner with hot water and not cold water. You can wash this in your washer in which you wash your regular clothes. Again, it is expensive, but it will save a lot of your money in the long run. We would recommend purchasing two, so that when one it out for a wash, you can use another one.
Things I like about this product:
It does not shrink
It is very absorbent
Easy to wash
Durable and beautiful design
Super dry
No health hazard
Click here to see this product on Amazon
---
Carefresh Complete Natural Paper Bedding Blue
The bedding is made from natural paper, and it is 100% biodegradable, so not only is it amazingly comfortable bedding for your pets, it is an excellent environment-friendly product too.
A great choice of bedding for your guinea pigs at a great price. It also expands when you take it out the packaging, a highly recommended buy. You will see a dramatic difference in odor control but not as good and useful as a cage liner. It is cheap and affordable, though it cannot be reused and washed like a fleece or cage liners.
If you are looking for excellent options and with more of a paper-based look to it, the Carefresh Complete Pet Bedding is a good choice. It is also pleasant on the eye with a neutral and comfortable color.
What I like about this product:
Great odor control
Super absorbent
Almost completely dust free
Easy to clean up
Expands
Eco-friendly
Soft and comfortable
Safe for your guinea pig's
Click here to see this product on Amazon
---
EZwhelp Vet Bed
These vet beds are not yet popular with small pets, but this can be an excellent option. It can make your work a lot easier as it is meant for dogs. If it can take the urine of dog and still keep it dry, imagine how easy it would be for you to use it for guinea pigs.
The best thing about vet beds is that these are cheap. With guinea pigs, you don't even need super quality, and you can easily pick out which best fits your pocket. It has long life durability through many regular wash cycles.
What I like about this product:
It is super absorbent
Minimizes leaks with waterproof bottoms
Say no to odor
Will last lifelong
Click here to see this product on Amazon
---
Kaytee Super Sleeper Cuddle E-Cup Bed for Small Animals
This is super cute and comfortable bedding for your guinea pig. It is large enough for two snuggling pigs. Your pig will love to play and roll around in it. Though pigs sometimes try to pull out or chew the bed.
It has nylon outside and a very soft fleece inside it. They have clips on them to attach to the cage so that pigs don't pull it around. It is easy to clean.
The only downside of this product is that it might not be as absorbent as you want it to be. So, you might have to put extra fleece.
What I like about this product:
It looks like a cute crib for babies
Soft and comfortable
Easy to wash
It is affordable
Click here to see this product on Amazon
---
This was the list of the most popular and the best bedding options for your guinea pigs. Please, go through all your options and pick the product according to your priorities. You can't go wrong with any of them, but with some, you will have to take extra precautions.
It all depends on how much money and time you are willing to spend on the bedding. Some of them are smarter investments, and they will pay back with time. This is mostly because time is money and you won't have to change or clean the bedding every day.
Still, it doesn't matter what bedding you choose; you will have to keep track of your guinea pig every day and their hygiene.
Care for them and they will show you how cute they can be. Don't forget they also have feelings and they like to be clean.