Guinea pigs are small, fun, and lively pets. Even though they are very active and like to play, the guinea pigs spend a lot of time in their cages, so it's necessary to ensure they have a lot of space in their cage.
It needs to be appropriately fitted with all the stuff required to make your guinea pig happy and healthy. This includes food, water, bedding, and toys (hideouts). One of the most important things for keeping your guinea pig healthy and happy is having quality bedding in their cage.
What is the best bedding for guinea pigs? The best bedding for guinea pigs is fleece, and also the most economical option. Other types of good beddings include natural kiln-dried wood shavings, good paper-based beddings, vet bed, and cloth beddings.
Whatever guinea pig's bedding you choose, you will need to change that bedding when it gets wet or smelly.
In this article, we will cover the best guinea pigs beddings, and hopefully, you will be able to decide what option is the best for you and your guinea pig. Let's start!
Why Do Guinea Pigs Need Good Bedding?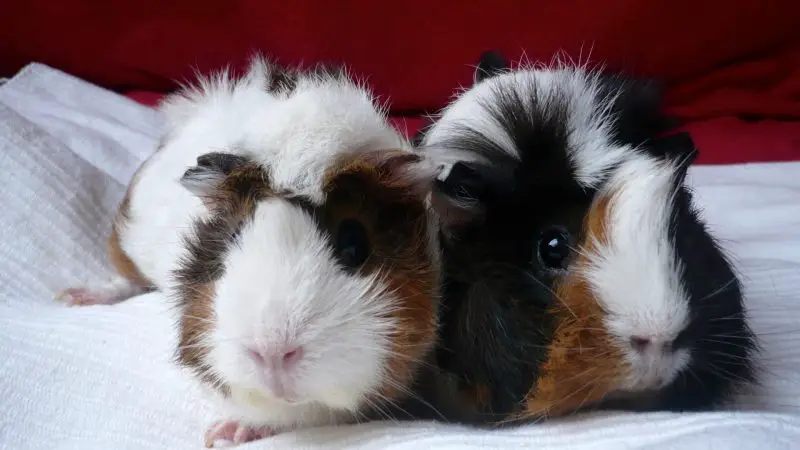 Guinea pig bedding aims to absorb toxic moisture from the guinea pig's urine and excrement. Because it absorbs moisture, it limits bacterial development, resulting in fewer harmful bacterial toxins.
Thus, you must have good bedding for the following reasons:
Good bedding will provide guinea pigs warmth and comfort.
They need a soft bed to sleep and rest.
Bedding helps to keep the cage clean for a longer time. It also absorbs the urine and keeps them dry.
The rationale behind spending time in deciding and picking good quality bedding for guinea pigs is that some types of bedding are dangerous for their health. With proper bedding, they will feel secure and remain safe from any illness.
Investment in good guinea pig bedding will help you reduce the amount of money you will need to give later if they get sick from lousy cage conditions or unhealthy bedding that causes them respiratory problems.
Related: Where do Guinea Pigs Sleep?
Different Good Types of Guinea Pig Beddings
Paper-Based Bedding for Guinea Pigs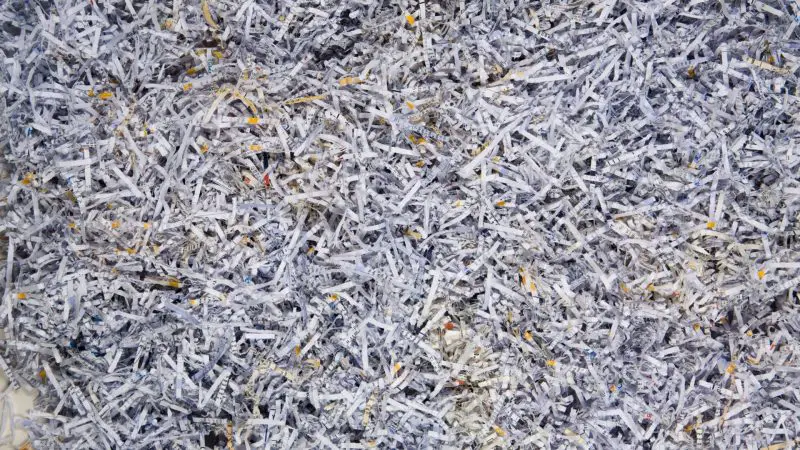 Paper products are more expensive than wood shavings, but they are good and mostly a safe option. Many companies make paper-based beddings for guinea pigs. But, you have to be careful while picking the best product because they differ in quality.
Not all paper beddings are suitable for guinea pigs as some of them have a rough texture, which makes it uncomfortable for guinea pigs. Also, some paper products are not very good at absorbing urine, and they smell ridiculously bad.
If you are looking for good paper-based bedding, make sure you check the amount of dust they contain. If it is too dusty, it will cause respiratory problems, which is very bad for your guinea pig's health. Also, it can cause allergies, which is again not good for your guinea pig. Cleaning this bedding is not an easy task.
Still, paper bedding is still one of the most liked options by pet owners. Paper beddings come in different colors but don't be confused about it as the color doesn't matter.
The packaging of the paper bedding is tight, so even if it looks like a small package, it is large enough, as it will expand when you take it out and put it in your guinea pigs' cage.
Make sure that you pick a product of good quality. With good paper bedding, the task of changing and cleaning becomes easy, and there is no harm to your pigs' health. It absorbs urine and controls the bad smell.
Paper beddings are more comfortable than wood shavings with no health hazards. If you are searching for disposable guinea pig bedding, there is absolutely no doubt you should choose paper-based bedding.
Guinea Pig Fleece Bedding | Cage Liners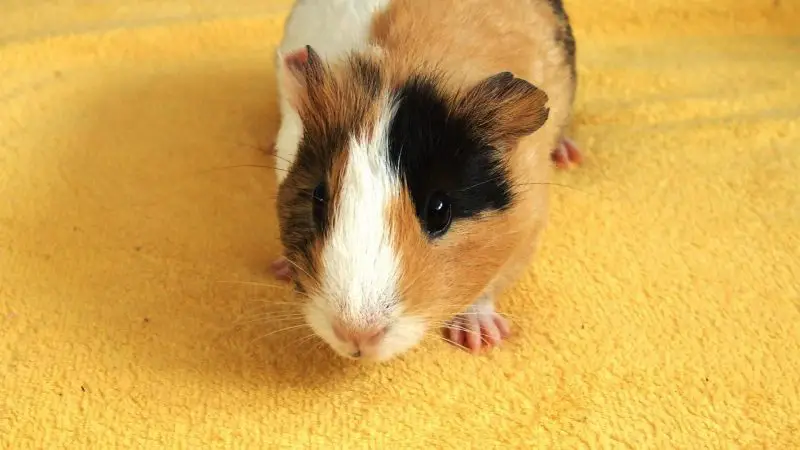 Fleece is probably the best bedding for your guinea pigs. It is a comfortable and soft material, and it makes sure that your pets enjoy their beds as much as you do yours.
Also, if it is properly treated and has a thick underlayer, it works as an excellent fluid adsorbent. Fleece can be reused, and it is an even cheaper option than sawdust; it is quite convenient in the long run.
Fleece bedding can maybe cost you a lot of money, but it is a good one-time investment because fleece bedding is machine washable. 
It is straightforward to clean; you can just pick up some large residues of food or feces with a broom and dustpan or use the vacuum. Also, you can throw it in the washing machine and use it again as you do with your clothes.
So, if you take proper care of the fleece bedding, you can use it for a long period. Also, there is an option of making guinea pig fleece bedding all by yourself.
Wood Shavings Bedding for Guinea Pigs
For years, different types of wood shavings have been the most commonly used bedding by pet owners. But, in modern times, pet owners are more conscious about their pets and want the best for them.
So, it is essential to know that not all types of wood shavings are suitable for guinea pigs' health. 
Wood shavings are considered safe only if they were kiln-dried. For example, aspen beddings in the kiln-dried form are safe; they are non-aromatic and don't contain harmful oils. But you should always check for additive content, as not all products are processed equally.
Vet Bed Guinea Pig Bedding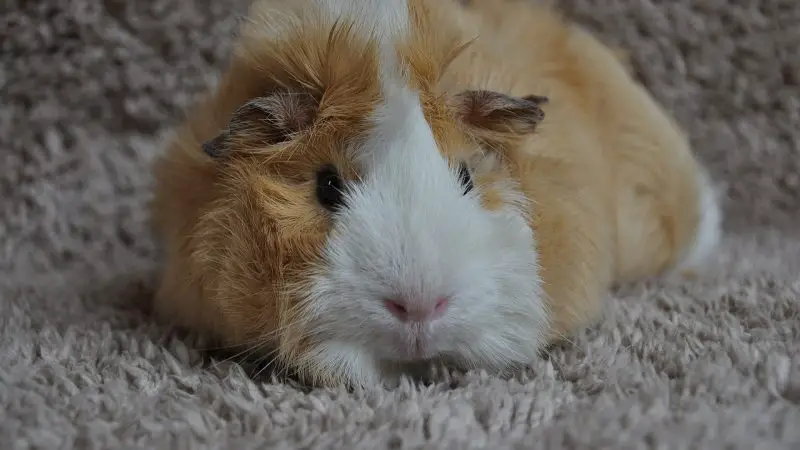 This type of bedding is thick and snuggly. The main advantage is that if a guinea pig urinates on it, the liquid is drawn away from the surface and stays dry on the top (just like how the fleece bedding works, but maybe a little bit better). It makes sure that your guinea pig isn't sleeping on the wet surface.
This bedding is made of polyester material which will keep your guinea pigs warm and dry. It's not allergenic, and it is a good long-term solution.
It is somewhat cheap and easy to wash. You can wash it only once a week in the washing machine and perform spot cleaning between washing it.
One advantage these vet beds have over the fleece beddings is that nothing sticks on them, and your guinea doesn't try to get inside it or bite it.
Almost all pet shops sell this type of bedding, and the availability won't be a problem.
Cloth Bedding for Guinea Pigs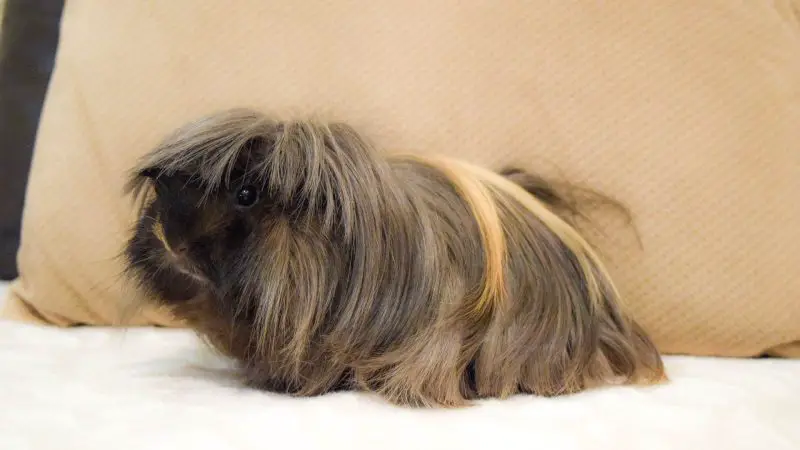 Like paper and fleece, the cotton cloth can serve as a low-budget, affordable and practical type of home-made guinea pig bedding. Just remember that this is not a long term solution for a cage bedding.
You can use any cotton cloth, towels, or fleece cloth available in your house. It is very cheap, and already available in your home. Cotton is an absorbent material, and guinea pigs like them since they are soft.
But, the problem with a cotton cloth is that it needs daily maintenance such as cleaning their waste. Also, it is not very helpful in the prevention of odor.
Types of Guinea Pig Bedding to Avoid
Not every guinea pig bedding is suitable for keeping your guinea pig healthy and happy. You must also be aware of which kind of bedding must be avoided.
Pine or Cedar Shavings
There are different wood shavings that are popular. These are pine, cedar, and aspen. Among those three, the first two are the beddings that need to be avoided.
Although the scented oils or phenols present in cedar and pine shavings have a nice fragrance that masks your pig's odors, it can cause serious allergic responses, respiratory issues, and liver damage.
Additionally, wood shavings will become a problem if guinea pigs need trimming (long hair). Wood particles can cause matting, which can cause pain in the crotch area of the guinea pig. So, wood shavings are not the best option for your guinea pigs as far as their health is concerned.
Some wood shavings do not absorb the water content very well and don't control the urine smell. So, it becomes a tedious task if you have to keep changing their bedding more than often.
Sawdust
It is incredibly cheap bedding for guinea pigs. The downside is that it is very messy and dusty that can cause serious respiratory illness to your pet. Also, when your guinea pigs start playing and jumping in the cage, you will see residues of this bedding all over your house.
Corn Husks
Corn husks, which are prone to mold, are undesirable bedding material. If the guinea pig swallows these wispy, long, hair-like strands, it might get stuck in their genital or anal region and can also cause a blockage in the intestine.
Straw
Because straw does not absorb the liquid or ammonia in your guinea pig's urine or feces, their environment will rapidly become stinky, damp, and unsanitary. Straw is also extremely rough and uncomfortable to sleep on. Worse, it has hard ends, causing your pig's nose, ears, or eyes to be injured.
Cat Litter
Just like pine and cedar, it's not designed for use as bedding. Cat litter has chemicals in it that eliminate odors. However, these substances might cause your guinea pig to have severe allergic responses, itchy skin, and respiratory issues.
Buying Guide for Guinea Pig Bedding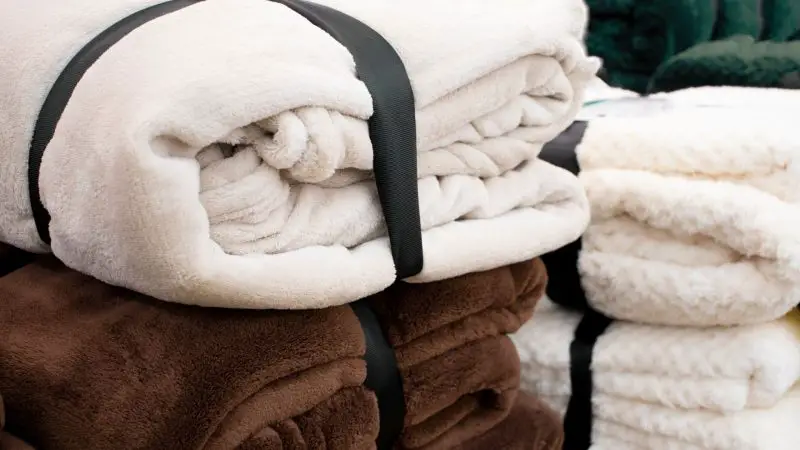 In choosing the good best bedding for your guinea pig, you should consider the following:
Comfort
Because your guinea pig spends so much time in his cage, one of the most important factors to consider is their comfort. You must select bedding based on your guinea pig's habits. Because they have little feet, you can pick between fleece, paper, aspen, or cotton bedding, which are all extremely soft and comfortable.
Absorbency
You need to ensure that the one you purchase is absorbent because the guinea pig will be peeing and pooping on it. If not, wet bedding can give various health problems, including bumblefoot. It is a bacterial infection that affects the footpads of guinea pigs.
Non-Toxic
Cedar and pine bedding, as well as bedding laced with chemicals or scents, might be harmful to their health. In addition, when you use magazines and newspapers for bedding, they might ingest the ink from it, making them very sick. Thus, always seek non-toxic and safe bedding for your guinea pig.
Temperature
It is also important to consider the temperature in choosing a bed. Guinea pigs may rapidly become overheated in the summer. To keep them cool, aspen wood shavings or paper bedding is preferable.
They also don't perform well in cold weather. Use fleece or cotton bedding to keep them warm and cozy if you live in a region where the weather is extremely harsh or where the temperature swings a lot.
Reviews: 8 Best Beddings for Guinea Pigs You Can Buy Online
Sale
Small Pet Select All Natural Pellet Bedding, 8 lb.
Only the Best for You and Your Furry Friend: Maintain the highest hygiene standards with heat-treated pine pellets; Small Pet Select All Natural Pine Pellet Bedding is essential for pet owners who want to minimize potential harmful effects that of regular bedding or litter; A low-dust, safe, high-quality product that will last, Great for all small animals, especially your rabbit, guinea pig, or cat
100% All Natural Pelleted Virgin Pine: Made in the USA without any harmful dyes, chemicals or additives, and free of the toxins associated with wood stove pellets; Made from wood shavings from already downed trees, so no new trees are cut down for this product; Breaks down easily and organically for safe disposal in your garden, compost, or organic waste bin
Optimal Absorption: These high density pellets provide better absorbency - which means better odor control without any added artificial scents; Easy spot clean up as Wood Pellets do not stick to fur or paws; Helps keep your pet's space and your home clean and tidy
How To Use: Place the pellets inside the pet's habitat or litter box; Remove and replace as used; We recommend removing damp spots or soiled areas between changes and replacing the paper bedding every one to two days; Store in a dry place; Not recommended for animals with sore or fragile paws
Pawtastic Products for Your Pet: When it comes to pet care, quality should never be compromised; Small Pet Select is a family-owned company that handpicks each of our products with love; We aim to deliver the safest, most effective, and highest-quality pet essentials
This product is highly absorbent, and because of that, it is exceedingly useful when it comes to cleaning the cage. You will not need to change it too often. It controls odor, and it is easy to dispose of and scoop.
Pellets are dense, and because of that, they take less storage space in your house. This product is free of toxins that are usually associated with wood stove pellets.
Positive things about this product:
It does not contain any additives or irritants.
Economic since it will last longer.
Related: Best Guinea Pig Pellets: Brand Reviews & Quality Guide
GuineaDad Original Liner - Blue Fleece Guinea Pig Bedding - Reusable Guinea Pig Cage Liner - Extra Absorbent with Waterproof Bottom and Burrowing Pocket - Small Pet Supplies - Midwest
Comfort & Wellness — With a patented multi-layered construction, this guinea pig fleece cage liner transfers liquid away from the top layer to keep your pet's feet & habitat dry, clean, & odorless
Reusable & Cost Efficient — The absorbent layer is a bamboo blend that offers a secure, dry home for your pet that's washable & reusable; More sustainable than cedar shavings or disposable liners
A Happy Piggie — Liner has pockets to encourage burrowing instincts; This Guinea pig bedding has a dry, soft surface for little feet; Simply toss in the washing machine for a clean guinea pig home
Many Uses — Works in pet carriers, on car seats, or place on the floor & furniture when playing & cuddling; Available in many sizes, colors, & patterns, this guinea pig blanket fits standard cage sizes
Multipurpose Packaging — Bedding is packaged in a cardboard "crunchy condo" that can be used as a guinea pig hideout; Made with pet-safe glues & inks, it's good for pets to burrow, play, & chew
This fleece liner is of excellent quality, and it will undoubtedly last for years. It will save you money, time and will make your guinea pig happy and healthy. GuineaDad Fleece Liner 2.0 is thick, sturdy, and excellent absorbent.
The water disappears as soon as you put it on the liner. You won't regret buying this product.
GuineaDad Fleece Liner 2.0 may be on the somewhat more expensive side, but your guinea pig will love it. This is a great cage fleece liner, and it is cleaner than paper beddings and doesn't smell.
Positive things about this product:
It's a kind of a blanket for guinea pigs, and they love it.
It is soft, absorbent, and has a waterproof layer.
No allergies and no sneezing for your guinea pigs.
Related: Guinea Pig Fleece Bedding: Detailed Reviews and Tips
You can just directly put this fleece liner in the cage. There is no need to put any layering with this product. It can easily be washed once a week. This is why it is better to get two of them, use the other one while the dirty one is being washed.
The good thing about this product is the availability of different prints, so they will make your cage look beautiful.
It is better than just using fleece because it helps get rid of the odor while basic fleece does not. It might be big for your little cage, but you can fold it, and then it will fit.
Always remember to wash the liner with hot water and not cold water. You can wash this in your washer in which you wash your regular clothes. Again, it is expensive, but it will save a lot of your money in the long run.
Positive things about this product:
Durable and beautiful designs.
Carefresh 99% Dust-Free Blue Natural Paper Small Pet Bedding with Odor Control, 10 L
Small Pet Bedding: Our beautiful blue natural paper fiber bedding makes the softest, driest most comfortable home for small pets
Pillowy Soft: Comfyfluff natural paper bedding made from scratch is gentle on sensitive feet with perfect texture for burrowing, tunneling, nesting, or creating a hamster hideout; ideal rat, mice or guinea pig bedding, rabbit litter or for small pets
Exceptional Odor Control: Ideal for use as hamster bedding, guinea pig habitat lining, or bunny bedding, our pet-safe, proven odor-control formula suppresses ammonia odors for up to 10 days
Ultra-Absorbent: 2X more absorbent than shavings, our natural paper bedding keeps small pets and their homes warm and dry with no more soggy messes to clean up
99 percent Dust-Free: Free of harmful chemicals and synthetic dyes, our high performance bedding is virtually dust free so your pet can enjoy a cleaner, healthier home. Biodegradable and compostable means better for the planet too
The bedding is made from natural paper. It is 100% biodegradable, so not only is it amazingly comfortable bedding for your pets, but it is also an excellent environment-friendly product.
A great choice of bedding for your guinea pigs but also at a great price. It expands when you take it out of the packaging.
You will see a dramatic difference in odor control but not as good and useful as fleece bedding. It is cheap and affordable, though it can't be reused and washed like a fleece or cage liner.
If you are looking for an excellent option with a more paper-based look, the Carefresh Complete Pet Bedding is a good choice. It is also pleasant on the eye with a neutral and comfortable color.
Positive things about this product:
Almost completely dust-free.
Expands after it gets unpacked.
Safe for your guinea pigs.
EZwhelp Reusable Dog Pee Pads for Dogs - Waterproof Puppy Potty Training Pee Pad - Washable Dog Training Pads w/Rounded Corners Puppy Pad - Lightweight & Laminated Whelping Pad Dog Mat Pet Supplies
ABSORBENT PADS FOR ALL YOUR FURRY FRIENDS: Our EZwhelp Pee Pads are perfect for dogs, puppies, cats, guinea pigs, rabbits, and more! With a comfortable and soft surface, these pads allow your pets to do their business in peace while effectively absorbing pee and poop. Say goodbye to overnight accidents with these reliable pads that can even replace dog diapers for incontinence.
TOTAL PROTECTION FOR YOUR HOME: Safeguard your carpets, crates, furniture, and more with our versatile pee pads. Whether you need to cover your indoor or outdoor surfaces, these pads are here to save the day. They are ideal for playpens, litter boxes, kennels, beds, couches, and any area prone to pet waste. Shield your rugs, flooring, and blankets while keeping unpleasant odors at bay.
DURABILITY MEETS QUALITY: Our EZwhelp Pee Pads are designed to withstand heavy use and provide long-lasting performance. Made with high-quality materials, these laminated pads are not only waterproof but also washable, making them perfect for multiple uses. The rounded corners ensure a snug fit against box or crate walls, while the brushed polyester top and tricot waterproof bottom offer a comfortable and reliable solution.
ECONOMICAL AND ENVIRONMENTALLY FRIENDLY: Say goodbye to disposable pads and hello to cost efficiency. Our washable puppy pads save you money while being kind to the planet. With the ability to withstand over 100 washing cycles, you'll only spend pennies per use. Plus, the reduced weight and volume make laundering more efficient. Switching to our pads can even eliminate the need for doggy diapers in some cases, offering higher quality at a lower cost per use.
VARIOUS SIZES AND STYLES FOR EVERY PET: We understand that every pet is unique, which is why our EZwhelp Pee Pads come in different sizes and styles. The 34" x 36" pads feature a coffee-colored, stain-resistant top and a white bottom. If you need a different size or color, we have you covered! From small to XXL pets, we have the right supplies and accessories to meet your furry friend's needs. Choose EZwhelp for top-quality pet essentials.
The best thing about pee pads is that they are cheap. With guinea pigs, you don't even need to get one that has a super quality absorption, and you can easily pick out the one that best fits your pocket.
These pee pads are made primarily for dogs, and they are called pee pads, but you can use them normally, like bedding for guinea pigs and any other small animals.
EZwhelp pee pads are made of three layers designed to absorb liquids. The first or the top layer is made of soft and comfy polyester for your guinea pigs, and it will absorb all liquids.
In the middle, there is a thicker high-density soaker layer, and on the bottom, there is a really important third waterproof layer that is made to prevent liquids from passing to the cage's floor.
You can wash it in the washing machine, just like fleece bedding, and if you take good care of these pee pads, they will last for quite some time.
Positive things about this product:
Soft and safe for guinea pigs.
It has a waterproof layer on the bottom.
These vet beds are not yet popular with small pets, but they can be an excellent option. It can make your work a lot easier.
This is a product designed for dogs and if it can take the urine of dogs and still keep them dry, imagine how easy it would be for you to use it for your guinea pigs.
One most important things about this bedding are that it is a very absorbent, non-irritant, and non-allergenic product. It has a long lifespan, even with many regular wash cycles.
Positive things about this product:
Minimizes leaks with waterproof bottoms.
Good at neutralizing odors.
It will last for a long time.
This is super cute and comfortable bedding for your guinea pig. It is large enough for two snuggling guinea pigs. Your guinea pigs will love to play and roll around in it. However, guinea pigs will sometimes try to pull out or chew this bed.
It has nylon outside and a very soft fleece inside it. They have clips on them to attach to the cage so that your guinea pigs don't pull it around. It is easy to clean as well.
The only downside of this product is that it might not be as absorbent as you want it to be. So, you might have to put extra fleece bedding around it.
Positive things about this product:
It looks like a cute crib for guinea pigs.
Sale
Vitakraft Fresh World Small Animal Bedding - Ultra Strength - Pet Bedding for Litter Boxes and Cages (16 L),Gray
SUPERIOR ODOR CONTROL: Up to 14 days of odor control to keep your home and your bunny, chinchilla, guinea pig, or hamster's home smelling clean and fresh
EXTRA ABSORBANT: Fresh World is heavier and more absorbent than normal bedding with up to 3x expansion, making it paper bedding small animals and their parents can rely on
SAFE AND COMFORTABLE: Extra soft for easy comfort, 99.5% dust-free, and free of baking soda. No more sneezing for your small pet, no more worrying for you
ENVIRONMENTALLY FRIENDLY: Made from 100% real recycled paper that you can see and smell. Biodegradable and compostable
LOW MAINTENANCE: With regular spot cleaning, the Ultra Strength formula can control odor for up to 14 days. Change bedding when wet, or once the odor blocker is no longer effectively controlling odors
This product, which is totally made of recycled paper, is a fantastic middle ground for individuals who can't decide between granules and paper bedding for guinea pigs. It is fully biodegradable and may even be composted.
2 to 3 inches of this should be spread on the bottom of your pet's cage or litter box.
Additionally, it can reduce odor for up to 14 days with regular spot cleaning. When the bedding gets wet, or the odor blocker stops working, it's time to change it. With reduced dust levels, this is an excellent choice for guinea pig bedding.
Positive things about this product:
Made from 100% recycled paper.
It is biodegradable and compostable.
For optimum comfort, soft and cuddly paper crumbles.
Basic Bedding to Make for Your Guinea Pig at Home | Temporary Solution
If you just got your guinea pigs but forgot to research their beddings, we have a quick DIY fix for the guinea pig bedding.
Just remember this is a temporary solution, and you will need to get proper bedding in the future. Here are the steps to do:
Step 1: Set the first layer using a newspaper. It helps protect the wood base of the hutch or the plastic base of the cage and makes it easy to pull out all the bedding when you need to change it.
Step 2: Now, set the second layer with branded wood shavings from a pet store. They absorb the urine and help make the place smell nice.
Also, they are reasonably comfortable but not really healthy and can cause respiratory problems due to the dust content. That is why this bedding is a temporary solution.
Step 3: The third layer should be hay. It is nutritious, delicious, and fun for burrowing in and lying on. Put a two-inch layer of hay over their bed area every day, add more hay in the evening or during the cold weather.
Here is a video on how to choose guinea pig bedding materials that can also help in your do-it-yourself bedding solution: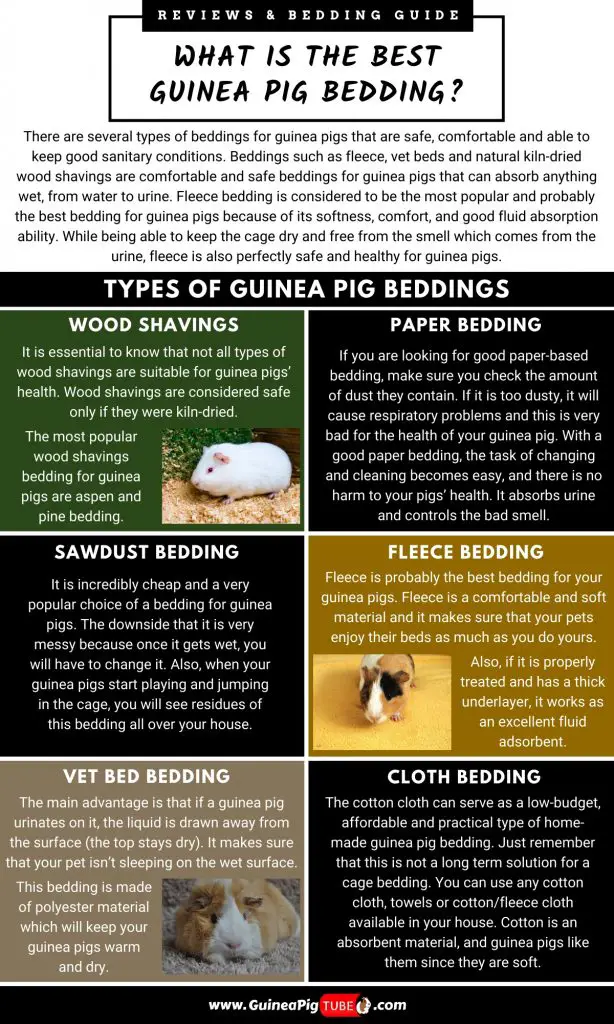 Summary
Choosing the bedding for guinea pigs usually depends on how much money and time you are willing to spend on the bedding. Some of them are smart investments which means that they will pay back with time. This is mostly because time is money, and you won't have to change or clean the bedding and the cage every day.
Care for them, and they will show you just how cute and affectionate they can be. Don't forget, they also have feelings, and they like to be kept clean and dry at all times. Best of luck!
Related: Recommended Equipment/Accessories for Guinea Pigs
List of Sources
Respiratory Diseases of Rodents
UC Davis Office of the Attending Veterinarian Standards of Care – Title: Cleaning and Disinfection of Animal Cages and Accessories