Guinea pigs are small, sensitive pets that come with a lot of responsibility. One of the most important things to know is what guinea pigs need to feel comfortable and safe in their new home.
In this article, we are going to talk about guinea pig's bedding and why it is important for their overall health and happiness.
Now, do guinea pigs need bedding in their cage? Guinea pigs need to have some type of bedding in their cage. Having a proper type of bedding for guinea pigs is extremely important for their health and comfort. Also, with certain types of beddings like fleece, the cage can be kept clean and odorless (absorbs urine and spilled water). Letting a guinea pig sleep in a cage without bedding is like leaving a human to sleep on the floor.
First of all, guinea pigs are prey animals. They are used to hiding from danger and over time, they got to the point where they love to hide. Bedding is something that is very nice and fun for them as they can hide in it as well. This is an entertaining way for them to spend their time.  
Secondly, it is not a surprise that guinea pigs prefer having some type of bedding. No one likes to sleep on hard material, especially guinea pigs as their cages are made out of metal. Guinea pigs also have a high body temperature, and they enjoy keeping it that way. This is why they love fluffy beddings. It is also very cozy and comfortable. 
Another reason why it is better for the owner to buy bedding is that it collects urine and wet substances that can be found in a guinea pig cage. It is a lot easier to take out the wet bedding and replace it than to scrub out the cage every day.
This method is called spot cleaning, and you can spot clean every day with a minimum effort. This way you can scrub the cage once a week so it is much more convenient. 
In the following sections of the article, we have discussed different types of beddings for guinea pigs and in the end, we have given you our recommendation for the type of bedding that we use for our guinea pigs. Let's begin!
Why Are Some Beddings for Guinea Pigs Better Than Others?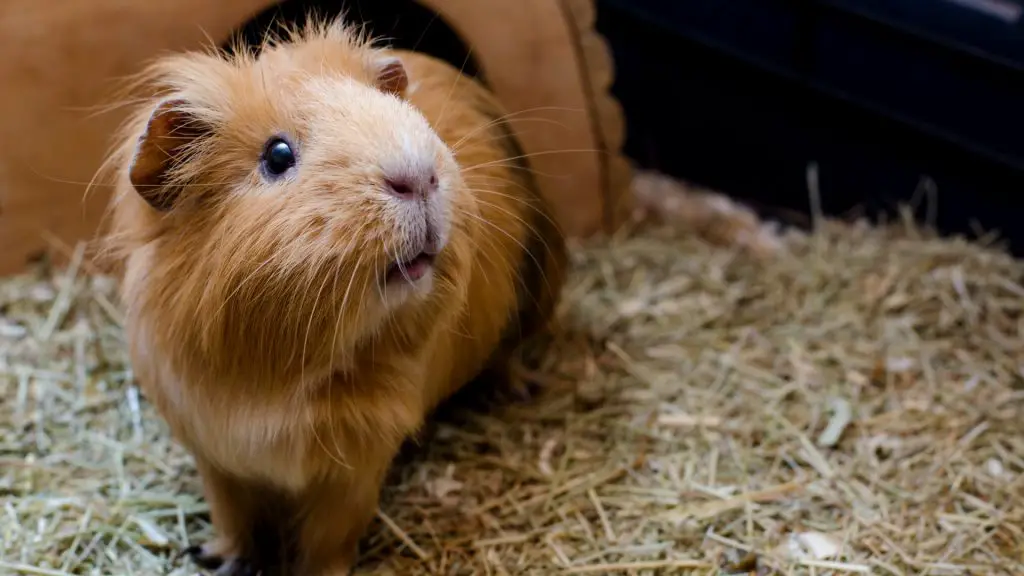 That is a good question. A rational owner searches for great absorption and no odor when they are looking for bedding for small pets like guinea pigs. There are a lot of brands on the market but for now, we are not going to talk about any of them, we will just talk about beddings in general.  
There are many types of beddings that you will read more about later in this article. Many brands make every single type of bedding. You need to keep in mind that the benefits or disadvantages of a bedding type might vary from brand to brand.
This is why some things that we have said may not be applied to every bedding.
Following this idea, we think it is important to mention that multiple layers of bedding are also important and can play a big role in the absorption process. They can also make the cleaning last a lot shorter.  
It is obvious that any pet would prefer soft bedding rather than harsh materials on the floor of their cage. Usually, guinea pig cages smell like urine, and this is normal. Beddings can help with that if you choose an odor control one.
However, odor control beddings contain a lot of chemicals to keep the air fresh, so it is probably more irritating for guinea pigs' sensitive skin. It is definitely up to you, but it is good to know that there is such an option on the market.
Now let's see what types of guinea pig beddings are on the market.
Related: Best Bedding for Guinea Pigs
---
Types of Guinea Pig Bedding
---
Wood Shavings
A type of bedding that was frequently used in the past is wood shavings. It was frequently used, but it isn't used anymore because technology evolved and it was discovered that some wood shavings (cedar, for example) contain some oils that can get your guinea pig sick.
Wood shavings are not a good option in general because they are not very absorbent, so you will need to wash the cage more often. They don't offer any odor control over the cage. We presume that for guinea pigs it is not pleasant at all to sleep in a wet smelly cage. 
Living World Wood Aspen Shavings, 2500-Cubic Inch
The shavings are hypoallergenic and are the ideal choice when there is concern that small pets may have respiratory sensitivities
Highly-absorbent aspen shavings can absorb up to four times its weight in moisture
Ideal bedding material for small pets such as hamsters, gerbils, guinea pigs, rabbits, ferrets, and chinchillas
Made from 100-percent natural aspen wood
Expanded volume 2500-cubic inch
---
Paper Bedding
Another very common bedding is paper bedding. A lot of companies produce it, but it differs very much when it comes to different brands. Some may be more absorbent than the others, some may be more comfortable, but still, in general, paper bedding seems to be a little harsh, and it doesn't seem to do a good job at absorbing urine.
Bad paper bedding can cause respiratory problems, allergies and it can make cleaning the cage a real nightmare. 
Small Pet Select Jumbo Natural Paper Bedding (178 L)
Ideal Bedding For Rabbits and Guinea Pigs
100% Safe - Made In The USA Without Any Harmful Chemicals Additives
Soft + Comfortable for Your Bunnies and Guinea Pigs But Still Super Absorbent
Each Bag Expands 3X In Volume From It's Packaged Size
Made From Pure Unbleached Never Been Printed Paper
When it comes to paper bedding, it is all about the brand. Be careful though, most of the brands put the paper bedding in small packages, so you think you need to buy a lot more packages. It is actually enough because it expands after you take it out of the package.
Finally, if you find a good brand of paper bedding, it will be more expensive than wood shavings but it will be more useful, and it cannot possibly affect your guinea pig's health. 
---
Guinea Pig Fleece Bedding
A very useful type of bedding is fleece. It is undoubtedly the softest one, and it is perfect for a good night sleep. If it is pre-treated correctly and layered over properly, it will be very absorbent. Bonus point: it is reusable, so it's also good for the environment. 
Related: How to Make Guinea Pig Fleece Bedding?
GuineaDad Liner - Midwest Size, Blue | Guinea Pig Fleece Cage Liners | Guinea Pig Bedding | Burrowing Pocket Sleeve | Extra Absorbent Bamboo | Waterproof Bottom
DUST FREE, Really! - GuineaDad fleece liner is the ultimate guinea pig bedding that has absolutely zero dust. This fleece guinea pig bedding provides guinea pigs the optimal condition to thrive.
PREMIUM MATERIALS - GuineaDad fleece Liners are made of premium materials that is beneficial for guinea pigs that live in their own moist environment.
SAVE TIME AND MONEY - As a guinea pig owner, it takes a considerable amount of time, money, and effort to clean and replace guinea pig cages with bedding. With GuineaDad's guinea pig fleece liner, not only is it easier to clean, but will only cost you a fraction of the time and money.
QUALITY YOU CAN TRUST - Through a laborious mix of science and ingenuity, various industry experts' advice and guidance helped to develop the best guinea pig bedding available that is trusted and loved by 100,000+ guinea pig parents and experts worldwide.
UNRIVALED INNOVATION - GuineaDad is the only liner scientifically designed with your guinea pig in mind.
---
Hay Bedding for Guinea Pigs
A well-known alternative for bedding is hay. Hay is also food for guinea pigs and sometimes a toy for them. They love to hide in the hay. They love to eat hay, and we don't think that it's a good idea to have your guinea pig confused about the use of hay.
Another point that we have to emphasize is that it isn't a good idea to let your pet eat their bedding. 
Related: Best Hay for Guinea Pigs: A Helpful Guide
---
Best Bedding for Guinea Pigs: Our Recommendation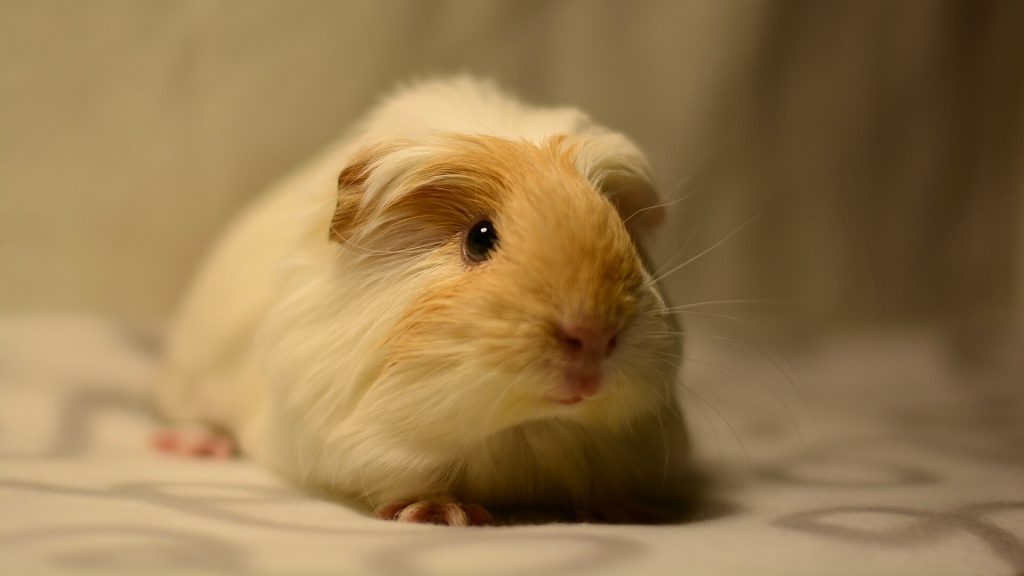 Most of the people use wood shavings or paper-based bedding in their guinea pig cage. As long as it isn't cedar, sawdust or pine, it is completely fine.
The disadvantage of these types of beddings is that they can get very messy and they aren't very absorbent. With these beddings, your guinea pig is going to live in a dirty cage.
Also, wood shavings and paper bedding are not reusable, so they are not good for the environment and they can get very expensive (even if they are not the best choice). 
Related: Guinea Pig Pine Bedding | Can Guinea Pigs Use Pine Bedding?
The newest and the best type of bedding so far is the fleece. It is definitely a lot cheaper and also eco-friendly. Fleece as a bedding is magical because it allows spot cleaning so you can go longer without cleaning the whole cage.
You need to put a towel under the fleece. The urine will pass right through the fleece and it will be absorbed by the towel. You can wash that towel periodically and the fleece will be dry to the touch. 
Don't make the mistake of using newspaper as bedding. Besides the fact that the cage will be a total mess, guinea pigs will certainly eat the newspaper.
We definitely recommend fleece as bedding for guinea pigs. It seems to be the most efficient bedding out of all of them. Fleece can be washed and reused so it is good for the environment. It requires one or two layers of towels. This is not a problem: towels are also reusable and it keeps the cage much cleaner because of the many layers of bedding.
The fleece is also very comfortable and because it allows spot cleaning, you can even put little fluffy pillows in your guinea pigs cage without worrying about them. This is a simple thing but it's exciting for them to have a special place in their cage where they can really relax.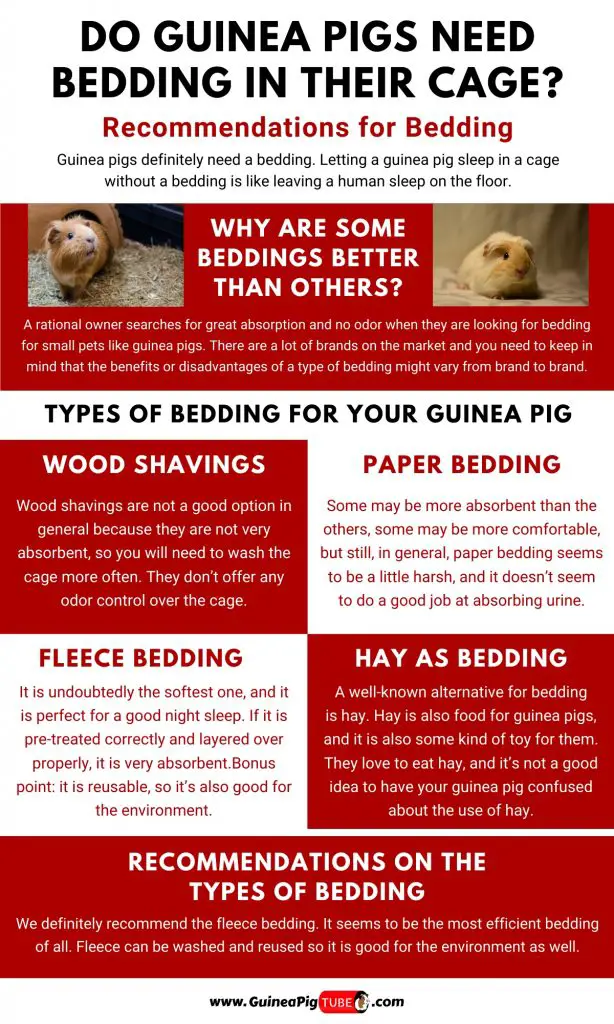 ---
Summary
Do not buy something you have no idea what it is and always be careful about what you want to do for your guinea pig. They react to every single change, or should we say bad changes, and sometimes it might be something serious like a bad type of bedding that can bring allergies and respiratory problems. 
Always be careful when buying something for guinea pigs and espicially take special care with their diet. Best of luck!
---
Related: Essential Guide to Aspen Bedding for Guinea Pigs
---
List of Sources
Potgieter, F .J., Wilke, P. I., Laboratory animal bedding and nesting materials for rodents and lagomorphs: the South African situation., Journal of the South African Veterinary Association, 1993.
Kawakami, K., Takeuchi, T., Yamaguchi, S., Ago, A., Nomura, M., Gonda, T., Komemushi, S., Preference of guinea pigs for bedding materials: wood shavings versus paper cutting sheet., Experimental animals, 2003.
Miyamoto, T., Li, Z., Kibushi, T., Okano, S., Yamasaki, N., Kasai, N., Utility of Recycled Bedding for Laboratory Rodents, Journal of the American Association for Laboratory Animal Science, 2009.
Burn, C., Mason, G. J., Absorbencies of six different rodent beddings: commercially advertised absorbencies are potentially misleading., Laboratory Animals, 2004.
Kraft, L. M., The Manufacture, Shipping and Receiving and Quality Control of Rodent Bedding Materials, Lab. Animal Science, 1980.
Miyamoto, T., Li, Z., Kibushi, T., Yamasaki, N., Kasai, N., Use of soft hydrothermal processing to improve and recycle bedding for laboratory animals., Laboratory Animals, 2008.
Potgieter, F. J., Wilke, P. I., The dust content, dust generation, ammonia production, and absorption properties of three different rodent bedding types. Laboratory Animals, 1996.