Washing guinea pig fleece is an important part of your routine to care for them properly. This prevents a lot of incidents, but it helps the owner better understand the needs of their pet.
Guinea pigs are sensitive animals. To keep them happy and healthy, there are many things you need to watch out for. Now let's talk about their fleece bedding.
Here is how to wash the guinea pig fleece bedding:
1. Perform a daily spot cleaning method of the cage.
2. Prepare fleece bedding for wash by removing residues.
3. Use unscented and dye-free special detergents when washing.
4. Use white vinegar as a softener.
5. Wash the fleece bedding once or twice a week.
Keep reading the article to find more helpful information, a step-by-step guide, and some tips on cutting down the cleaning time that will make a huge difference for you. Let's start!
Washing the Guinea Pig Fleece Bedding | A Step-By-Step Instructions
Before and when washing the guinea pig fleece bedding, some steps need to be performed. It is fairly simple, but we will go through every step and give you recommendations on the products you can use to save you so much time.
1. Preparing the Guinea Pig's Fleece Bedding for Washing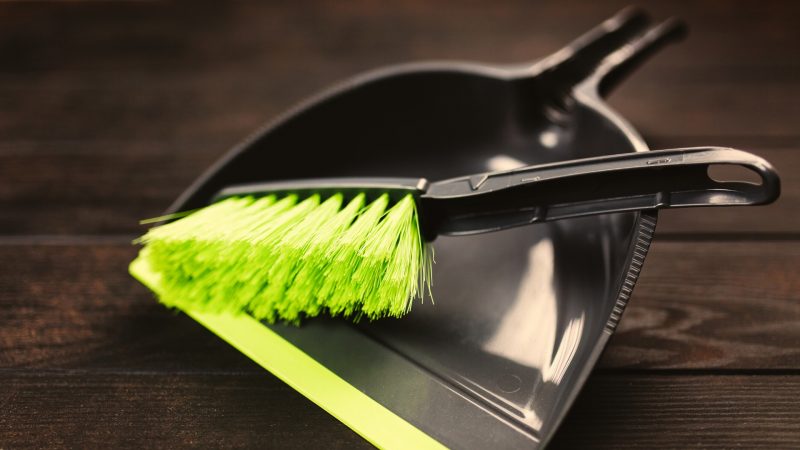 Daily Cleaning
Whatever it takes, you cannot skip the daily cage cleaning. To do this:
Just pick up everything big enough to be seen with bare eyes.
Vacuum the little chunks of food and their feces. Other tools you can use are a plastic scoop or a small broom with a dustpan.
Remove the visible trash out of the cage. 
If you can do this daily or even a few times a day, your fleece bedding will be later easier to wash.
Buy Cleaning Tools
Having a curry comb is going to save you so much time. It's a rubber comb used to groom horses, and you can buy them easily online. Use a curry comb to get rid of the hair that got stuck on the fleece bedding. 
Sale
The broom with a dustpan is also a good choice. They come in different sizes, and you need to choose one which is good for your guinea pig's cage. If the cage is small, you can buy smaller broom and vice versa.
These brooms with a dustpan are great for picking up guinea pig's feces and pieces of food, but they aren't good for getting rid of the hair.
OXO Good Grips Compact Dustpan and Brush Set
Slim shape allow for convenient storage
Brush snaps into Dust Pan and stores with the bristles covered
Soft rubber lip conforms to surfaces for efficient cleaning
Soft, comfortable handle is angled for countertop use
Perfect for kitchens, craft rooms and cars
For the guinea pig's hair or those little things that you can't pick with your hand, you could use a vacuum cleaner. After using a vacuum cleaner, your fleece bedding will be definitely ready for washing.
You can use the vacuum cleaner that you use in your home, but there are other options. Handheld vacuums are the best choice for cleaning fleece beddings but also for any guinea pig's cage.
With this type of vacuum cleaner, you will be able to clean all those little things that can't be removed with hands and also guinea pig's hair. It is very easy to handle and lightweight.
We recommend the BLACK+DECKER Handheld Vacuum, which has a washable bowl and a filter and also includes a crevice extension that provides access to hard-to-reach areas, and it also has a brush that allows you to dust and vacuum upholstery. So, it's ideal for guinea pig fleece bedding.
Sale
BLACK+DECKER dustbuster Cordless Handheld Vacuum, Flexi Blue/Grey/White (HHVI315JO42)
MULTI-SURFACE USE – Removes hair, dirt, and debris from carpets, car interiors, furniture, and high-traffic areas.
LIGHTWEIGHT AND PORTABLE – Easy to carry and maneuver, even in tight spaces.
CREVICE TOOL – Accesses hard-to-reach areas like between couch cushions and on top of shelves.
PUSH-IN BRUSH – Adds an extra layer of cleaning versatility for dusting and vacuuming upholstery.
WIDE MOUTH – Quickly scoops up large messes.
Shaking the Fleece
You should also shake out the fleece. After you do your daily routines, you can let your little guinea pig out of the cage to run in the house while you shake the fleece outside or in the bathtub.
2. Washing the Guinea Pig's Fleece Bedding in the Washing Machine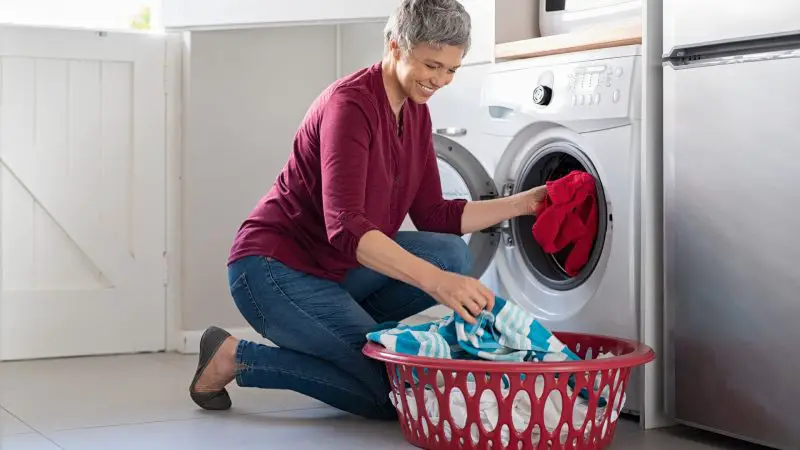 If you like to keep the fleece extra clean, you can throw it in the washing machine. However, you can't just throw it inside as you do with your dirty clothes.

You have to follow all of the steps above before putting it in the washing machine. Also, if you do our recommended pre-washing steps, it will come out a lot cleaner.
To wash your fleece bedding, follow these steps:
Step 1: Put the fleece in the washing machine.
Step 2: Put the detergent and white vinegar in the designated places in the washing machine. Don't put a lot of detergents, just use the recommended amount and half a cup of white vinegar.
Step 3: Set the washing machine on the program for beddings (down wear) if your machine has that program. The water doesn't always need to be hot; you can use cold water that will not damage the fleece.
Sometimes, the guinea pig's bedding is extremely dirty, and you can use programs with hot temperatures to kill any bacteria. It is only important to use a program with lots of water.
Step 4: When washing is done, put the fleece in the dryer or dry it in the air. If you choose a dryer, be sure to use a low temperature, don't use dryer sheets, and don't over-dry it.
Pet Bag for Washing
Some pet owners recommend buying a washing bag for guinea pig beddings that can prevent damaging of your washing machine from excess guinea pig's hair.
It isn't necessary to buy this washing bag, but it will make the cleaning of guinea pig's fleece bedding much easier, and you won't have to worry if your machine is going to break down.
Moorland Rider Petwear Wash Bag, Jumbo, Green
Suitable for washing PET bedding, blankets and towels
Keep your washing machine clean and free from pet hair
Design for easy storage
Suitable for washing pet clothing, pet bedding, blankets, fleeces, duvet covers, throws, pet towels, soft toys, tugs, collars and harnesses
Detergent
You need to be careful when choosing detergent for washing guinea pig's fleece bedding. Detergent needs to be without any additives, which means perfume and dyes-free.
This is very important because guinea pig's skin is very sensitive and their respiratory system. Guinea pigs can't handle strong smells, and it can be irritating for them, so be sure to use a detergent without any scent.
Nature's Miracle Laundry Boost 32 fl oz, Laundry Bio-Enzymatic Formula, Breaks Down Urine, Blood, Vomit, Grease And Oil
REMOVES LAUNDRY STAINS & ODORS: Add to wash loads along with your laundry detergent for removing stains and odors.
WHITENS & BRIGHTENS: Safe to use in every wash load – effective in both hot and cold temperatures.
BREAKS DOWN STAINS: The phosphate-free cleaning system breaks down urine, blood, vomit, grease and oil.
WHERE TO USE: Perfect for use on clothing, pet beds and more.
GUARANTEED TO WORK OR YOUR MONEY BACK: We're sure you're going to be very happy. But if you are not satisfied with this product for any reason, we will make it right. For terms of guarantee, see product label.
White Vinegar
Don't use any softeners as they contain perfumes, and they can also soften the fleece bedding and weaken the permeable properties of the fleece. Softeners aren't good for absorption.
As a replacement, you can use white vinegar. White vinegar will make fleece soft enough and help kill bacteria and get rid of the odor.
Tips on How to Cut Down the Cleaning Time | Cage and Bedding
Here are some very useful tips for cutting down the time you spend on cleaning the guinea pig's cage and the bedding:
Spot Cleaning
This is a very popular method that many guinea pig owners follow. Spot cleaning is picking up the bigger chunks of trash multiple times a day to prevent hard work later.
Feeding your pet and picking up waste after eating is much simpler than feeding your guinea pig multiple times, ignoring the mess that accumulates and builds up in their cage.
Pre-washing
A very good tip that most people don't know is to pre-wash the bedding before it is put to use. The fleece bedding has a water barrier on the top, and the pre-washing can destroy it.
Pre-wash is not mandatory, but the urine will be soaked much harder if you don't. You can pre-wash the fleece bedding 2 to 3 times before using it.
Hay Placement
If you want to have an 'organized' guinea pig, you will have to teach it how to behave like that. One of the simplest things you can do is to put all the hay you give them on the same spot every time, preferably in a corner.
Hay gets all over the place, and putting it in a single spot every time, will minimize the damage. Your guinea pig will eventually understand what you are trying to do, and it will stop dragging the hay all over the cage.
Washing Schedule
Make a schedule and stick to it. You can do spot cleaning every day and wash the fleece in the washing machine once or twice a week.
If you wash it from time to time, it won't make any difference odor-wise, and if you don't spot clean every day, the cage will become a total mess soon enough.
Litter Box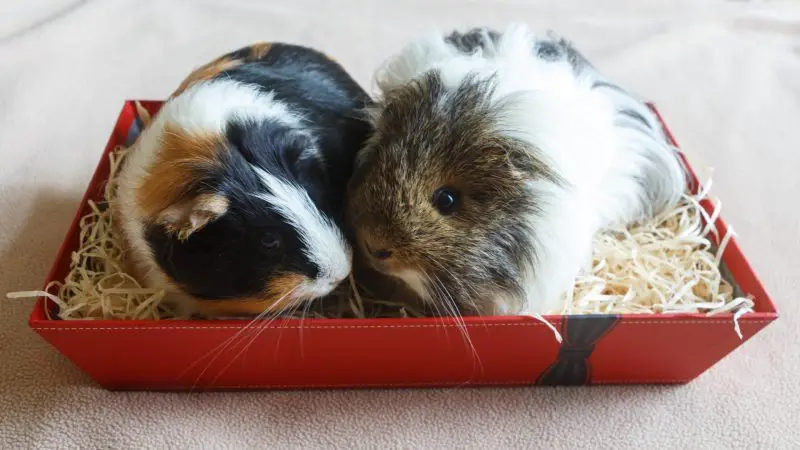 Add a litter box to their bathroom area. It will take them some time to get used to the box, but cleaning will be a lot easier once they do. Just make sure you empty the litter box from time to time.
This tip helps keep the fleece bedding as dry as possible. The younger the guinea pigs are, the easier it will be for them to get used to using a litter box.
Use Water Bottles
Keeping the same idea in mind, use water bottles instead of bowls. They are a lot more practical, and they present no risk of getting the bedding soaked in water.
However, even if you use a bowl, get a heavy one so your little friend won't be able to turn it over. 
Second Fleece Bedding
Keep one fresh and clean fleece bedding set for when you wash the dirty one. It is a great solution to have two fleece beddings, so you don't have to worry about what to do with your guinea pig while you are washing the dirty bedding.
Guinea Pig's Fleece Bedding: Is It a Good Choice for Every Owner?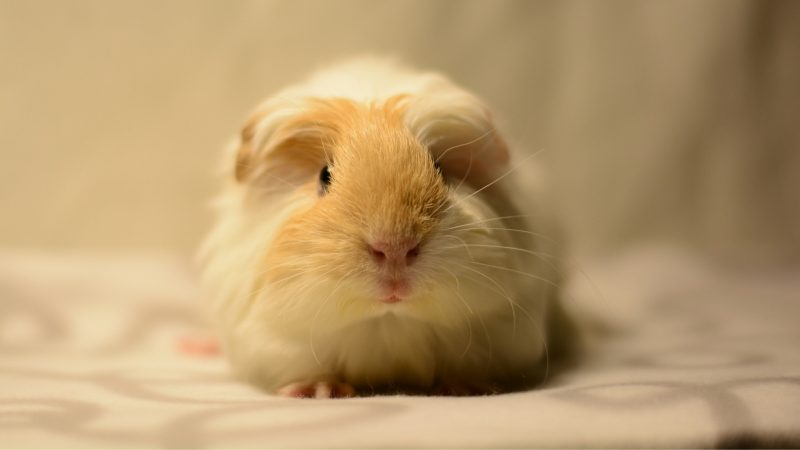 First of all, if you still haven't figured out whether fleece bedding is a good option for you and your guinea pig, we are here to help you as well.
To move forward, if you don't like doing laundry and paying daily attention to cleaning your guinea pig's cage, you are wasting your time reading this.
Fleece is not an easy option for having bedding in the guinea pig's cage. It has to be cleaned at least daily, and if you have a lot of guinea pigs, even several times a day. It definitely isn't an alternative if your kids take care of the guinea pig as they will have to use the washing machine.
Also, fleece bedding should be used with another layer of bedding underneath. This layer might be made of paper, towels, or newspaper. If nobody takes care of the fleece bedding every day or weekly, your pet's cage will turn into a nightmare.
Related: What Is the Best Guinea Pig Bedding: Reviews & Bedding Guide
Things You Need to Know Before Buying a Fleece Bedding
It's better to buy a larger fleece bedding as you can always cut it shorter if needed.
The price ranges between $30 to 100$.
Fleece is so much better when it is made out of 100% polyester. If not, it won't be absorbent, and the urine will sit on top of it. 
Pre-wash it 2 – 3 times before using it the first time.
Use paper or newspaper or even towels under the fleece bedding just as a precaution.
Related: Essential Guide to Guinea Pig Fleece Bedding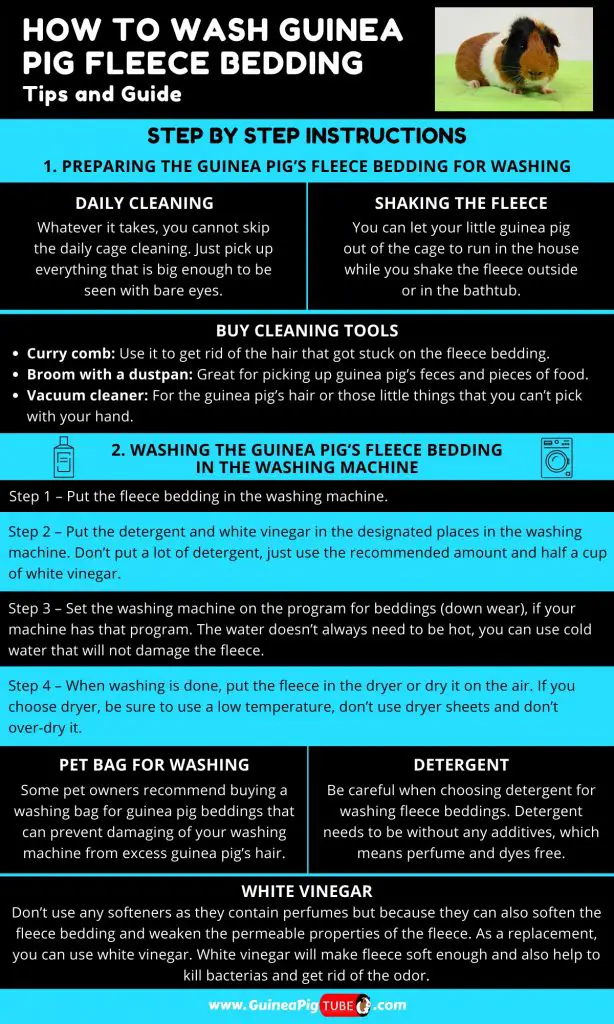 Summary
Keeping hygiene at high levels is very underestimated when it comes to pets. Not cleaning the guinea pig's cage and the bedding can cause harm to guinea pigs as they can develop serious health problems from the dirty environment.
In general, pets get easily sick; they also get dirty quickly and require a special amount of time and dedication. Hopefully, our guide and tips have helped you cut down the time needed to clean their cage, and now you have more time to hang out in peace with your cute little guinea pig pet!
Related: How to Make Guinea Pig Fleece Bedding? | DIY Guide
List of Sources
The Atrium: Absorbencies of Six Different Rodent Beddings: Commercially Advertised Absorbencies Are Potentially Misleading.
UC Davis Office of the Attending Veterinarian Standards of Care