Guinea pigs are incredibly adorable and budget-friendly pets. Besides food and cage, there is one other essential thing the guinea pigs need and that is the bedding. It creates a nice environment by making them feel safe and comfy.
It is known that guinea pigs in the wild sleep even in ground burrows, but domesticated cavies like having bedding for its ability to retain the heat and keep the warmth for longer periods. There are many types of bedding shavings on the market, that is why we are here to show you which type of bedding is good and which isn't. In this article, we are going to talk about pine bedding for guinea pigs.
Can guinea pigs use pine bedding? There are two types of pine beddings for guinea pigs: the kiln-dried pine and scented pine. The first type of pine (kiln-dried pine) is safe to be used as bedding for guinea pigs because it has been dried and thermally processed (free from a strong scent and microorganisms). The other type of pine bedding (scented pine) or pine wood shavings are not good or healthy for the guinea pigs (just as cedarwood) and are not recommended as primary bedding for guinea pigs. These pine shavings are preferred by a lot of guinea pig owners only because of their nice smell and as they are somewhat practical for masking odors inside the cage. However, this scent can sometimes irritate guinea pigs and their respiratory system, which often results in allergies, skin problems, and other conditions.
Since bedding is so essential for the guinea pigs, you as an owner need to choose the right type of bedding. It doesn't matter whether the shavings masks the odors or not, what's most important is the health and comfort of the cavy.
It's sad to think that the adorable guinea pig would stick its nose in scented bedding all the time, and struggle to breathe well. It's a mistake to use pine shavings just to cover up odors. This is why you need to learn a lot more about their beddings or more exactly which beddings are better than pine.
You can avoid most of these problems if you use natural pine bedding that has been kiln-dried. We will talk about these products later in the article because these types of pine beddings are safe for guinea pigs
Pine bedding is often purchased by many guinea pig owners, simply because it's a tad cheaper than aspen and fleece bedding for guinea pigs. However, pine bedding proved to be decent bedding for those who don't want to spend a fortune, yet want their guinea pigs to have their peace and comfort inside the cage.
---
In this article, we'll talk about pine beddings for guinea pigs and we'll provide you with a couple of safe options if you want to purchase it:
1. Kaytee Pine Bedding for Pet Cages
2. Pestell Pet Products Easy Clean Pine Bedding
3. Sunseed Company Northern White Pine Bedding
5. Pets Pick AWF Wood Shavings Pine Bedding
---
But, before we start with our reviews of these products, let's see what is the pine bedding and how good it is for guinea pigs.
What is Guinea Pig Pine Bedding?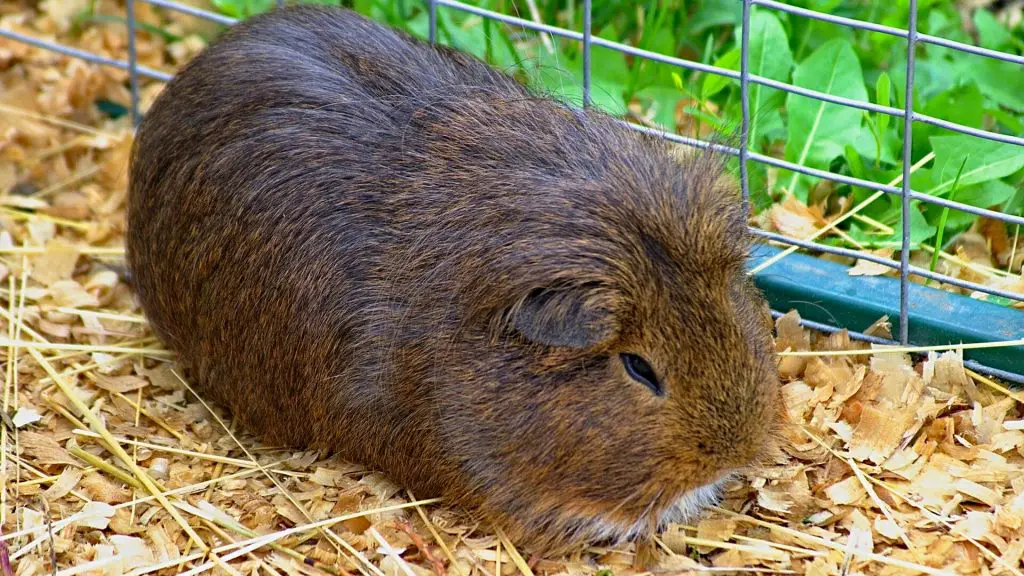 Pine bedding, despite being cheap and popular, has always been a controversial topic when it comes to guinea pigs. Some owners explicitly state that pine bedding isn't good, while many owners don't have any problem using it.
Because of that, we suggest that you look for the highest-quality pine bedding out there. Make sure that the pines are dried, natural, and soft. As mentioned, pine beddings are very economical and practical, they're very absorbent and it's easy to buy one, as almost every pet shop has it.
The downside of the pine bedding is the presence of natural pine oils, which have the potential to cause irritation or illness in your guinea pig but also the owner. Now, we don't say you need to ditch the pine bedding altogether but rather to be very cautious when buying one.
Pine bedding is also great as a temporary solution when you're waiting for your new bedding to arrive. In that case, your pine bedding will serve more than correctly, until you buy aspen or fleece bedding in the future.
Now that we've got that out of the way, let's check out the best available pine bedding products for guinea pigs.
---
• Kiln-Dried Pine as a Better Option Than Regular Pine Bedding
Is pine bedding safe for guinea pigs? Unfortunately, the scented pine bedding is not safe and healthy for guinea pigs or their respiratory system. Too much scent around guinea pigs is bad as it will cause breathing problems, if not something even worse. Luckily, not every pine bedding is the same and a kiln-dried pine bedding is safe for guinea pigs.
So, sometimes it may be hard to find the right pellets that are scent-free, and only pine shavings are available. No need to worry, even in such a worst-case scenario when you can't use fleece fabrics or similar, you can make use of the pine bedding as an urgent solution.
If the smell is still strong and present, this is the phenols so they must be removed or reduced. Spread the shavings on a surface and let them air out, and don't cover it with hay to suffocate the smell. If it's covered to hide the smell, it will only keep the smell trapped inside. Covering up pine with hay must be an urgent solution only! If the pine still smells too much, simply don't use it.
Some pine shavings are safe to use if they are kiln-dried. Some types are air-dried, but kiln-dried is a bit better as far as scent removal goes.
---
Reviews: Top 6 Best Pine Beddings for Guinea Pigs
---
1. Kaytee Pine Bedding for Pet Cages
This is a natural pine bedding from Kaytee. This company is one of our favorites, as their products for guinea pigs are almost always on-point. Kaytee Pine Bedding for Pet Cages is a softwood bedding for guinea pigs that will give your pet softness and comfort it deserves.
Since it's completely natural, there aren't any artificial additives, no artificial oils, and fumes. This will make your guinea pig's natural instincts come out and it will enjoy burrowing and nesting in this bedding. It's biodegradable, so you can freely get rid of it and it will degrade in nature. After all, it's just natural pine shavings!
The manufacturer recommends that you use it in open areas, such as aquariums and well-ventilated cages. It's 99.99% dust-free and will cause no respiratory diseases in your guinea pig. The package is relatively big, so you'll have plenty of pine to scatter around your guinea pig's cage, just have in mind that you need to cover 1 to 3 inches in height.
The cleaning is also simple and needs to be done once a week. Remove all the bedding, clean the cage, and replace it with the new bedding from the box. Also, natural aromatic oils in pine are great insect repellants.
Check out the current price for Kaytee Pine Bedding for Pet Cages on Amazon.
---
2. Pestell Pet Products Easy Clean Pine Bedding
Pestell Pet Products Easy Clean Pine Bedding is a clean, almost completely white pine bedding that's among the best out there. This bedding is all-natural, meaning that it's not infested with additives and aromatic oils, which can cause problems and make your guinea pigs sick. This product is more than versatile, being able to satisfy the needs of every small animal, rodent or even some caged birds.
If you happen to have a couple of small animals, you don't need to purchase different beddings for each. The clean pine bedding from Pestell Pet Products is all you need!
As far as quality goes, we can say that it's very decent in terms of comfort and softness. Without a shadow of a doubt, your guinea pig will have a good time using it. However, we must say that absorption capabilities aren't among the best. If you want your bedding to be very absorbent, you might want to check some of our recommendations for aspen beddings or fleece beddings.
Check out the current price for Pestell Pet Products Easy Clean Pine Bedding on Amazon.
---
3. Sunseed Company Northern White Pine Bedding
Sunseed Company decided to grace us with this high-quality guinea pig bedding. Northern white pine is one of the most widespread trees in the USA, growing in 28 states. One thing we can immediately notice is how clean it looks and how clean it actually is!
Make no mistake, this is a 100% natural northern white pine. It's soft, comfortable, and its absorption capabilities are very good for the pine bedding. The packaging that Sunseed Company sells is around 230 cubic inches which, when expanded, covers 600 cubic inches of space. This amount is enough for more than two guinea pigs and will last you more than two months.
There aren't any additives, no oils (except for the natural ones) and no chemicals that might interfere with your guinea pig's respiratory systems. All in all, this is a great northern white pine bedding that's easy to use, maintain, and on top of all, affordable for all guinea pig owners.
Check out the current price for Sunseed Company Northern White Pine Bedding on Amazon.
---
4. Living World Pine Shavings
Living World Pine Shavings, 4-Cubic Feet
Helps eliminate aromatic oils, dust and wood debris
Soft and fluffy shavings can also be used as burrowing and nesting material
Made from 100-percent natural pine
Expanded volume 4-cubic inch
Living World is yet another amazing company that makes guinea pig's life so much better. This time, we have Living World Pine Shavings that are in a league of its own. The all-natural pine bedding comes in a package of 4 cubic feet, which translates to 113 liters. This amount is enough for a very big guinea pig cage with more than a few guinea pigs inside.
We see that the manufacturer is pretty generous, given its affordability. As such, this bedding doesn't have any additions in it and is purely natural pine bedding, being able to eliminate dust, wood debris, and aromatic oils.
The pine shavings here are soft, fluffy, and will promote your guinea pig's natural instincts such as burrowing and nesting. One important thing is that this bedding is kiln-dried. This is the process that completely eliminates harmful microorganisms and bacteria, making the bedding safe, secure, and comfortable for your furry friend.
When it comes to pine beddings, this is one of the most quality ones and we gladly recommend it to every guinea pig owner that wants to spend less and get more.
Check out the current price for Living World Pine Shavings on Amazon.
---
5. Pets Pick AWF Wood Shavings Pine Bedding
Next, we have an amazing and affordable Pets Pick AWF Wood Shavings Pine Bedding. This bedding is great for all small animals, including chinchillas, rabbits, and of course, guinea pigs. With this versatility in mind, we need to mention that this affordable pine bedding is completely natural, just like all the beddings on our list.
For your concern, we still need to mention that, so that you have freedom when you're purchasing beddings from our list. This packaging is around 1200 cubic inches which convert to 20 liters. The packaging isn't the biggest we've seen but it's sufficient for two guinea pigs.
The bedding is toxin-free and has some odor-absorption capabilities. Unlike many pine beddings, this one has a scent but it's not bad, as it's fresh, natural, and won't make your guinea pig suffer from respiratory diseases. If you want an affordable, dust and toxin-free pine bedding, this is a great option for you.
Check out the current price for Pets Pick AWF Wood Shavings Pine Bedding on Amazon.
---
6. Pet's Pick Pine Bedding
PETSPICK Pine Small Pet Bedding, 24L
Cozy, soft pine wood shavings made from wood fibers; allows pets to tunnel and nest comfortably
99.9% dust-free to protect your pet and keep their home safe and clean
Kiln-dried wood absorbs moisture and odors in your pet's cage naturally (up to 2x its weight in liquid)
100% natural pine bedding provides a fresh scent naturally, without added scents or aromatic oils
Eco-friendly and 100% pet-safe material; all-natural with zero artificial or unsafe chemicals
Pet's Pick Pine Bedding is a natural, kiln-dried softwood that represents an excellent option for those who want soft and odor-absorbent bedding for their furry friend. Since it's soft and doesn't have splinters in it, it's great for promoting burrowing and nesting in guinea pigs. It was triple-screened to remove dust that might irritate your guinea pig's respiratory system.
The fresh scent and anti-bacterial capabilities of this bedding are going to benefit your guinea pig not only in terms of health but for overall quality of life. The packaging of 1200 cubic inches or 20 liters is going to be sufficient for the most guinea pig owners.
Check out the current price for Pet's Pick Pine Bedding on Amazon.
---
Beddings to Be Avoided and Their Effects on the Guinea Pig's Health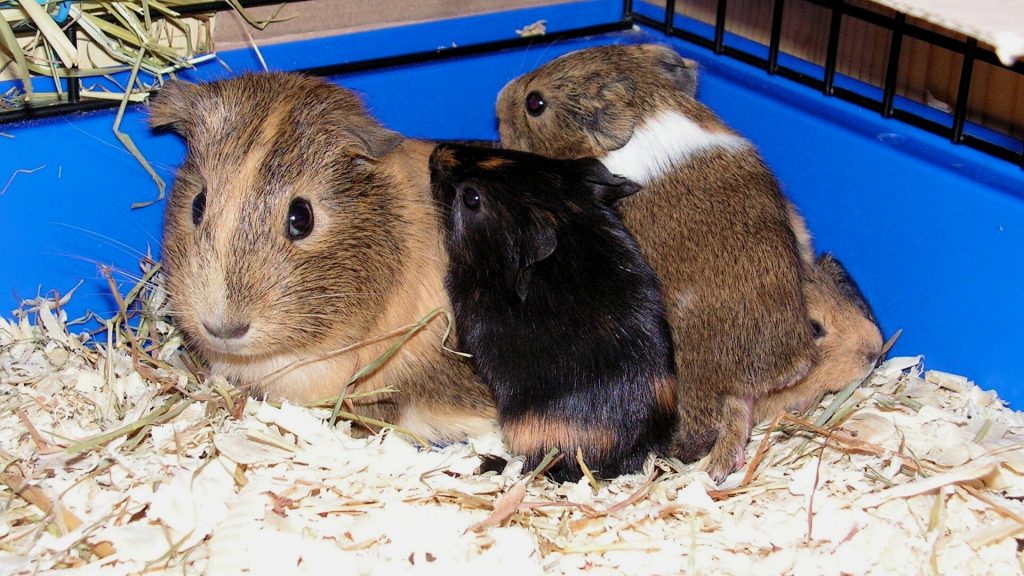 ---
• Pine Shavings
The pine shavings are amongst the "worst" bedding types for guinea pigs. They smell amazing, but this is simply due to the release of phenols.
Note: Some pine shavings are canned and dehydrated and are considered safe for guinea pigs because they lack moisture and scents. Those are exactly the ones we have recommended in this article.
This wood is a great irritant for the gentle respiratory system of the cavies. Why? It releases harmful scents from the wood, called phenols, and these scents go out in the air and cause allergies in the guinea pigs. Allergies, together with skin conditions can upset the respiratory system. This is the most common issue caused by the wrong type of bedding.
---
• Cedarwood
It is the same with cedarwood – also to be avoided. If your guinea pig is exposed to these scented shavings for a long period, it will develop chronic liver problems and chronic respiratory issues.
---
• Corn Cob Bedding
Also, another bedding to be avoided is the one made of a corn cob. Corn cob has a few flaws that make it a poor choice. Out of all beddings, the corn cob attracts the mold very fast.
---
• Straw Bedding
Straw is also not good for cavies. This bedding never absorbs moisture or smell of urine (ammonia odors). This makes it unpractical for the guinea pigs and their physiological needs. The stalks are quite stiff and hard, so you can imagine this is not comfy like soft beddings! Even worse, straw cracks or splinters can injure the guinea pig's nose and eyes.
---
• Kitty Litter
The kitty litter is another material used by owners as guinea pig's bedding. This is just as bad as the pine or cedar wood because it also has chemicals that hide odors. Besides, this is not comfy at all, it resembles rough sand and it is 'stone-like', so if ingested it can damage the intestines.
---
More Information About Pine Beddings for Guinea Pigs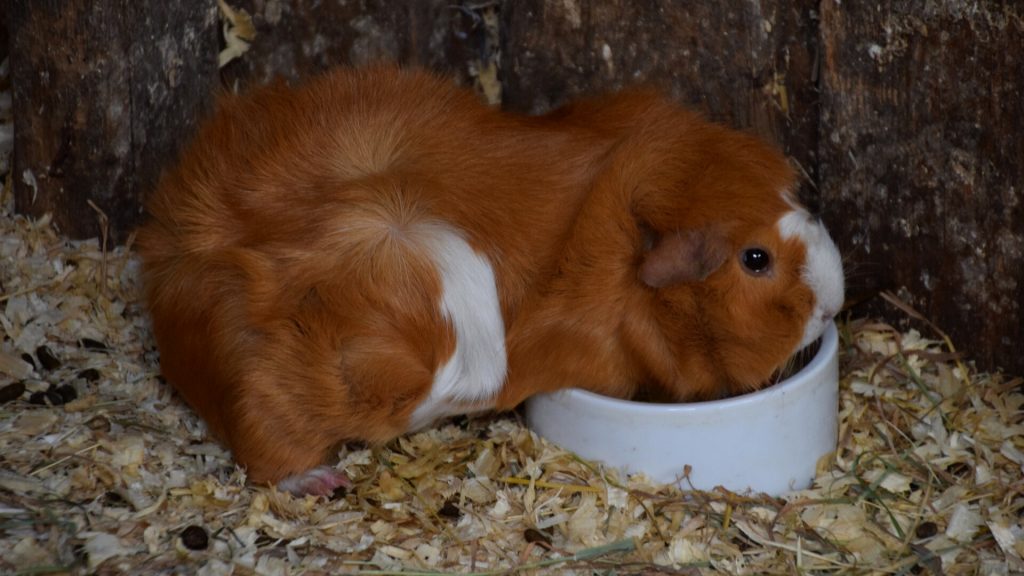 The pine bedding is the same as any other type of shavings used for beddings – it needs to be changed frequently. Most owners clean the bedding once a week but in our opinion, it needs to be changed more often. Clean bedding is essential for the health and happiness of the guinea pigs.
Related: How to Wash Guinea Pig Fleece Bedding | Tips and Guide
The pine bedding might mask the urine odor of your guinea pig, but it's not healthy, as we mentioned. Still, if that one is used, you can air it out prior to putting it in the cage. Some people combine hay and pine.
The trick is to put the pine bedding first and cover it with hay pellets on top. This stops the phenols to release the scent – this is ok but can only be used as an urgent practical solution.
---
• Can Guinea Pigs Stay in a Cage Made of Pine Wood?
Sometimes, owners want to make their own houses and homes for their pets. For guinea pigs, owners often make their houses using pine wood. This is not as bad as using pine as a bedding. Usually, the lumber used for rodent houses is already dried, or 'kiln dried'. Pine is a safe material for making pet houses, but unsafe as bedding if not thermally processed.
---
Can Guinea Pigs Sleep on Blankets or Fleece Fabrics?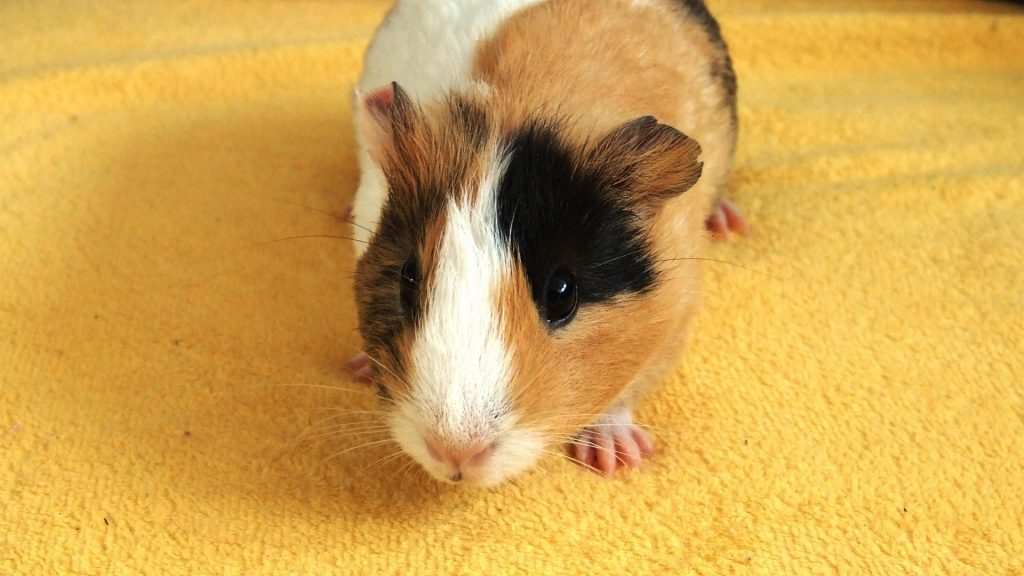 Guinea pigs absolutely love to sleep on every fabric the humans use for resting/sleeping. They can cuddle in our arms, on blankets, sheets, and linens. They adore fleece fabrics and soft materials. The softness of these materials comforts the guinea pigs, but it is not a permanent solution. These comfy fabrics should be used, for example in the play area, or in the area just for resting.
The guinea pig can take a nap or rest on them, or even have their snacks and treats there. Your cavy would be thrilled to sleep a bit on such a soft and nice bedding!
Of course, this is not a permanent solution and you need to make a fleece bedding which is quite different from a fleece blanket. Guinea pigs must have primary bedding such as aspen, absorbent fleece bedding or kiln-dried pine.
---
Which Beddings Are the Best for Guinea Pigs?
As a rule of thumb, there are always more than one or two suitable types of bedding. For example, aspen wood shavings are pretty much an excellent type of bedding. They don't have the same aroma and strong scents like other types of wood.
You could also use bedding made from fibers of wood pulp and this is quite popular among cavy owners.
Other popular choices are cotton towels or fleece liners – though you need to have two of them as they require washing. The fleece liners are even better for handling and can be custom-fit for the cage. Also, you can easily make fleece bedding all by yourself.
The paper beddings of some brands are also very good. Certain wood pulps can be practical and fine as well.
There is also another popular type of bedding and you probably already heard of – the hay pellets bedding. It is safe, healthy, it is food and bedding at the same time, and it has nutrients vital for surviving.
Timothy hay is one of the most preferred beddings. The hay is good for cavies since they chew it to avoid overgrowth of the teeth and similar dental problems.
Another good hay pellet type is the alfalfa hay – but it has too many nutrients and has to be given in moderation.
Related: What is the Best Bedding for Guinea Pigs?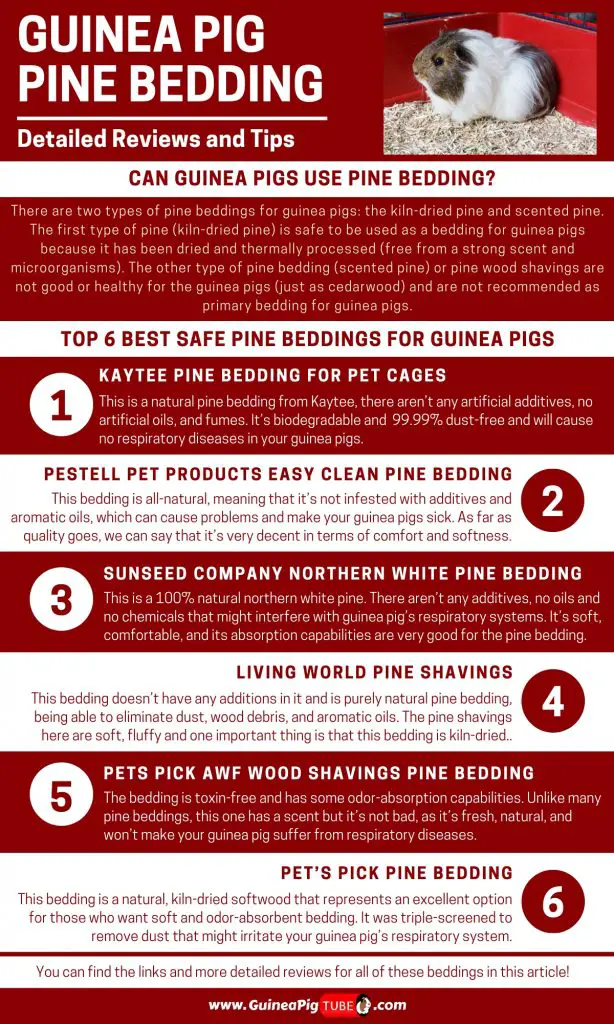 ---
Summary
Now that you have plenty of choices to buy its time to make a decision. Remember that pine bedding isn't the best bedding for your guinea pig but it's not something you want to discard right away. Many guinea pig owners still use pine bedding and they even mix it with other types of bedding, to get the best features of both.
Still, if you decide to buy pine bedding for your guinea pig, you now have several options of high-quality, all-natural pine beddings on our list. Best of luck!
Related: Recommended Equipment/Accessories for Guinea Pigs
---
List of Sources
Miyamoto, T., Li, Z., Kibushi, T., Okano, S., Yamasaki, N., Kasai, N., Utility of Recycled Bedding for Laboratory Rodents, Journal of the American Association for Laboratory Animal Science, 2009.
Burn, C., Mason, G. J., Absorbencies of six different rodent beddings: commercially advertised absorbencies are potentially misleading., Laboratory Animals, 2004.
Kraft, L. M., The Manufacture, Shipping and Receiving and Quality Control of Rodent Bedding Materials, Lab. Animal Science, 1980.
Kawakami, K., Takeuchi, T., Yamaguchi, S., Ago, A., Nomura, M., Gonda, T., Komemushi, S., Preference of guinea pigs for bedding materials: wood shavings versus paper cutting sheet., Experimental animals, 2003.
Potgieter, F. J., Wilke, P. I., The dust content, dust generation, ammonia production, and absorption properties of three different rodent bedding types. Laboratory Animals, 1996.
Miyamoto, T., Li, Z., Kibushi, T., Yamasaki, N., Kasai, N., Use of soft hydrothermal processing to improve and recycle bedding for laboratory animals., Laboratory Animals, 2008.
Ward, P. L., Wohlt, J. E., Zajac, P. K., Cooper, K. R., Chemical and Physical Properties of Processed Newspaper Compared to Wheat Straw and Wood Shavings as Animal Bedding, Journal of Dairy Science, 2000.