So you find guinea pigs adorable and you decided you want to adopt two of them as your pets. You prepared everything you might need – the cage where they will live, the hay beds, the water bottles, the fleece bedding. You want to be a responsible guinea pig owner as much as possible. Now you come to ask this: How can I make sure my guinea pigs will live healthy lives?
Do guinea pigs need shots in order to stay healthy? Guinea pigs do not need immunizations/shots. After all, most owners keep their pet guinea pigs inside their homes in their cages and usually don't take them outdoors where they can be exposed to more infectious diseases.
In this article, you will learn about different common diseases that a guinea pig can have as well as its symptoms and preventions.
About Guinea Pigs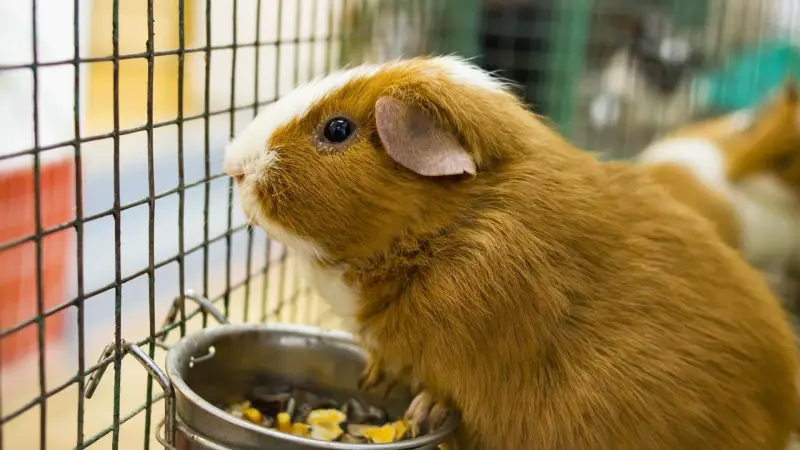 Guinea pigs are relatively hardy creatures. When kept clean, fed, and treated well, they don't get sick too often. They are pretty easy to maintain and take care of.
But that doesn't mean that your guinea pigs do not need any veterinary attention. Just like every other pet, guinea pigs need to have regular check-ups with a vet at least once a year. They don't need shots or immunization as they are not like dogs and cats that are vulnerable to diseases.
When you want your pet guinea pig checked up, it is important that you look for an exotic veterinarian who specializes in exotic animals. Yes, a guinea pig is considered an exotic animal so an ordinary vet may not have the necessary training for treating guinea pigs.
You also need to consult a vet for grooming your pet especially nail clipping. You should never try cutting your pet guinea pig's nails for example unless you are sure exactly what you are doing. There is a part in their nails called "quick" which has blood vessels and can result in extreme pain and bleeding when cut.
Common Diseases for Guinea Pigs
Here are some of the most common diseases that guinea pigs are prone to:
Respiratory Tract Infection
Upper respiratory infection (URI) is probably the most common and most significant disease of guinea pigs. This can be caused by Bordetella and Streptococcus bacteria and can be gotten from direct contact with other animals such as rabbits and dogs.
It is recommended for your guinea pigs to avoid interaction with other animals to prevent being exposed to these bacteria. Unsafe bedding like cedar can also cause URI. To make things worse, guinea pigs can hide illnesses very well so if left unchecked, URI can turn into pneumonia.
If you see one of your pets having trouble breathing, have runny discharge from eyes or nose, have crusty eyes, coughs, and often sneezes, isolate the ill guinea pig from your other pets and have him checked immediately by a veterinarian
Scurvy
Scurvy is a disease due to a deficiency in Vitamin C. It is one of the essential nutrients that a guinea pig needs. While other animals can produce their own Vitamin C through the bacterial flora inside their intestines, guinea pigs cannot do such so they are very prone to scurvy. That is why it is incredibly important to include foods rich in Vitamin C in a guinea pig's diet.
If you see your pet guinea pigs having rough hair coats, swollen feet and/or joints, limping (as a result of joint swelling), and bleeding gums, they are most likely suffering from scurvy. Immediate veterinarian attention is necessary.
Bladder Stones and Other Urinary Problems
Bladder stones can form in guinea pigs due to the build-up of calcium. That is why foods with calcium should be fed in moderation. When stones obstruct the urethra, the poor guinea will have a hard time urinating or won't be able to urinate at all and this can be life-threatening.
To diagnose this, try to feel your pet guinea pig's stomach gently. If its stomach is firm rather than squishy and you can feel stones, then immediately consult an exotic vet. Antibiotics will likely be prescribed but for worse cases, surgery for removal of the stones might be necessary.
Diarrhea
Diarrhea in guinea pigs can occur due to improper diet. It is important to have a safe food list for your guinea pigs to prevent this from happening. Mild diarrhea can be treated with a diet consisting of only hay and water for a few days, but for severe cases, immediately take your pet to your vet.
Mites and Other Parasites
Symptoms that will tell you that your pets are infested with mites are scratching, biting, patchy hair loss, and crusty skin. When mites get under your guinea pig's skin, it can cause a lot of pain. Guinea pigs are also prone to fungal infections such as ringworm.
Other parasites that can infest your guinea pigs are lice and fleas but they are less common and can be easily treated with anti-lice or anti-flea shampoo respectively. It is important that you isolate the parasite-infested guinea pigs to avoid transmission to others. Consult your vet for effective anti-parasite medications.
Heatstroke
Due to their thick fur and inability to sweat, guinea pigs can be prone to heatstroke when exposed to temperatures higher than 26°C. If you see your guinea pig just lying down panting rapidly, then you need to take action.
As a first-aid try cooling your pet down with cool (but not icy) water. If it doesn't work, consider taking your pet to your nearest vet. You can prevent your pets from suffering from heatstroke by providing a well-ventilated, well-shaded cage that is out of direct sunlight.
Tumors
While you're doing the weekly weight check on your guinea pigs, it is a good idea to gently feel their bodies for any abnormal lumps as guinea pigs are capable of contracting cancer. Fortunately, most lumps are benign and could be nothing more than treatable cysts but still warrant a checkup from your exotic vet.
When to Take Your Guinea Pig to a Veterinarian?
The following are the signs that you need to look out for your pet guinea pigs if they require veterinarian attention:
Runny discharge of nose and eyes
Rapid weight gain or weight loss
Abnormal bleeding/bloody urine or waste
Lethargy or hunched posture
Difficulty breathing and wheezing
Ways to Prevent Your Guinea Pig From Getting Sick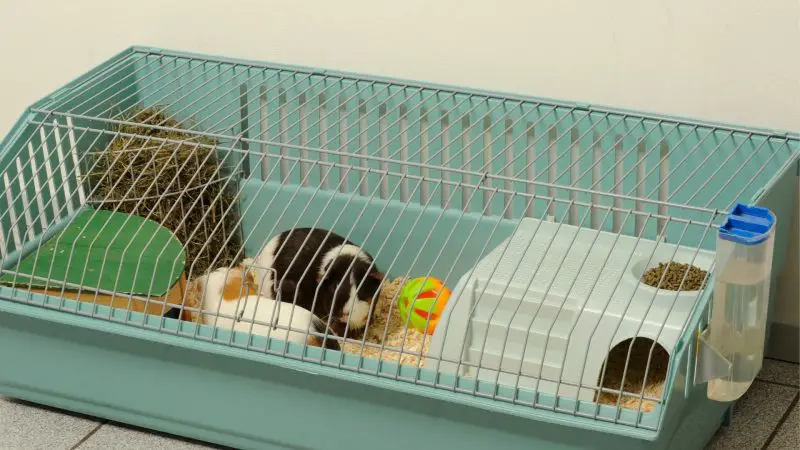 Taking care of your pet guinea pigs is a lifetime commitment, so it is important to give them proper care. Though veterinary check-ups are necessary, there are ways that you, as the owner, can do in order to prevent your pets from catching diseases and keep them healthy and strong.
1. Keep your guinea pigs' cage clean.
Spot clean your guinea pigs' cage daily and fully clean it at least once a week to prevent bacterial growth. Also, change the beddings once every four days and the towels daily. The frequency of cleaning your pets' cage also depends on how many guinea pigs you have and the size of your cage.
2. Give them a balanced diet.
Hay is a very important component of a guinea pig's everyday diet as it has lots of fiber that normalizes its digestive system. It also keeps their teeth from overgrowing. So make sure you can provide them with unlimited amounts of quality hay as well as lots of water 24/7. Provide them as well with vegetables and pellets fortified with Vitamin C for proper nutrition for your guinea pigs.
3. Weigh your guinea pigs weekly.
This is one of the best ways to monitor the health of your guinea pigs. While weights do vary in different guinea pigs, the range of weight of adult guinea pigs are as follows:
900 to 1200 grams for males
700-900 grams for females
You should look out for drastic weight gain or weight loss. If you haven't changed your guinea pigs' diet and they have enough exercise, there shouldn't be too much of a change in their weight. As a rule of thumb, take your pet to your vet if you see weight fluctuation of 3 ounces or more.
4. Give your pets the much-needed exercise.
This is an important physiological need of humans and every animal and that includes your pet guinea pigs. If you follow the standard in cage sizes for your pets, then this should encourage them to run around. Do not use exercise balls or wheels like what you see used on hamsters as these may cause injury to them.
5. Groom your pets.
Though you should never try trimming their nails on your own, there are other grooming methods you can do on your pets without the help of a local vet. Long-coated guinea pig breeds like Silkie and Peruvian guinea pigs require regular brushing and grooming of their coat to keep them clean. You can also give them the occasional bath especially for guinea pigs that are infested with parasites.
Summary
Follow these tips and with proper care, your guinea pigs can live a happy, healthy life. Hopefully, you won't have to visit your vet more than once a year and you can save on those costly medication and treatment costs.
List of Sources
How to Care For Your Pet Guinea Pig