It is a known fact that guinea pigs, unfortunately, can suffer from a vitamin C deficiency. Therefore, it is highly important to feed your guinea pig with the right types of vitamin C-rich foods or supplements because they cannot produce vitamin C by themselves.
Fruits and vegetables play a vital role, as they can instantly boost the vitamin C levels of your guinea pig. Also, supplements in the form of drops, tablets, or pellets are the best option for vitamin C. This is why we also made a list of the best vitamin C supplements you can buy on Amazon for guinea pigs.
Health Problems Caused by the Lack of Vitamin C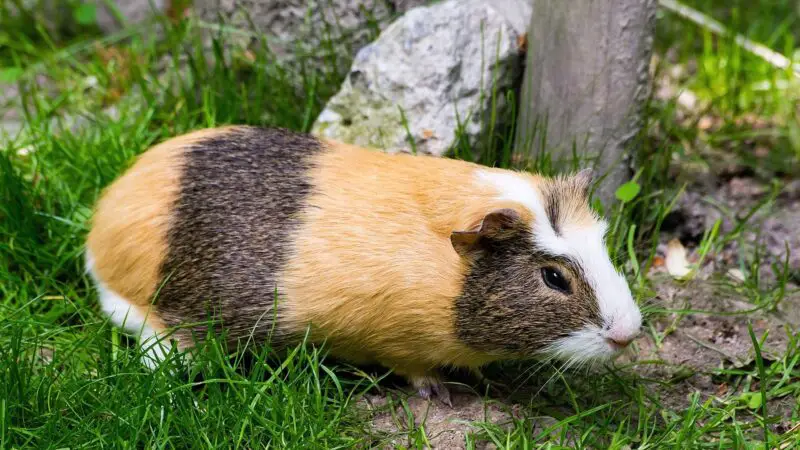 When guinea pigs lack vitamin C, they can develop a disease known as scurvy. The main reason why guinea pigs can suffer from a vitamin C deficiency is that they cannot produce this vitamin by themselves. It is therefore important that they have a correct and balanced diet!
Vitamin C deficiency can cause the following symptoms:
Poor hair dullness (mainly dullness and fallout)
Sores on the lips or mouth
Lack of energy (lethargy)
Wounds take longer to heal
On average, a guinea pig requires 10 to 30 mg/kg of vitamin C each day in order to stay in good health. Guinea pigs that are deficient in vitamin C require a daily dose of up to 52 mg/kg.
We recommend that you feed your guinea pig with extra vitamin C in case they get sick. Still, if you are thinking of giving them more than 100 mg of vitamin C daily, you should first consult with the veterinarian. Remember that excess amounts of vitamin C are released through urine and are not absorbed within the body.
Ways to Provide Your Guinea Pigs with Enough Vitamin C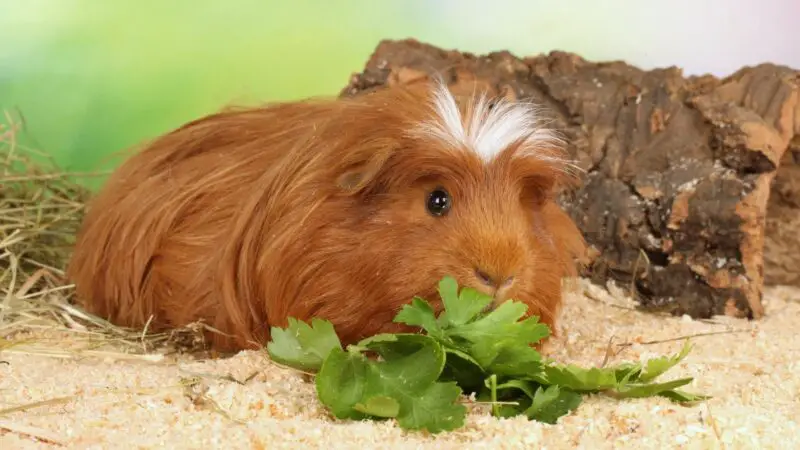 There are ways to give your guinea pigs vitamin C:
Fresh fruits and vegetables
Supplements in the form of drops, tablets, or pellets
List of Best Vitamin C-Rich Foods (Fruits and Vegetables) for Guinea Pigs
This list contains the most optimal foods for guinea pigs that have vitamin C. They may not have the highest percentage of this vitamin but the food on this list can be fed often.
Fruits that are higher in the vitamin, such as oranges and kiwis, have high levels of acid and sugar. If fed often to your guinea pigs, they can cause health problems.
Cabbage, mustard spinach, and beetroot greens are also an option but they must be limited to once or twice a week because they are high in calcium. Too much calcium can lead to bladder or kidney stones.
Best Vitamin C Supplements for Guinea Pigs
There will be times when no matter how many fruits and vegetables you feed your guinea pig, there will still be possible deficiencies. Luckily, science and food are by our side, and supplements or pellets are the solutions.
To help you select the best option, we have made a list of recommended and highly popular Vitamin C supplements found on Amazon.
1.
No products found.
No products found.
If you are looking for a more "solid" alternative, then these guinea pig pellets are a valid option. They are used as normal food. They not only have vitamin C but are also rich in fiber. Therefore, your guinea pig will get sufficient nutrition and it will also have a healthy digestive system.
Another popular choice is this fortified diet product. This product guarantees longer feeding times, which is good for the guinea pig because it mimics their natural behavioral patterns.
The flavors are also more natural, consisting of dandelion and fennel to guarantee natural minerals and vitamins. Furthermore, this product claims to enhance the shine of the guinea pig's coat, which is an indication of optimal health.
Fibers are also present to help the guinea pig with their digestion. Also, it is rich in vitamin C to ensure that your guinea pig will stay healthy. One more thing, this product is also good for guinea pigs' teeth. Price-wise, this product is also wallet-friendly.
Kaytee offers only natural grains and seeds with no artificial flavors or colors. The ingredients are high quality with long-lasting amounts of vitamin C, which is important for the guinea pig. The packet also indicates that it is suitable for everyday feeding, which is perfect for the guinea pig's needs.
These drops are packed with vitamin C and are to be added to your guinea pig's dry diet to ensure it absorbs the right amount of nutrition. There are options of either 2 or 4 ounces. The product is also equipped with an eye-dropper dispenser and instructions.
However, be aware that the drops cannot be added to water, as vitamin C perishes quickly and can accumulate bacteria. It is, therefore, better to give the drops directly to your pet to ensure maximum absorption. Please follow the instructions carefully to ensure that your guinea pig accepts the newly added drops.
Don't be discouraged by the name, this product works well with both humans and guinea pigs! Curiously, both humans and guinea pigs cannot produce their own vitamin C. This is why such a vitamin C supplement can be useful for vitamin sources. Please read the instructions carefully before administrating them to your pet.
Vitamin C Tablet for Guinea Pigs
Tablets usually have 100 mg of vitamin C. This is not a problem, as the tablet can be divided into quarters of 25 mg and administered directly to your guinea pig.
Vitamin C drops can also be a valid alternative, as long as you follow the instructions on how to dose the drops. Also, do not purchase or use multivitamin supplements for your guinea pig.
Here are some tips on how to give your guinea pig a vitamin C tablet:
Make sure you break the tablet so it can release its aroma. Place the piece near your guinea pig's food so it also understands that it is edible. Otherwise, you can take off a smaller piece and offer it directly to your pet.
Crush the tablet, place it on a piece of lettuce, and roll it up.
Cut a groove within a carrot, apple, or grape and insert the tablet inside.
Do not mix vitamin C drops with water and leave it for too long because the bacteria can build up and make the water a health hazard.
You can, however, mix it with water and syringe feed your guinea pig as soon as possible. The vitamin C will not break down and your guinea pig will still be able to benefit from it.
Vitamin C Supplements vs. Vitamin C-Rich Food for Guinea Pigs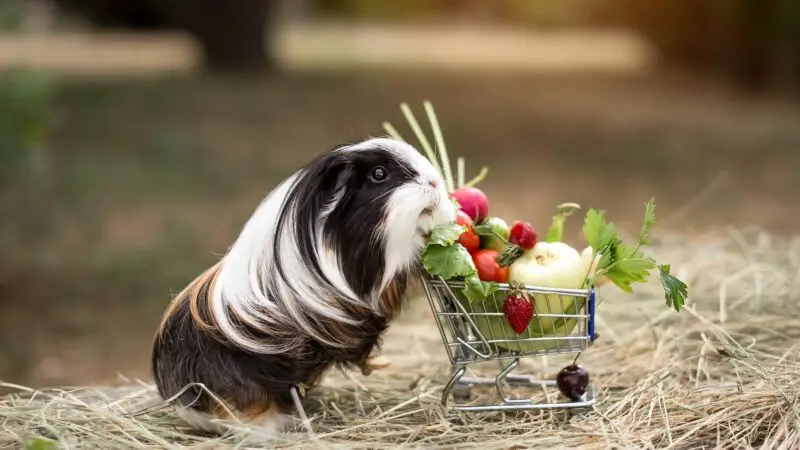 Fruits and vegetables are natural and healthy sources of all vitamins, fibers, and minerals. They can be purchased or grown at home.
On the other hand, fruits and vegetables, even if given in abundance, will not always give your guinea pig the right amount of nutrients, including vitamin C. Therefore, there is still a considerable risk when feeding guinea pigs solely with plants and fruits. This is where vitamin C supplements can play an important role. Whether in the form of tablets, drops, or seeds, there should be a perfect fit for your guinea pig.
Drops may be beneficial but they can also make the water unappealing for your pet to drink. Use and follow the instructions with caution. Tablets are more feasible and don't have considerable downfalls. On the other hand, seeds may be your best bet, as they are natural and can tempt the guinea pig into eating them. Also, they encourage the pet's natural feeding habits.
The real deal-breaker could be the cost involved in each option. You may want to introduce a balance between foods and supplements, just to be on the safe side.
Are There Any Risks for Guinea Pigs From Taking Vitamin C Supplements?
This depends on you and how you dose or serve the vitamin C supplements to your guinea pig. By putting too many drops in the water, you can discourage your pet from drinking, resulting not only in vitamin C deficiency but also dehydration.
Tablets and seeds have high quantities of fibers. With the wrong dosage, it could actually harm your guinea pig and cause internal problems, such as bloating and stomach pains. With the right dosage, nothing can happen to your cute guinea pig pet.
Remember that guinea pigs are overall very active and playful if you notice your pet is always sleeping or hiding away this could indicate a health issue. Always check up on your guinea pig if you notice a new behavior!
List of Sources
An Investigation Into the Relationship Between Owner Knowledge, Diet, and Dental Disease in Guinea Pigs (Cavia Porcellus)
Nutrient Requirements of Laboratory Animals: Fourth Revised Edition
The Effects of Diet on Anatomy, Physiology and Health in the Guinea Pig