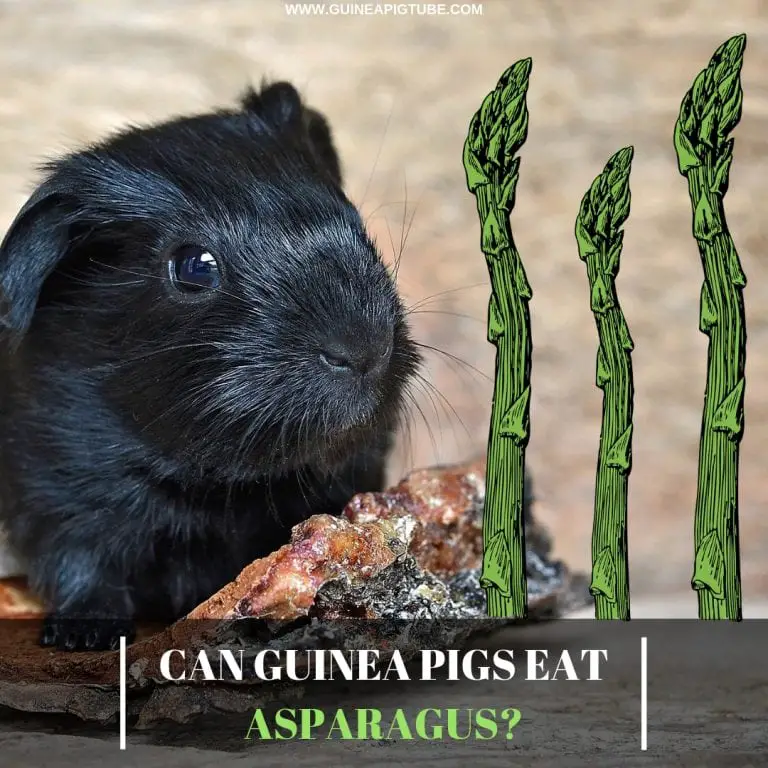 Asparagus is one of the vegetables that are healthy but at the same time quite expensive for some people. Should you feed your guinea pig with it? Let's find out!
Can guinea pigs eat asparagus? Yes, you can comfortably feed your Guinea pig asparagus. Asparagus is a vegetable that should be featured in guinea pigs diet regularly. It comes loaded with lots of benefits to the digestive system. Asparagus is quite expensive compared to other vegetables on the market today, that is one of its downsides. Asparagus contains oxalate, phosphorous and Vitamin C, which is very good the guinea pig. If you are introducing this vegetable for the first time you need to keep a closer watch of your guinea pig. This rule is applied to everything new that is being added to the guinea pigs diet.
Lots of people will choose what to feed to their guinea pigs based on the costs and popularity. Until recently, most pet owners gave their animals leftovers and in some cases processed food if they had a few coins to spare. However, recent research indicates people are going an extra mile to ensure they have a healthy pet, thus investing more money into food for the pet. We expect to find asparagus on the menus of the high-end food joints. However, you can also nourish your guinea pigs die with this vegetable and anticipate the mentioned benefits.
Here is an in-depth review of asparagus and tips on how to feed your guinea pig with this plant. We have some necessary and factual information on asparagus dietary content and the health benefits your guinea pig will get upon consumption.
Benefits of Feeding Your Guinea Pig Asparagus
Asparagus is rich in vitamins, carbohydrates, and dietary fiber. Besides, whenever you regularly feed your guinea pig on asparagus, your cost of purchasing supplements goes down drastically, as the animal can digest and absorb its meals effectively.
In addition to getting a proper diet for your guinea pig, you have cured their digestive problems as the fiber-rich vegetable enhances digestion. Most importantly, asparagus helps in boosting the animal's immune systems and thus helping the animal in fighting diseases without the help of antibiotics.
Most importantly, never forget that asparagus is a vegetable that comes loaded with anti-inflammatory properties, blood circulation abilities, and helps in boosting the health of the guinea pigs heart.
Nutrition Facts of Asparagus
Due to the pricey value of asparagus in the market today, you won't just go purchasing this vegetable without considering its nutrition value to the animal.
The nutrition value of the asparagus indicates the vegetable is rich in several vitamins ranging from:
Vitamin B6
Vitamin E
Thiamine
Vitamin K
Vitamin C
Also, you will get a high level of iron, potassium, manganese zinc and calcium among other valuable minerals. Making asparagus a regular part of the diet for your animal, you are assured they are also getting choline, folate, and proteins.
From the brief description above, having asparagus in your guinea pigs diet is value for money. Most importantly, you will be able to cut your budget on vet visits and on the costs of purchasing supplements for your animal. However, you should not make asparagus an everyday diet item for your guinea pig to prevent health complications that would arise from the accumulation of some vitamins or elements in your guinea pigs body. Your guinea pig can enjoy the nutrition-rich asparagus once or twice a week in order to have a good and healthy diet.
Risks to Consider When Feeding Asparagus to Guinea Pigs
The first risk is ensuring that you never feed cooked asparagus to your guinea pigs. Though asparagus is a highly nutritious vegetable for your cavies, it does not negate the fact that guinea pigs do not feed on cooked food. Secondly, always ensure you feed asparagus while its fresh. Contaminated foods are known to cause harm to humans and animals in equal measure so always check if rotten and wash it carefully. As such, always observe these two risks and your guinea pig will be happy and healthy.
Related Questions:
How Much Asparagus Is Enough for the Guinea Pig?
One fact to never leave your mind while feeding asparagus to your guinea pig is that ¼ cup of this vegetable is sufficient for your animal's health. Ensure its fresh and well washed before feeding asparagus to the guinea pig. By ensuring its clean and fresh, you will eliminate the chances of feeding your furry friends vegetables full of pesticides, though it's still advisable to buy organic ones.
How to Feed Asparagus to the Guinea Pig?
Next question in the minds for the most guinea pig owner's is how you should feed asparagus to the guinea pig. Firstly, always ensure its raw and you can choose to either feed the plant alone or mix it with other foods. But most importantly, keep an eye on the quantity your cavy friend consumes to avoid having stomach issues. Excess consumption of asparagus leads to subsequent constipation and gassing which are not very comfortable for the guinea pig. If you can avoid the two, you will be a happy guinea pig owner.
---
Take away point; you can nourish your guinea pigs die with asparagus as long as they are fresh and feed in moderation. Small quantities are recommended to avoid subsequent health complications. Guinea pigs do not produce Vitamin C within their bodies, and they can get it from asparagus. Besides, a balance between the intake of asparagus and other foods should be kept to ensure your guinea pig pet is having a rich diet. Nothing gives a pet owner peace of mind and satisfaction than seeing their animal healthy and running up and down happy.
Always observe your guinea pigs behavior and give them a healthy treat once in a while. Carefully introduce new things into your guinea pigs die. If you notice any diarrhea or bloating, quit feeding the guinea pig new foods. Nonetheless, if you do not see any new behavior in the guinea pig, you can proceed but always keep an eye on the animal every time you feed with a new diet plan.
---
Before I let you go, one final thought on food. With food, you can't ever be too careful which is why I get all guinea pig food from a reliable source such as Amazon. If you are not sure what to order but believe your little piggies deserve some great treats please check our Helpful Guide to the Best Guinea Pig Treats to get some ideas. We have also made a full list of foods that guinea pigs can and can't eat (150+ Types of Foods). Be sure to also check our recommended products page for everything you will ever need to assure a happy life for your Guinea Pigs. Hope this information was helpful and you have found the answer you were looking for.
If you found this post useful, would you mind helping out by sharing it? Just click one of the handy social media sharing buttons below so others can also learn about guinea pig food and diet!